Occasionally events such as academic travel, inclement weather, and communicable illness outbreaks occur can hinder the ability of instructors and students to attend classes on campus for prolonged periods of time. Extended absences not only disrupt learning, but can also negatively influence student outcomes. Fortunately, UTHSC has a host of instructional technologies and digital tools to help instructors continue teaching when such events occur. This page serves as a resource for instructors to effectively leverage the teaching tools in our technology ecosystem during extended campus closures due to unforeseen circumstances.
Preparing to Move Your Course Online
Preparation is key to ensuring a smooth transition to delivering your course content virtually. Intentionality can minimize disruptions as well as facilitate effective teaching in support of positive student outcomes. Below are helpful strategies for moving your course online:
Review your course syllabus and schedule to determine the best online layout for delivering your content
Activate learning by aligning digital tools with your course objectives and goals
Include paced opportunities for synchronous and asynchronous learning activities
Select an appropriate mode of delivery for your lectures (video, podcast, PowerPoint, etc.)
Elicit evidence of student learning by including meaningful formative and summative assessment activity
Save course documents and media files in accessible formats prior to uploading them in the LMS
Create a communication plan for delivering new expectations and regular updates to learners
Read more about effective practices when using a learning management system.
Course Development Tools
Course Set Up in Blackboard
A Learning Management System (LMS) can be used by instructors to securely manage and deliver instructional materials online, increase learner engagement, and track learning outcomes. Blackboard is UTHSC's LMS for delivering courses online. To login to UTHSC Blackboard courses, visit our webpage.
Lecture Tools
Lectures play an important role in establishing the context of course topics as well as in bringing clarity to complex material. Additionally, a class lecture is an effective means for disseminating a common body of knowledge to learners. Instructors can use technology to enhance lectures and actively engage learners so that learning can occur on a deeper, more personal level. Below are tools in the UTHSC ecosystem to support the effective delivery of your lectures online.
Communication Tools
When class meetings are disrupted, regular communication with learners helps to ensure that they are well-informed of changes and new expectations for conducting coursework online. Instructors should plan to use specific communication technologies consistently so that learners feel a sense of normalcy. Instructors can use four communication tools inside Blackboard to centralize communications as well as save time: Announcements, Course Messages, Discussions, and Grade Center.
Assessment Tools
Digital assessment options enable learners to take tests, polls, and surveys without being confined to a physical location. In addition, instructors benefit by 1) saving time by using auto-grading features rather than manually grading tests and 2) by gaining immediate access to valuable analytics that can be used to enhance instruction. Below are several UTHSC tools which may be used for various assessment needs.
TLC Online Professional Development
The Teaching and Learning Center offers several professional development courses online to further assist you with moving your course online. Each course is self-paced so that you can work through content at your convenience. All courses are delivered in Blackboard so support is available 365/24/7.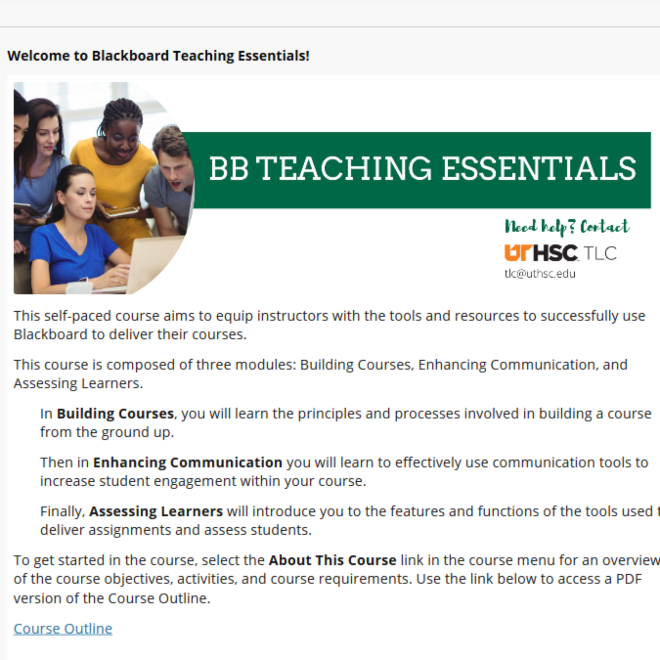 Blackboard Teaching Essentials
This course contains three in depth modules essential to teaching: Building Courses, Enhancing Communication, and Assessing Learners.
Self-Enroll Today
or
Submit Enrollment Request
Quick Course Template
The course contains an editable course template file, editing guide, and checklists to fast-track course development based in effective practices.
Self-Enroll Today
or
Submit Enrollment Request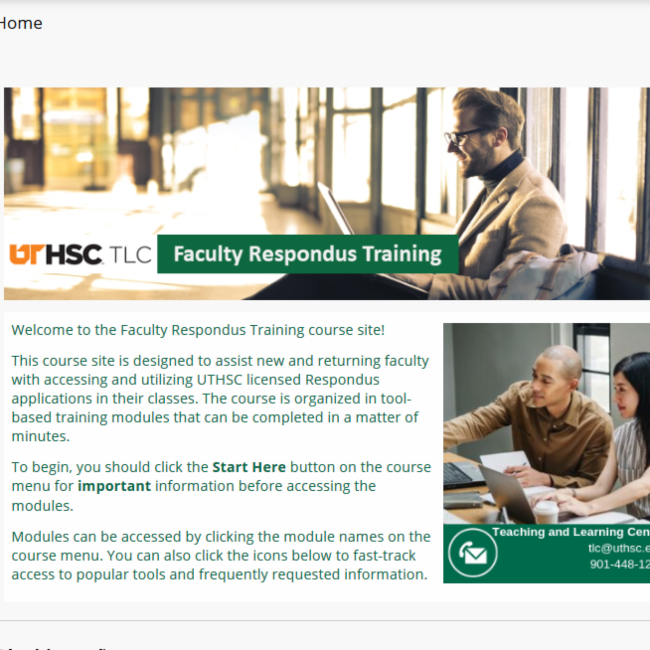 Faculty Respondus Training
The course contains video guides, installation links and more for UTHSC Respondus tools: Lockdown Browser, Respondus 4 and StudyMate Campus.
Self-Enroll Today
or
Submit Enrollment Request