About Assessment Tools
Assessment is a way for educators to determine student progress toward achieving course objectives. There are three categories of assessments, each with a distinct purpose: Summative, Diagnostic, and Formative. Each type checks understanding in measurable terms which can include skills, knowledge, or attitudes. Assessment technologies are the digital tools which can enhance educator efforts to create virtual assessment activities, as well as to collect relevant data to enhance instruction and improve student learning.
Effective Practices in Learning Assessment
Align assessments (and related learning activities) with measurable course objectives
Minimize and limit bias, as well as remove less relevant distractors, when designing questions
Show grading criteria and models prior to assessment activity (rubrics, rating scales, etc.)
Support learner autonomy and growth with self-assessment opportunities
Use diagnostic assessments (pre-tests, iRATS, tRATS, etc.) to gain insight for addressing knowledge gaps
To discuss more effective practices for using digital assessments, or assessments in general, schedule a meeting with one of our TLC consultants.
Effective Practices in Self-Assessment
Involve learners in the process by providing standards for related tasks (checklists, rubrics, etc.) prior to performing assessment-related tasks
Show students how to apply criteria to work evaluation
Allow students to create mastery goals and desired outcomes for specific topics
Implement instructional strategies (KWHL/KWL, Muddiest Point, etc.) that encourage active learning and inner reflection
Clearly align self-assessments with course goals to prompt critical thinking, introduce concepts, and facilitate application to materials presented
To discuss more effective practices for self-assessment, schedule a meeting with one of our TLC consultants.
What's in our Ecosystem?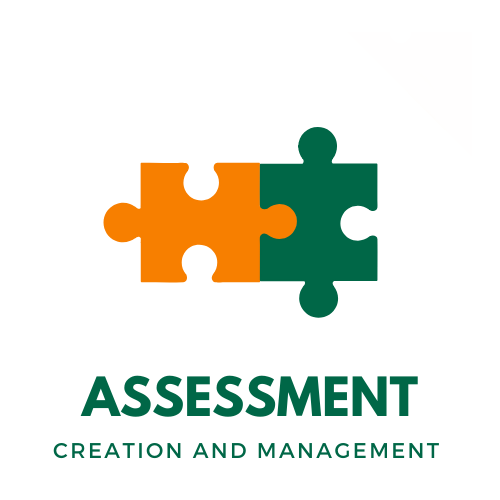 References:
Andrade, H. (2019). A Critical Review of Research on Student Self-Assessment. Frontiers In Education, 4. doi: 10.3389/feduc.2019.00087
Association for the Assessment of Learning in Higher Education resources: https://www.aalhe.org/
Boud, D., & Falchikov, N. (Eds.). (2007). Rethinking assessment in higher education: Learning for the longer term. Routledge/Taylor & Francis Group.
Marchand-Martella, N., Wasta, S., & Martella, R. (1996). Applying the K-W-L Reading Strategy in Health Education. Journal Of School Health, 66(4), 153-155. doi: 10.1111/j.1746-1561.1996.tb08238.x
Who's Using It?
Dr. Trevor Sweatman
Professor
Tool: Poll Everywhere
"All of my teaching employs a flipped classroom approach, based upon prerecorded topics with the class time used to assess students' comprehension. Poll Everywhere is a "user friendly" application that enables me to receive instant feedback both in terms of level of class participation and their ability to apply concepts that were presented. I use Poll Everywhere in every classroom session."
Read more on how Dr. Sweatman uses Poll Everywhere for flipping his classes.