Update
Respondus has announced end-of-life for the legacy StudyMate Author 2.5.6 Campus-wide tool. On August 31st, the faculty will no longer have access to the program and the StudyMate .rsf files. The 'flash card' functionality is continued with the StudyMate Campus tool licensed and supported by UTHSC. 
Preserving your files:
Open the StudyMate .rsf file and then go to StudyMate->File->Save As...->"Save as type: StudyMate Class format (.zip)" as seen in this screen capture: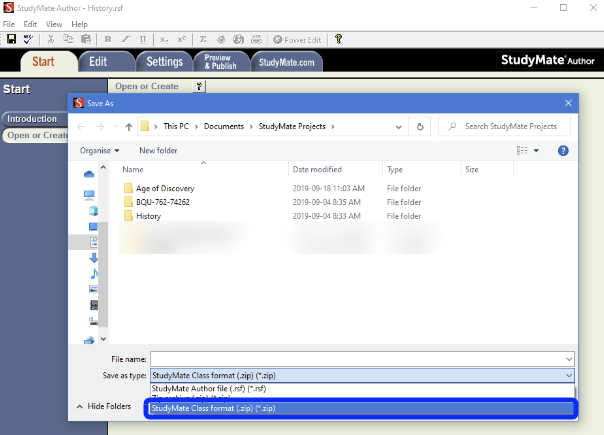 Publish your StudyMate files to StudyMate.com and bookmark all the links to the different projects on StudyMate.com. See step-by-step directions.

Once the projects are published to StudyMate.com, your activities will continue to be available. You can then share your flashcards with learners by moving the projects to StudyMate Campus as detailed in the video tutorial.
If you need assistance, email the TLC.
About:
Respondus offers applications for instructors that enhance online learning and testing. The suite includes Respondus 4.0, Lockdown Browser, and StudyMate.
Respondus 4.0
Respondus 4.0 is a powerful tool for creating and managing exams that can be printed to paper or published directly to Blackboard. Exams are created offline in a familiar Windows environment and the software provides many time-saving tools, such as the ability to import existing exams from word processor files.
LockDown Browser
The LockDown Browser is a secure browser for taking tests in Blackboard. It allows students to take tests in Blackboard, in a controlled environment. When students use LockDown Browser, they are unable to print, copy, go to another website/URL, or access other software programs.
StudyMate
StudyMate helps students "master the basics" of course material through learning activities, self-assessments, and games. A dozen activities – such as flash cards, crosswords and quizzes – engage students with course content in an individualized way. Students access StudyMate activities using computers, smartphones and tablets. StudyMate also integrates seamlessly with Blackboard.

Getting Started:
Contact the TLC, tlc@uthsc.edu, if you would like to use any of the Respondus suite applications.

Resources:

Instructors
If you are interested in using Respondus tools, you are invited to participate in the online training course in Blackboard.
If the Respondus Lockdown Browser is required for testing, there is a training course offered for all users. Information for students to self-enroll in the course can be found on their dashboards when they login Blackboard. The site includes the custom installation link, helpdesk information, and a practice test.
Want to know more about Respondus tools?
Self-Enroll Today
Enroll Me Asap