Campus Dialing
To call on campus (until everyone is on RingCentral), if you are:
NOT on RingCentral: Dial 9 and then 901.448.####.
ON RingCentral: Use Contacts or just dial the 10-digit (901.448.####) number.
What is RingCentral?
In 2022, RingCentral, a Voice over IP (VoIP) system, is replacing our antiquated UTHSC telephone system.
A VoIP system allows you to make calls over the internet instead of through a traditional phone network. It's a newer technology that is more flexible and offers many benefits we didn't have with our old system. Plus, it will help us avoid outages (of which we've seen an increase with the old system).
Why is Our Phone System Changing?
Our current phone system is old. Like way old.
Our outages are increasing.
RingCentral offers a ton of benefits our old system cannot.
What Benefits Does RingCentral Offer?
Among the significant benefits RingCentral offers are:
Supports remote/hybrid work! Make work calls from anywhere on multiple devices – computer, phone, tablet – using your UT phone number (Use of RingCentral on personal devices is optional.)
Allows the transfer of calls from one device to another without disconnecting
Includes free long distance! (Excludes international calls)
Is easy to move when you switch departments or offices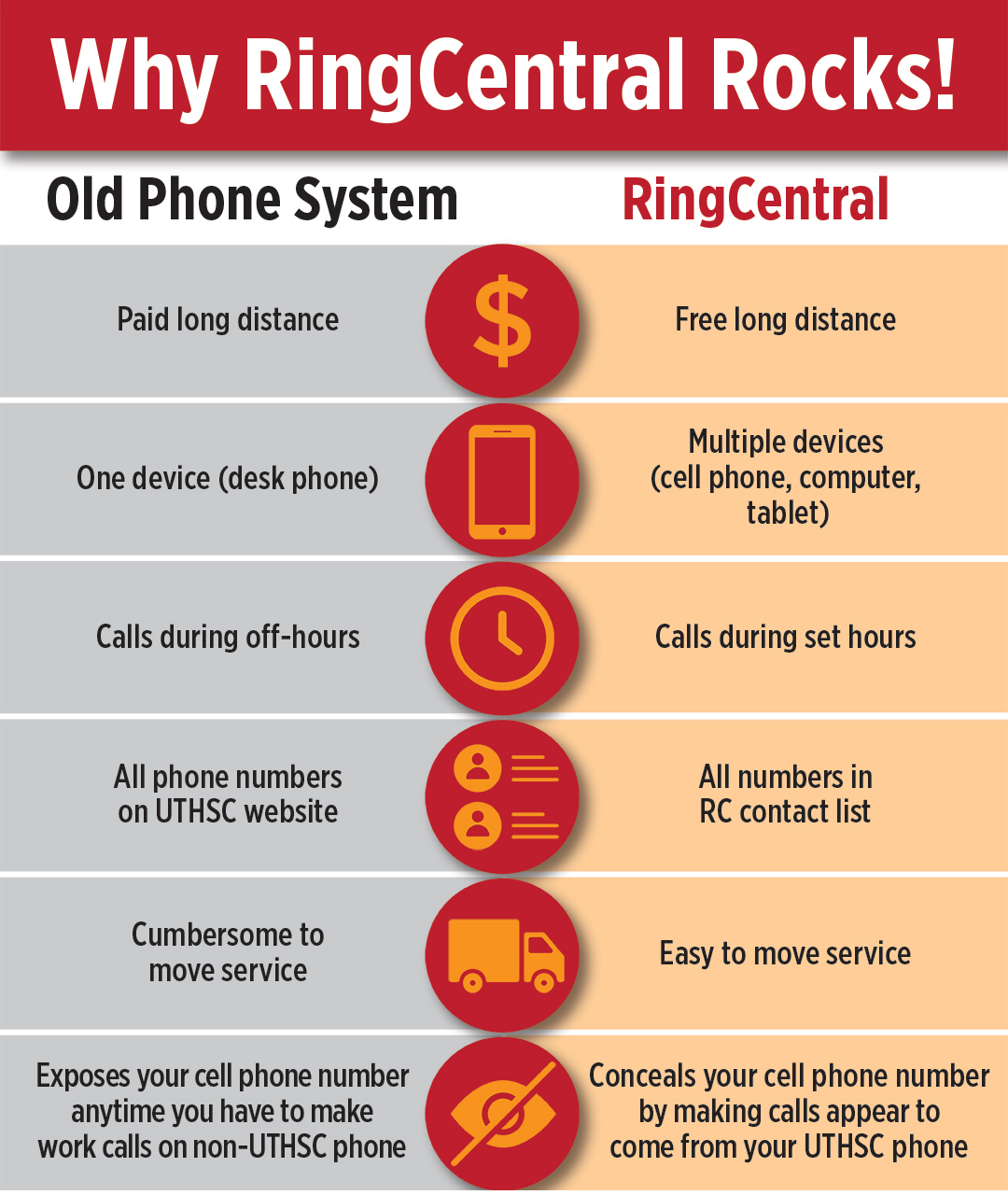 How Can You Get Ready?
Ensure your work address and phone number are accurate for the new phone system rollout. Ensuring the system has your correct work address and phone number is essential for other processes that rely on the accuracy of your contact info, too!
Visit Updating Your Work and Personal Information for instructions on how to verify and update your contact information.
FAQs
Answers
Can I go ahead and sign up for RingCentral and start using it now?
No. You will be notified when your UTHSC phone number is moving to RingCentral and an account has been created for you. Creating your own RingCentral account will cause problems that delay service when it is time for your phone number to be moved.
Does RingCentral require me to use my cell phone for work calls?
You are not required to use your cell phone or other personal devices to make work calls, but RingCentral can be used on it if you choose to do so.
If I choose to use my cell phone, I don't want people I call to see my cell phone number - is that going to be a problem?
No! RingCentral conceals your cell phone number and only displays your UTHSC phone number to the caller.
If I set RingCentral to forward to my cell phone, will I receive work calls at night?
No! You can set work hours within RingCentral to turn your calls off at the end of the day.
I make credit card payments by phone for my department all the time. Do I need to have a "hard" phone?
No. A hard phone, or a physical phone like the one you have now, is needed only for those who take payors' credit card information. It is not needed by UTHSC members who are paying for something with a credit card. (Those in safety-related jobs also will retain a hard phone.)
If my UTHSC computer is at my home, do I have to bring it to campus to install RingCentral?
No. The software will be downloaded from the RingCentral website, so it can be installed on your computer at any location with an internet connection. (You will receive a notice when it is time for you to download and install RingCentral.)
What do I do with my old phone?
Nothing. Once your UTHSC phone number is moved to RingCentral, we will collect your old desk phone later. You can leave it plugged in.
What if my old phone rings?
Answer it. It can still receive internal calls. However, it will not receive external calls, and you also will be limited in who you can call. Thus, the best thing you can do is use RingCentral all the time.
Do I need a headset to use RingCentral?
It depends. If the device on which you install RingCentral does not have a microphone, then a headset with a microphone is a great alternative. In addition to providing a way to speak during calls, a headset also can increase privacy and reduce distraction. Visit our headset article in TechConnect for more information on recommended models, etc.
Can I still call my co-workers or get calls from them if all of us are not moved to RingCentral at the same time?
Yes. All you have to do to reach any UTHSC number, whether it's on RingCentral or the old system, is to dial the full 10-digit number instead of using the 5-digit extension (ex., 9014481234 instead of 81234).
Do I still have to dial "9" for an outside line?
No. Just dial the 10-digit phone number for both internal and external calls.
My current voicemail is set up to send my messages to my email as an audio file. Will that still happen on RingCentral?
Yes, voicemail will be set by default to do this for UTHSC members. You also will have the option to set your voicemail to send a transcription.
If I start a call on WiFi and then switch to my cell phone's mobile data (or vice versa), will my RingCentral call disconnect?
Yes. Your call will drop, and you will have to reconnect.