You must use encryption if you are emailing anything confidential or classified such as:
protected health information (PHI)
personally identifiable information (PII)
HIPAA information
FERPA information
educational records
credit card information
anything protected by governmental or institutional regulations, it must be encrypted
Encryption ensures that protected or sensitive information is not intercepted during email transmission, thus protecting you and the university from potentially costly and reputation-damaging data breaches.
Sending an Encrypted Email
To send an email from your UTHSC email account, simply type the word encrypt in the subject line.  Note that words such as "encryption" or "encrypted" will not trigger the encryption process.
Receiving an Encrypted Email
Recipients of encrypted emails receive a message in their UTHSC email inbox notifying them of the encrypted email and stating the sender's email address.
The notification contains an attachment ("message.html") that provides instructions for accessing the actual encrypted message.
Double click on the attachment.
Click Sign in.

Click Work or school account.

Sign in with your UTHSC NetID/password.
Replying to or Forwarding an Encrypted Email
Encryption will continue to be enabled on the entire email thread as long as the recipient replies from the screen where the encrypted message is displayed. If needed, the Subject line can be changed.
Replying to the sender via the email that the recipient received in his/her inbox to notify them of the waiting encrypted message is not recommended, as encryption will be broken if the word encrypt is removed from the Subject line. Additionally, the initial encrypted message will be rendered unavailable.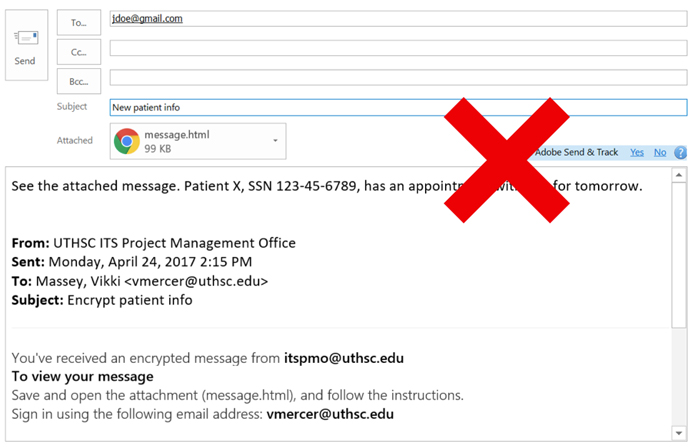 Vault
You can send multiple files of larger sizes through the UTK Vault.  All files sent through the Vault are automatically encrypted. 
You can send up to 30 files with a max individual file size of 15GB (cumulative total of 50GB for all files).
Files sent through the Vault can be stored for up to 30 days.
FAQs
Why encrypt an email?
To keep sensitive information safe and protect us from a data breach.
What should be encrypted?
Any email that contains confidential or classified data such as protected health information (PHI), personally identifiable information (PII), HIPAA information, FERPA information, educational records, credit card information, or anything protected by  overnmental or institutional regulations.
Are emails automatically encrypted?
No, encryption is not automatic.
How Do I encrypt an email?
Type the word encrypt in the subject line of your UTHSC email.
Can I use the word encrytion or encrypted?
No, it has to say encrypt.
Are replies encrypted?
Yes, if the reader replies to the encrypted email.
Are attachments also encrypted?
Yes, any attachments to the encrypted email will be encrypted as well.