Why Choose the UTHSC College of Nursing
The National League for Nursing (NLN) has designated the college as an NLN Center of ExcellenceTM in the category of Enhancing Student Learning and Professional Development. This speaks to our highly engaged and skilled faculty and extraordinary opportunities for professional development at the college. UTHSC has the most highly-ranked BSN program in Tennessee on the list developed by U.S. News and World Report. Our DNP program is ranked 27th in the nation.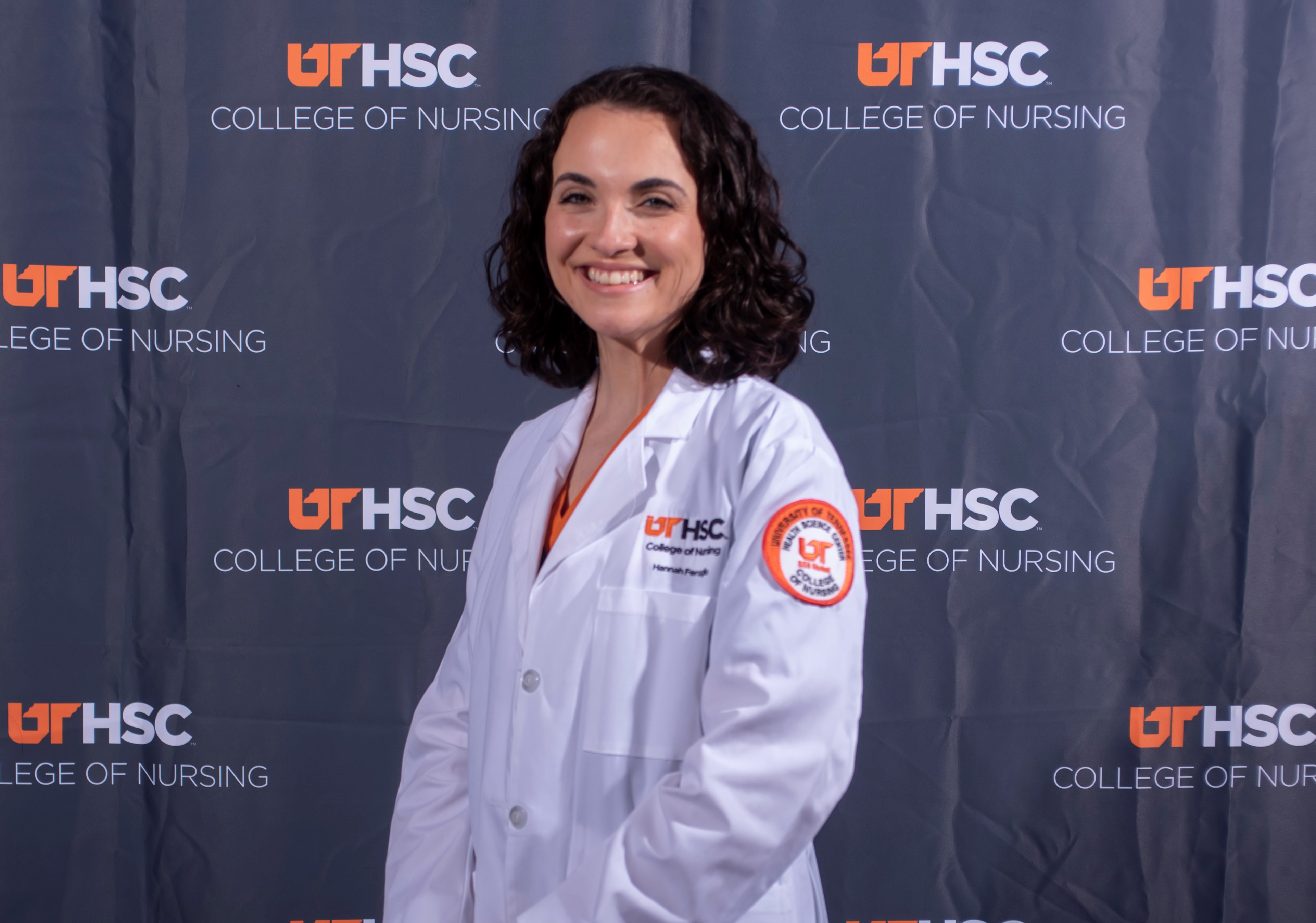 "I have always had the desire to help others and advocate for those who are unable to speak for themselves. I also have had many incredible nurses leave a hand print on my heart, and I want to do the same for my future patients."
Hannah Feruglio
Recent graduate, ABSN program
Germantown, Tennessee
Resources
REQUEST MORE INFORMATION
HOW TO APPLY
SCHOLARSHIP INFORMATION
UT Promise
Students in our Traditional BSN option who meet requirements are eligible to receive the UT Promise scholarship.
Explore UTHSC College of Nursing Opportunities
Accelerated Bachelor of Science in Nursing - prepares students to become registered nurses who can practice in a variety of clinical settings. This 12-month program is designed for students who have already earned a bachelor's degree (non-nursing) and who are interested in becoming registered nurses.
Traditional Bachelor of Science in Nursing - prepares students to become registered nurses who can practice in a variety of clinical settings. This four-semester program is designed for students who have earned prerequisites and want to complete their nursing degree in a dynamic health science center.
Doctor of Nursing Practice- combines coursework with intensive practice experiences to prepare nurse leaders in eight practice concentrations. The eight concentrations include Adult Gerontology/Acute Care, Family Nurse Practitioner, Psychiatric Mental Health, Nurse Anesthesiology, Pediatric Primary Care, Pediatric Acute Care, Nurse Midwifery, and Neonatal Care. The college also offers three dual concentrations.
PhD in Nursing Science - prepares nurse scientists to engage in evidence-based research that seeks to impact lives through scientific discovery. Offered through UTHSC's Graduate College of Health Sciences, the PhD in Nursing Science is taught by the Nursing faculty. Students' academic areas of study will align with a faculty member's area of research focus or expertise.
Certificates - includes the registered nurse first assistant (RNFA) certificate, which allows a perioperative RN or APRN to function in an expanded role as a surgical first assistant. Other certificate offerings include post-DNP certificates in psychiatric mental health, family nurse practitioner, adult gerontology/acute care, and pediatric primary care. The college also offers a forensic nursing certificate and a post MSN/post DNP adult gerontology/acute care certificate. 
Program Contact Information
Please visit our academic program pages for specific information regarding admission, including admission requirements, course descriptions, and application procedures. Please reach out to coordinator Dr. Trina Barrett if you have questions about the accelerated BSN option. Reach out to coordinator Dr. Jami Brown if you have questions about the traditional BSN option. For the DNP program, reach out to DNP Director, Dr. Bobby Bellflower. If you're interested in a PhD in Nursing Science, please reach out to our PhD Program Director, Dr. Carolyn Graff.
Rolling Admissions
The College of Nursing has moved to rolling admissions for all programs except the DNP in Nurse Anesthesia and the PhD in Nursing Science. Applications are accepted and evaluated periodically until the specific class is filled.
Partnership Enrollment Programs
Students at LeMoyne-Owen, Rhodes College, Southwest Tennessee Community College, Northwest Mississippi Community College, and Sewanee, University of the South, are eligible for our Partnership Enrollment Programs. 
State Authorizations for Distance Education Students
The US Department of Education requires that states be responsible for all education offered to residents within their state boundaries regardless of where the education originates.  As a result, states have instituted state authorization regulations governing all or portions of educational programs that are being completed in their states by out-of-state students (e.g., a UTHSC student wishing to complete a clinical experience in a state other than TN). These regulations encompass both online education as well as clinical experiences for UTHSC students permanently or temporarily residing in states other than Tennessee. Students are advised to seek clarification prior to arranging for clinical experiences outside of the state of Tennessee or to enrolling in one of the College's online programs if they reside in a state other than Tennessee to ensure the presence of the necessary authorization.
For information regarding currently authorized locations, refer to UT's State Regulatory Authorization policy (although students should be aware that the status of state-by-state authorization changes frequently and as such the best source of up-to-date information is either the program director or academic dean for the specific college in which the student is enrolled).
Important Note for Prospective Students: If you are considering an academic program that leads to a professional license in your state, it is highly recommended that you first seek guidance from the appropriate licensing board in your home state BEFORE beginning the academic program located outside your state.
Nursing Student Affairs Contact Information
Assistant Dean for Student Affairs,
Assistant Professor
Glynis Blackard, PhD, RN
874 Union Avenue
Memphis, TN 38163
901.448.6139
gblackar@uthsc.edu


Nursing Admissions Counselor
Dominique Crutchfield, MS
874 Union Avenue
Memphis, TN 38163
901.448.1302
dcrutch2@uthsc.edu 
Nursing Admissions Pipeline Coordinator
Charlie Folsom, Jr.
Admissions Manager
874 Union Avenue
Memphis, TN 38163
901.448.3543
cfolsom@uthsc.edu