Doctor of Nursing Practice
REQUEST MORE INFORMATION
HOW TO APPLY
ACADEMIC CALENDAR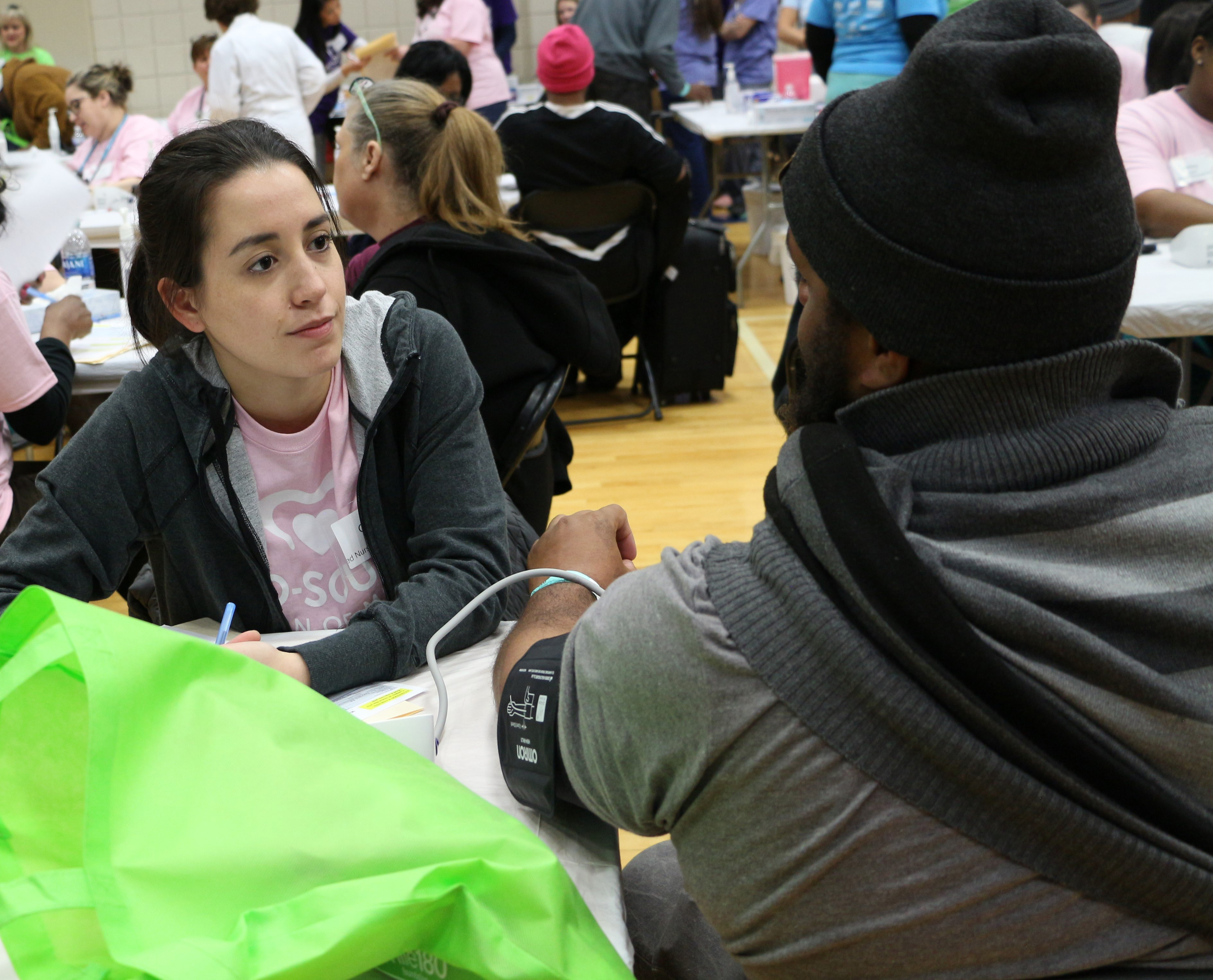 UTHSC DNP student Olivia Beard (left) provides medical triage at the Mid-South Mission of Mercy Dental Outreach.
The Doctor of Nursing Practice (DNP) program prepares APRNs for roles as either Nurse Anesthetists or Nurse Practitioners. Eligible students must have a baccalaureate or higher degree in nursing. In addition, certified masters-prepared Nurse Practitioners may complete the DNP degree. Both full-time and part-time study may be available depending upon the concentration. The length of the program depends upon the student's qualifications at admission and choice of concentration.
The DNP program requires a significant commitment of time as well as personal and financial resources. Initially, most students complete the DNP core courses that are offered via distance education. However, nurse anesthesia specialty courses are primarily offered in the traditional classroom setting. Limited on-campus activities (simulations, skills workshops and interprofessional experiences) are required for all concentrations.
Clinical experiences are an integral component of every concentration. Faculty make all clinical placements with the support of the DNP Clinical Coordinator and in collaboration with the student and preceptor. Distant student clinical placements typically require minimal travel from the student's home residence.
DNP Program Outcomes
Upon completion of the DNP Program, the graduate will be able to:
Demonstrate proficient clinical reasoning in advanced nursing practice.
Lead within health care systems to deliver safe, quality care for diverse populations.
Disseminate findings from evidence-based practice and research for optimal healthcare outcomes.
Integrate health information and patient care technologies to transform healthcare outcomes across the lifespan.
Advocate for social justice and equity through strategic initiatives to influence public policy.
Lead interprofessional teams to improve patient and population health outcomes.  
Integrate concepts of social determinants of health, epidemiology and ethics to improve population health.
Design, implement, and evaluate quality care based on science to facilitate optimal patient outcomes.
Accreditation
The Doctor of Nursing Practice (DNP) Program at The University of Tennessee Health Science Center is accredited by the Commission on Collegiate Nursing Education, 655 K Street, NW, Suite 750, Washington, DC 20001, 202.887.6791, http://www.ccneaccreditation.org/, through December 31, 2024, and approved by the Tennessee Board of Nursing.
"The Commission ensures the quality and integrity of baccalaureate, graduate, and residency programs in nursing. The Commission serves the public interest by assessing and identifying programs that engage in effective educational practices. As a voluntary, self-regulatory process, CCNE accreditation supports and encourages continuing self-assessment by nursing programs and supports continuing growth and improvement of collegiate professional education and post-baccalaureate nurse residency programs." 
The University of Tennessee Health Science Center's College of Nursing Post-BSN DNP Nurse Anesthesia Concentration is accredited through fall 2029 by the Council on Accreditation of Nurse Anesthesia Educational Programs, 222 S. Prospect Ave., Park Ridge, IL 60068, 847.655.1160, http://coacrna.org/.


The University of Tennessee Health Science Center is accredited by The Southern Association of Colleges and Schools Commission on Colleges (SACSCOC).