Center for Global and Community Health
Vision
Academic and clinical excellence to meet the global and community health challenges of today and to secure regional, national, and global health equity for the future. 
Mission
The UT College of Medicine Chattanooga Center for Global and Community Health works to reduce health disparities and improve the overall health in our local community and worldwide. Recognizing that many global health problems arise from economic, social, environmental, political, and health care inequalities, the Center brings together interdisciplinary teams to solve complex health problems and to train the next generation of global and community health leaders. 
The UTHSC College of Medicine Chattanooga Center for Global and Community (CGCH) is sponsored by the Department of Medicine. It is dedicated to medicine and to population health through teaching, service, and research where the dissemination and translation of knowledge for improved population health outcomes is emphasized. The CGCH will play a key role in community trials contributing to the knowledge of medical and health systems worldwide, social and behavioral aspects of disease, epidemiology, prevention, control, and disease outcomes. Special concern with health disparities will guide many of the Center's activities. The CGCH will coordinate the UT College of Medicine Chattanooga global health efforts and provide a more efficient and wise use of resources dedicated to this effort.
Center for Global and Community Health Functional Activities
The CGCH will initiate and support four (4) primary functions.These include:
Global/community health medical education/training
Population health sciences instruction
Community health service and outreach
Research development and collaboration
Departmental representatives from several departments at the UTHSC College of Medicine Chattanooga have volunteered to assist in developing the CGCH:
Medicine: Drs. Mike Davis and John Boldt
Epidemiology and Public Health: Dr. Greg Heath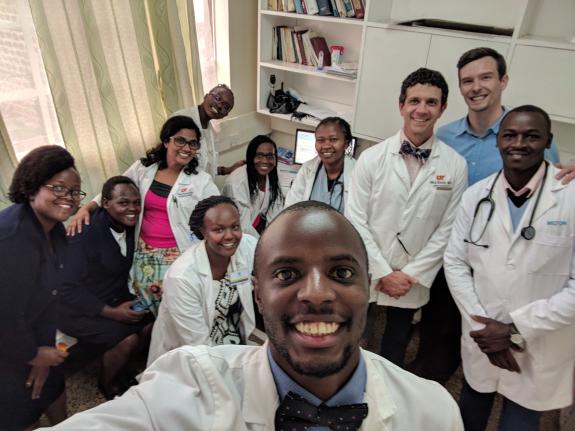 Internal Medicine Teaching Service multidisciplinary team at Tenwek Hospital
Courtyard at Tenwek Mission Hospital, Bomet County, Kenya