Post Graduate Nuclear Pharmacy Certificate Program Information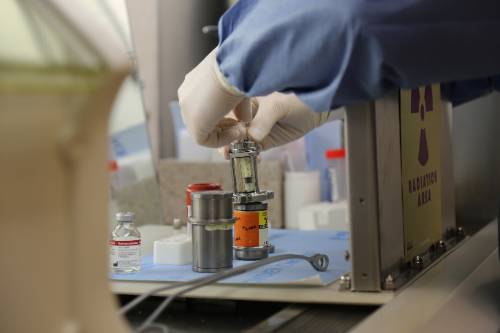 This UTHSC College of Pharmacy Nuclear Pharmacy Training Program is offered to post graduate pharmacists who want to practice in a nuclear pharmacy. Nuclear pharmacy activities are conducted under the supervision and direction of an authorized nuclear pharmacist (ANP). In order to be an ANP, the Nuclear Regulatory Commission requires 700 hours of structured education consisting of 200 hours of didactic training and 500 hours of experiential training. This educational program satisfies the educational requirement of 200 hours via online training and onsite laboratory training. The remaining 500 hours are obtained while practicing in a nuclear pharmacy under the supervision of authorized nuclear pharmacist preceptor.
The online portion consists of viewing online lectures and successfully completing written exercises and examinations. The pharmacist can schedule telephone meetings with the instructor to discuss questions and ensure the pharmacist has a sound foundation for proceeding. The individual is eligible for the onsite component once all distance education requirements have been fulfilled. The six day onsite component consists of laboratory exercises and quizzes. After successful completion of the training, the individual will receive a certificate of completion documenting that the requirements for didactic training have been met. One of the strengths of this program is the ability to complete laboratory exercises in a teaching facility rather than in an operational nuclear pharmacy.
The University of Tennessee Health Science Center College of Pharmacy is accredited by the Accreditation Council for Pharmacy Education (ACPE) as a provider of continuing pharmacy education. Successful completion of this application-based program will provide a statement for thirty (30.0) live contact hours credit (3.0 CEUs) and will be mailed within 3 weeks following the program. Successful completion includes attending and satisfactorily completing the self-assessment for each of the ten laboratory exercises, and completion of the program evaluation form. CE credit will also be submitted to the NABP CE Monitor.
UNIVERSAL ACTIVITY NUMBER (UAN):
0064-0000-19-009-L01-P
The course is divided into two components: distance and on-site.
Distance education requirements include the following topics:
Radiation Physics and Instrumentation
Radiation Biology
Radiation Protection
Mathematics pertaining to the use and measurement of radioactivity
Chemistry of radioactive material for medical use
The six course days on-site will be structured as follows:
Day 1 and 6: Instrumentation and Radiation Safety
Day 2 - 5: Radiopharmaceutical Preparation and Quality Control, this activity is eligible for CE credit
Thirty hours of the on-site training is ACPE accredited for live continuing education.
Overall Goal
The overall goal is to prepare pharmacists to effectively and safely work in a nuclear pharmacy. This program satisfies a segment of their required training to be on a nuclear pharmacy radioactive materials license as an authorized nuclear pharmacist.
Course Objectives
Upon completion of this course, the pharmacist should be able to:
Prepare radiopharmaceutical kits and doses using aseptic technique while incorporating radiation safety practices
Ship and receive radioactive packages in compliance with regulations
Perform checks of proper operation of instrumentation used in a nuclear pharmacy
Prevent or minimize contamination and use proper decontamination procedures as needed
Target Audience
Pharmacists who are interested in working in a nuclear pharmacy and desire to meet the didactic educational requirements to be listed on a nuclear pharmacy radioactive materials license as well as nuclear pharmacy technicians who are expanding their duties.
Course Faculty
Susan H. Morgan, PharmD, BCNP, University of Tennessee Health Science Center, Memphis, TN, College of Pharmacy, Assistant Dean, Nuclear Pharmacy and Assistant Professor, Clinical Pharmacy
Thad Wilson, PhD, University of Tennessee Health Science Center, Memphis, TN, Radiology, Associate Professor
Recommended Textbooks to the Course
Kowalsky RJ, Weatherman, Kara D. (Eds). Radiopharmaceuticals in Nuclear Pharmacy and Nuclear Medicine, 4th Edition, American Pharmacists Association, Washington, D.C. 2020, ISBN 1-58212-283-0
Cherry SR, Sorenson JA, Phelps ME.

 

Physics in Nuclear Medicine

, 4th Edition, Elsevier Saunders, Philadelphia, PA 2012, ISBN 978-1-4160-5198-5
2021
August 2-6
October 18-22
December 6-10
Course Location
Course activities will be held in the Nuclear Pharmacy Training Lab. The Lab is located in the College of Pharmacy Building of the University of Tennessee Health Science Center in Memphis, TN. The address is 881 Madison Ave., and this is located in the medical district of downtown Memphis.
Parking on campus is limited, but complimentary parking information will be provided when you register.
Follow the respective links to learn more about the University of Tennessee College of Pharmacy,  University of Tennessee Health Science Center, and the City of Memphis.
Lodging
Course participants must make their own hotel reservations for the duration of the course. Three hotels are recommended based on their proximity to the University of Tennessee Health Science Center campus.
The Peabody, Memphis
149 Union Avenue, Memphis, TN 38103
Phone: 901.529.4000
The Double Tree by Hilton Hotel Memphis Downtown
185 Union Avenue, Memphis, TN 38103
Phone: 901.528.1800
In order to receive a special rate, you must visit the UTHSC Double Tree Memphis Downtown link.
The Hampton Inn & Suites Memphis-Beale Street
175 Peabody Place, Memphis, TN 38103
Phone: 901.260.4008
Sheraton Memphis Downtown Hotel
250 N Main St., Memphis, TN 38103
Phone: 901.527.7300
In order to receive a special rate, you must call the hotel and request the University of Tennessee Health Science Center rate.
Please fill out the
registration form
and forward it to the provided address by regular mail and include a check for the registration fee.
Registration Fee: $7,000*
* $3,500 is paid prior to initiation of the online program. The remaining $3,500 must be paid prior to attending the on-site program.
Cancellation Policy: There are no refunds for the online course segment. The enrolled participant can reschedule the on-site program for a later date (if space is available) or receive a refund for the on-site portion, minus a $200 administrative fee.  Notification of rescheduling must be received by email within 48 hours of starting date of on-site program.
Registration fee includes access to all course sessions, printed course material, lunch and coffee breaks.
A participant, provider, faculty member or other individual wanting to file a grievance with respect to any aspect of an activity provided or co-provided by the UTHSC COP may contact the Director of Continuing Professional Development in writing at jwheeler@uthsc.edu. The grievance will be reviewed and a response will be returned within 45 days of receiving the written statement. If not satisfied, an appeal to the Dean of the College of Pharmacy can be made for a second level of review.