Department of Otolaryngology
Chairman's Thoughts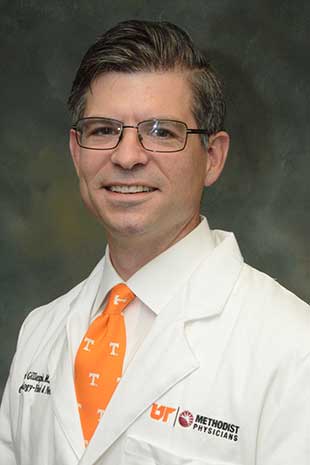 My principal goal when I arrived in Memphis in 2016 was to build UTHSC Otolaryngology-Head & Neck Surgery into a regional referral center for all aspects of otolaryngology-head and neck surgery. I am proud to report that we are currently on our way to establishing that level of service and reputation. In the past year, we have provided care for the citizens of Tennessee, Mississippi, and Arkansas as well as patients from Missouri, Alabama, Georgia, South Carolina, North Carolina, Florida, Oklahoma, and Connecticut who have come to us seeking specific subspecialty services.
UTHSC Otolaryngology-Head & Neck Surgery had two main areas of regional strength at the time of my arrival- Pediatric Otolaryngology and Facial Plastics and Reconstructive Surgery. In the past two years, these areas of strength have grown and thrived. Dr. Jerome Thompson, Director of the Division of Pediatric Otolaryngology, has recruited a team to provide a vast array of subspecialty care for the children of the mid-south region and beyond at Le Bonheur Children's Hospital. Dr. Thompson has a practice dedicated to the care of complex airway disorders and recurrent respiratory papillomatosis in children. He is also director of our new pediatric otolaryngology fellowship program which inaugurated its first year in 2018-2019. His associate Dr. Jennifer McLevy recently initiated the Pediatric Airway and Swallowing Clinic, a multi-disciplinary effort with gastroenterology, radiology, speech-language pathology, and nutrition to help children with neurologic and developmental disorders achieve safe and effective swallowing. In addition, Dr. McLevy's surgical practice includes reconstruction of pediatric aural atresia and application of sialendoscopy to childhood salivary disorders. Dr. Rosemary Stocks is a member of the Le Bonheur Pediatric Cleft Lip-Cleft Palate Clinic and dedicates an operating room day each week to the care of children with these disorders. Dr. Bruce MacDonald heads the Le Bonheur Cochlear Implant Center with the assistance of Dr. Josh Woods who is also growing a practice of advanced pediatric sleep surgery at Le Bonheur. Dr. Tom Long provides general pediatric otolaryngology to the local community in order to reduce wait times and improve access to care at Le Bonheur. Read More
Langsdon Named President of the American Academy of Facial Plastic and Reconstructive Surgery
Phillip R. Langsdon, MD, FACS, professor and chief of the division of Facial Plastic Surgery in the Department of Otolaryngology-Head and Neck Surgery in the College of Medicine at the University of Tennnessee Health Science Center (UTHSC), is now president-elect of the American Academy of Facial Plastic and Reconstructive Surgery (AAFPRS). He was elected during the organization's annual fall meeting in Phoenix, Arizona. As president, he will oversee the world's largest organization of facial plastic and reconstructive surgeons. He takes office in October 2018.  Read More
New Faculty
Sandra Stinnett, MD
Dr. Sandra Stinnett joins the University of Tennessee Health Science Center after completing her Neurolaryngology fellowship from the John Hopkins University and School of Medicine. Dr. Stinnett brings expertise in laryngology with an interest in the full spectrum of disorders of the voice which range from management of the professional voice, treatment of neurological conditions of the larynx, benign and malignant conditions of the vocal folds, vocal fold paralysis, airway reconstruction and swallowing disorder.  Dr. Stinnett obtained her undergraduate degree at Stony Brook University, with a focus in Healthcare Management, as well as a Masters in Biomedical Science at Barry University in East Miami Shores, FL. Dr. Stinnett completed her medical training at the University of Miami Miller School of Medicine and completed her medical training at the University of Miami Miller School of Medicine and completed her residency in Otolaryngology there as well. She joins our faculty as an Assistant Professor and is on staff at Methodist University Hospital.   
Neal Beckford, MD
Dr. Neal Beckford joins the University of Tennessee Health Science Center after spending time as clinical faculty in private practice. Dr. Beckford brings expertise in laryngology and the surgical treatment of thyroid and parathyroid disease.  He has strong interests in the training of mid-level providers in Otolaryngology and developing programs to address the Otolaryngology needs of our geriatric population.   Dr. Beckford completed his medical training at Howard University College of Medicine in Washington, DC, and  his residency in Otolaryngology at the University of Pittsburgh School of Medicine.   He initially joined the faculty in Otolaryngology at UTHSC in 1985.  After being in private practice for 25 years,  he rejoins our faculty as an Associate Professor continuing his community clinical practice in Germantown.