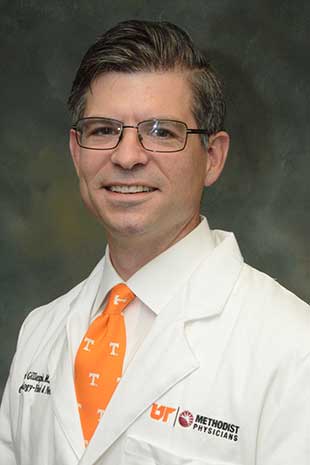 Welcome to the UTHSC Department of Otolaryngology-Head and Neck Surgery. This department has provided dedicated service to the city of Memphis and the surrounding mid-south region for over 60 years. We hope you will take time to explore this website in an effort to get to know us better. Our department currently consists of 20 faculty covering all aspects of tertiary otolaryngology care (general ENT; head and neck oncology; facial plastics and reconstructive surgery; otology/neurotology; complex pediatric otolaryngology; sleep medicine and surgery; rhinology and skull base surgery; laryngology/neurolaryngology). We have 4 residents a year covering six teaching hospitals (Methodist University Hospital; Baptist Memorial Hospital; Regional One Medical Center; Memphis VA; LeBonheur Children's Medical Center; St. Jude Children's Cancer Research Center) providing a wide-ranging clinical experience.
After assuming the role of chairman in 2016, I set about building upon the department's comprehensive expertise in pediatric otolaryngology and facial plastics and reconstruction surgery by growing adult tertiary otolaryngology services. Currently, we staff a 10,000 square foot contemporary clinical space adjoined to Methodist University Hospital in mid-town Memphis. Plans are in development for an equally expansive center in the East Memphis community by 2021. Our recruitment of young, dedicated faculty from the best fellowship programs in the country have created a clinical team that is second to none.
On the research and education front, efforts have focused on the building a new otolaryngology surgical training and research center. The Center for Learning and Innovation in Ear, Nose, and Throat (CLIENT) opened in 2019. The CLIENT lab offers state-of-the-art lab stations and equipment for surgical education of the temporal bone; facial and neck soft tissues; and sinuses and skull base. In addition, the lab offers comfortable meeting and conference rooms that will allow interaction between students, residents, researchers, and engineers to design products and trials to serve patients in the future. The center is administered by Dr. Madhu Mamidala, PhD, who serves as a liaison with industry partners; provides oversight with regard to regulatory and IRB matters; and supervises a team of clinical research coordinators. Dr. Mamidala and Dr. Tony Sheyn are responsible for resident research projects; the monthly research conference; and research-related resident education.
Our number one goal as a department is to train the next generation of otolaryngologist-head and neck surgeons. Approximately 50% of our residents decide to pursue subspecialty fellowships and have matched at many of the top fellowships in the country. An equal number decide to pursue private practice opportunities and are prepared from day one with the knowledge and technical skills to perform the full-breath of otolaryngologic care. Our goal is not to have our residents pursue particular career paths, but to help them to achieve their own individual aspirations within the fascinating field of otolaryngology-head and neck surgery.
M. Boyd Gillespie, MD, MSc, FACS
Professor & Chair