Department of Otolaryngology
Chairman's Thoughts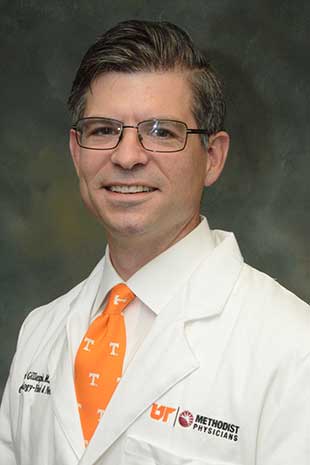 Welcome to the UTHSC Department of Otolaryngology-Head and Neck Surgery. This department has provided dedicated service to the city of Memphis and the surrounding mid-south region for over 60 years. We hope you will take time to explore this website in an effort to get to know us better. Our department currently consists of 20 faculty covering all aspects of tertiary otolaryngology care (general ENT; head and neck oncology; facial plastics and reconstructive surgery; otology/neurotology; complex pediatric otolaryngology; sleep medicine and surgery; rhinology and skull base surgery; laryngology/neurolaryngology). We have 4 residents a year covering six teaching hospitals (Methodist University Hospital; Baptist Memorial Hospital; Regional One Medical Center; Memphis VA; Le Bonheur Children's Medical Center; St. Jude Children's Cancer Research Center) providing a wide-ranging clinical experience. Read More

New Faculty
---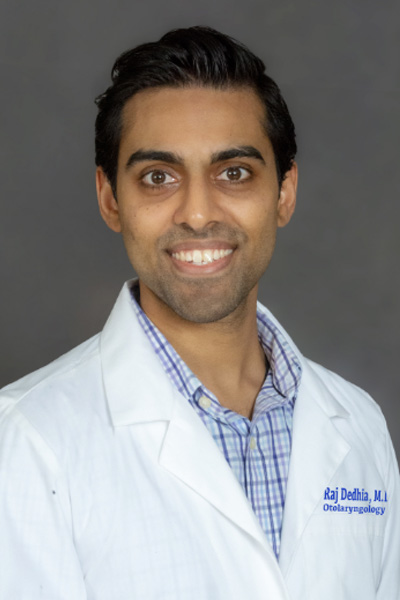 Dr. Raj Dedhia is a fellowship-trained Facial Plastic and Reconstructive Surgeon who joins the UTHSC Otolaryngology faculty as an Assistant Professor and Director of the Division of Facial Plastic and Reconstructive Surgery starting in September 2020
Dr. Dedhia recently completed his fellowship in Facial Plastic and Reconstructive Surgery at Vanderbilt University Medical Center. He completed his residency in Otolaryngology at the University of California Davis Medical Center and received his medical degree at the University of Southern California, Keck School of Medicine.
His academic interests include cosmetic and Reconstructive Surgery of Face, Nose, Eyelids, Head and Neck, Facial Reanimation, Skin cancer reconstruction, hair restoration, facial rejuvenation, Aesthetic and Reconstructive Options: Rhinoplasty, Facelift (deep plane), Facial Rejuvenation, Skin Resurfacing and Chemical Peels, Botox ®, Filler (Juvarderm ®, Restylane ®), Otoplasty and Earlobe Repair, Browlift, Medical Hair Restoration, Facial Trauma Surgery, Scar Revision, Facial Reanimation for Facial Paralysis, Moh's Defect/Skin Cancer Reconstruction, 3-D Aesthetic Simulation, Platelet Rich Plasma (PRP)
Dr. Dedhia has participated in medical mission and education trips to the Philippines and Cambodia. He is author of over 20 peer-reviewed publications and book chapters, and has given over 20 institutional lectures and scientific meeting presentations.
Dr. Andrew Griffith joins the UTHSC Otolaryngology faculty after 22 years in the intramural research program of the National Institute on Deafness and Other Communication Disorders (NIDCD, one of 27 institutes and centers comprising the National Institutes of Health (NIH)) in Bethesda, Maryland. At NIDCD, he conducted basic and clinical research on hereditary hearing loss with an emphasis on hearing loss associated with enlargement of the vestibular aqueduct. His Otolaryngology practice in the NIH Clinical Center, the world's largest hospital solely dedicated to biomedical research, focused on genetic disorders affecting hearing, balance, taste, smell, voice, speech, or language. He served as Director of the NIDCD Intramural Research Program from 2009 to 2020 and as Deputy Director of Intramural Clinical Research for the entire NIH intramural research program from 2016 to 2020. He was recruited to the UTHSC College of Medicine to serve as Senior Associate Dean of Research and grow research across the entire College. He is very pleased to join the UTHSC Department of Otolaryngology and contribute to its academic growth.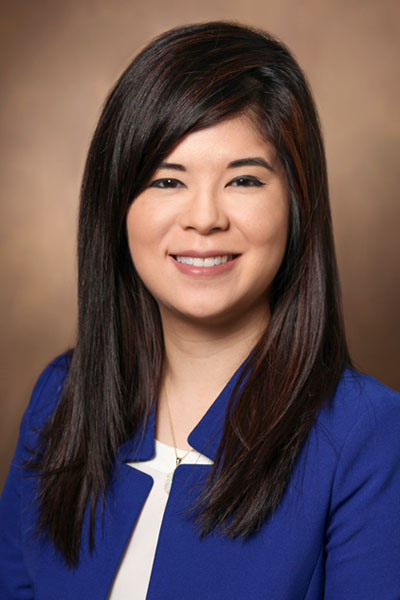 Dr. Charissa Kahue is a fellowship-trained head and neck oncologic and microvascular reconstructive surgeon who joined the UTHSC Otolaryngology faculty as an Assistant Professor in September 2020. 
She grew up in a military family and has called many places "home" over the years, but considers Honolulu, Hawaii to be her home away from Tennessee. She earned a bachelor's degree in biology from Chaminade University of Honolulu and then completed a two-year research fellowship at the National Cancer Institute in Bethesda, MD. She went on to receive her medical degree at Vanderbilt University (2014), where she also stayed to complete her residency in Otolaryngology (2019). She completed an American Head and Neck Society fellowship in head and neck oncologic and microvascular reconstructive surgery at the University of Kansas (2020).
Her academic interests include barriers to cancer care, development of patient/caregiver education materials, and patient survivorship.   She has participated in several global health trips to Nigeria, Kenya and Haiti that provide head and neck care to patients as well as educational advancement to local otolaryngologists. She hopes to continue these efforts at UTHSC.
Dr. Kahue's practice involves removal of tumors and malignancies of skin of the head and neck, aerodigestive tract, salivary glands, thyroid/parathyroid glands, and parapharyngeal space, transoral robotic surgery, and locoregional and free tissue reconstruction of head and neck defects. She believes in both multidisciplinary and patient/family-centered care to achieve optimal oncologic and quality of life outcomes. She is excited to join the UTHSC Department of Otolaryngology to help train the next generation of otolaryngologists as well as provide increased access to head and neck cancer care in the region.
Telecommuting turns many of us into "professional voice users"
The coronavirus pandemic has created a culture of telecommunication meetings, and has forced us to use devices to connect with family and loved ones more frequently. 
Overnight, many of us now fit into the category of "professional voice user," a term that applies to anyone whose career or livelihood depends on the use of his or her voice. These new methods of conducting business and social activities may result not only in mental fatigue but also vocal fatigue – tiredness or weakness in one's voice, often due to increased or improper use. Symptoms include hoarseness, diminished vocal range, lower volume and/or neck muscle tenderness. Read More
Otolaryngology Headlights