Department of Otolaryngology
Chairman's Thoughts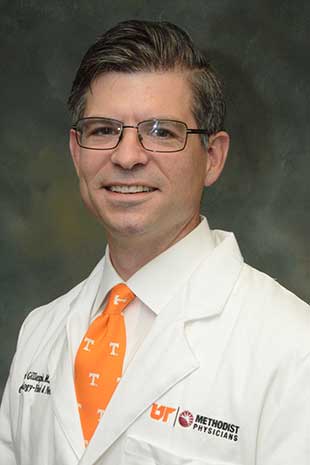 Welcome to the UTHSC Department of Otolaryngology-Head and Neck Surgery. This department has provided dedicated service to the city of Memphis and the surrounding mid-south region for over 60 years. We hope you will take time to explore this website in an effort to get to know us better. Our department currently consists of 20 faculty covering all aspects of tertiary otolaryngology care (general ENT; head and neck oncology; facial plastics and reconstructive surgery; otology/neurotology; complex pediatric otolaryngology; sleep medicine and surgery; rhinology and skull base surgery; laryngology/neurolaryngology). We have 4 residents a year covering six teaching hospitals (Methodist University Hospital; Baptist Memorial Hospital; Regional One Medical Center; Memphis VA; Le Bonheur Children's Medical Center; St. Jude Children's Cancer Research Center) providing a wide-ranging clinical experience. Read More

New Faculty
---
Wade G. McClain, DO
Dr. Wade McClain is a fellowship-trained Pediatric Otolaryngologist joining the UTHSC Otolaryngology faculty as an Assistant Professor in the Division of Pediatric Otolaryngology starting in September 2021.
Dr. McClain joins us after 5 years as a faculty member of the Department of Otolaryngology/Head and Neck Surgery at the University of North Carolina in Chapel Hill. He completed his residency in Otolaryngology/Facial Plastic Surgery at the Oklahoma State University Medical Center in 2013 and after 2 years of private practice in general otolaryngology completed a fellowship in Pediatric Otolaryngology at the University of North Carolina in 2016.
He treats a full spectrum of pediatric ear, nose and throat disorders. His clinical specialties include treatment of complex sleep apnea, tumors and congenital malformations of the head and neck, and management of the pediatric airway. His research interests include outcomes and system-based quality improvement and surgical education. He is the author of multiple peer-reviewed publications and textbook chapters regarding pediatric otolaryngology.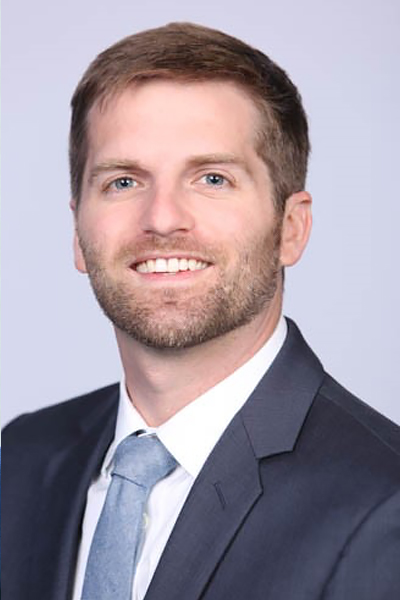 C. Burton Wood, MD
Dr. C. Burton Wood is a fellowship-trained Head and Neck Oncologic and Microvascular surgery who joins the UTHSC Otolaryngology faculty as an Assistant Professor starting in August 2021. 
Dr. Wood is a native Tennessean, having been born and raised in Nashville. He previously spent time in Memphis as a medical student here at UTHSC. More recently, he completed his fellowship in Advanced Head and Neck Surgical Oncology and Microvascular Reconstructive Surgery at Washington University School of Medicine. He was a resident at Vanderbilt University Medical Center. 
His academic interests include quality improvement in head and neck cancer surgery and post-operative care, early detection methods for HPV+ oropharyngeal cancers, and utilization of ultrasound in otolaryngology practices and training. He has been involved in global health work including trips to Kenya and Haiti with a primary goal of developing a teaching protocol. 
Dr. Wood's clinical interests include all facets of Head and Neck Surgical Oncology, with particular interest in surgical management of HPV related cancers via TORS and microvascular reconstruction. He feels fortunate to have had numerous excellent mentors throughout his training and is very excited to be able to assist in training future otolaryngologists and to care for head and neck cancer patients in Memphis and the surrounding region. 
Telecommuting turns many of us into "professional voice users"
The coronavirus pandemic has created a culture of telecommunication meetings, and has forced us to use devices to connect with family and loved ones more frequently. 
Overnight, many of us now fit into the category of "professional voice user," a term that applies to anyone whose career or livelihood depends on the use of his or her voice. These new methods of conducting business and social activities may result not only in mental fatigue but also vocal fatigue – tiredness or weakness in one's voice, often due to increased or improper use. Symptoms include hoarseness, diminished vocal range, lower volume and/or neck muscle tenderness. Read More
Otolaryngology Headlights