Department of Otolaryngology
Chairman's Thoughts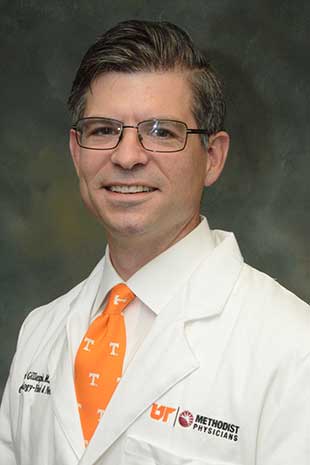 Welcome to the UTHSC Department of Otolaryngology-Head and Neck Surgery. This department has provided dedicated service to the city of Memphis and the surrounding mid-south region for over 60 years. We hope you will take time to explore this website in an effort to get to know us better. Our department currently consists of 20 faculty covering all aspects of tertiary otolaryngology care (general ENT; head and neck oncology; facial plastics and reconstructive surgery; otology/neurotology; complex pediatric otolaryngology; sleep medicine and surgery; rhinology and skull base surgery; laryngology/neurolaryngology). We have 4 residents a year covering six teaching hospitals (Methodist University Hospital; Baptist Memorial Hospital; Regional One Medical Center; Memphis VA; LeBonheur Children's Medical Center; St. Jude Children's Cancer Research Center) providing a wide-ranging clinical experience. Read More

UTHSC COVID-19 Testing - Taking a Nasopharyngeal Swab
New Faculty
---
UTHSC Otolaryngology-Head & Neck Surgery is excited to have Dr. Scott Strome join the Division of Head and Neck Surgery. Dr. Strome served as chairman of the Department of Otolaryngology-Head and Neck Surgery at the University of Maryland for 13 years prior to his recruitment to UTHSC where he is the current Robert Kaplan Executive Dean of the UTHSC College of Medicine. Dr. Strome was a busy clinician and funded researcher at the University of Maryland Department of Otolaryngology-Head and Neck Surgery which was recently named a top 10 otolaryngology program in the nation by U.S. News & World Report. In addition to a busy surgical practice focused on thyroid, salivary, and head and neck tumors, Dr. Strome was part of the research team involved in the early application of PDL-1 inhibitors in the treatment of head and neck cancer. He was a co-leader of the University of Maryland Tumor Immunology Program and co-founder of the biotechnology company Gliknik. As Executive Dean, Dr. Strome is focused on ways to reduce the financial burden on students seeking careers in medicine. Dr. Strome will continue to care for head and neck cancer and perform surgeries as a member of our department.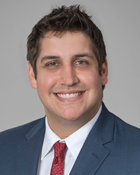 Dr. Robert Yawn joins the UTHSC Otolaryngology faculty having recently completing fellowship training in Neurotology/Lateral Skull Base Surgery with the Otology Group of Vanderbilt in Nashville, TN. He also completed his residency training in Otolaryngology-Head and Neck Surgery with Vanderbilt University Medical Center. He is originally from Saint George, South Carolina. He completed his undergraduate degree in biochemistry and subsequently attended the Medical University of South Carolina in Charleston, SC for his medical degree. His advanced training in ear surgery and skull base surgery has given him a clinical interest in cochlear implantation, endoscopic ear surgery, and the removal of skull base tumors through the ear. His research interests include optimizing cochlear implant outcomes, process improvement for clinical service delivery, and improving facial nerve outcomes in patients undergoing skull base surgery. He has authored over 40 publications to date. These include peer-reviewed original research in national and international medical journals for otolaryngology, invited expert commentary, and textbook chapters in commercially available otolaryngology textbooks. Additionally, he's been active in presenting research at national meetings for professional societies, including the American Academy of Otolaryngology-Head and Neck Surgery, American Neurotology Society, American Otological Society, American Society of Pediatric Otolaryngology, North American Skull Base Society, and Triological Society.
Telecommuting turns many of us into "professional voice users"
The coronavirus pandemic has created a culture of telecommunication meetings, and has forced us to use devices to connect with family and loved ones more frequently. 
Overnight, many of us now fit into the category of "professional voice user," a term that applies to anyone whose career or livelihood depends on the use of his or her voice. These new methods of conducting business and social activities may result not only in mental fatigue but also vocal fatigue – tiredness or weakness in one's voice, often due to increased or improper use. Symptoms include hoarseness, diminished vocal range, lower volume and/or neck muscle tenderness. Read More