About the College of Medicine
The College of Medicine is a member of the Association of American Medical Colleges (AAMC) and is accredited by the Liaison Committee on Medical Education (LCME), which represents the Council on Medical Education of the American Medical Association and the Association of American Medical Colleges (AAMC). The Colleges GME programs are accredited by the Accrediting Council on Graduate Medical Education (ACGME). The College also is accredited by the Southern Association of Colleges and Schools (SACS) through the UT Health Science Center.
There are 25 departments on our Memphis Campus, nine departments on our Knoxville campus, and ten departments on our Chattanooga campus. Medical Students from the College of Medicine spend their first two years on the Memphis Campus and then rotate on all three Campuses for clinical training. GME Programs and active research and clinical practice programs are present on all three College of Medicine campuses. Currently, the College has approximately 656 medical students and over 1100 residents and fellows in 84 GME training programs. Gross revenues for the College exceed $400M annually with greater than $70 million in research revenues. Multiple physician practice groups make up the College of Medicine faculty practice arm with the largest number of faculty being members of University Clinical Health (UCH).
Mission Statement
The mission of the University of Tennessee Health Science Center is to improve the health and well-being of Tennesseans and the global community by fostering integrated collaborative and inclusive education, research, scientific discovery, clinical care, and public service.
Strategic Plan
Meet the Dean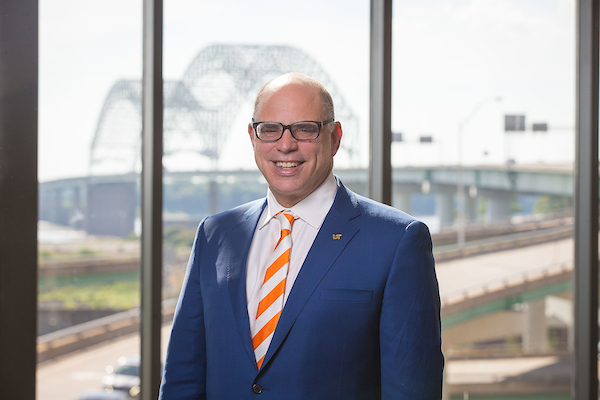 I am very pleased to welcome you to the College of Medicine at the University of Tennessee Health Science Center.
Since I arrived in Memphis in October 2018, I have been constantly amazed by the strength of our college in each of the four facets of our mission – clinical care, education, research, and community outreach. I am committed to seeing the UTHSC College of Medicine continue to advance in each of these areas.
We have accomplished much in a short time. We have recruited top-tier clinical and research faculty, made adjustments in leadership to better serve the college, received accreditation for key programs, secured major funding for research, improved curriculum, and increased attention to the personal and financial well-being of our students. Read more.
Campuses
Research Centers
Genomics and Bioinformatics, Center of Excellence