McSpadden Spirit of Service Award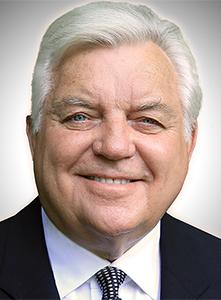 Dr. John T. McSpadden is recognized as an innovator and leader by the global endodontic community. He has received numerous awards, including the prestigious President's Award and the Louis I. Grossman Award from the American Association of Endodontists. He achieved Honorary status from the Société Française Endodontie as he has lectured internationally on all continents.
A retired endodontist from Chattanooga, Tennessee, Dr. McSpadden is considered the father of rotary endodontics. His textbook, Mastering Endodontic Instrumentation, represents a culmination of Dr. McSpadden's intellectual curiosity weaved with his engineering background to reflect an evidence-based approach to the principles of endodontic instrumentation.
Dr. McSpadden earned his Bachelor of Science from the University of Tennessee, Knoxville in 1963 and Doctorate of Dental Science from the University of Tennessee College of Dentistry in 1967.
The John T. McSpadden Spirit of Service Award is presented annually to the postgraduate endodontic resident who has provided exemplary patient care, pursued excellence in scholarly activity and demonstrates altruism.
Past Award Winners
D. Trey Mauney, DDS, MDS, 2022
Estella A. Irelan, DDS, MDS, 2021
Andrew W. Hubbard, DMD, MDS, 2021
Enrique R. Bursian, DMD, 2021
Daniel H. Tran, DDS, MDS, 2020
Ben Wheeler, DMD 2019
Dave Patel, DMD, 2018
Chris James, DMD, 2017
Tuomas K. Niemi, DMD, MDS, 2016
Geraldine Navarrete, DMD, 2015
Jonathan P. Uhles, DDS, MDS, 2014