Gold Humanism Honor Society

The University of Tennessee Gold Humanism Honor Society Chapter was approved in March 2009 and the first inductees were named in April 2009. This was made possible by an initial grant from the Arnold P. Gold Foundation.
The GHHS is dedicated to foster, recognize, and support the values of humanism and professionalism in medicine. The Society commits itself to work within and beyond medical education to inspire, nurture, and sustain lifelong advocates and activists for compassionate patient care.
2020 GHHS Induction Ceremony - Class of 2021
---
| | | |
| --- | --- | --- |
| Blake Alexander Barton | Dylan Elliot Brooks | Michael Robert Brunner |
| Kenneth Michael Coca | Elijah Teancum DeBroux | Austin George DeMaagd |
| Mallie Marie Dennis | Jennings Hardee Dooley | Irtiqa Farooq Fazili |
| Andrew Luke Gentuso | Kylie Inez Wills Holden | Adam Keith Hubler |
| Chloe Noelle Hundman | Melissa Ramos Justo | Sophia Elise Lavie |
| Eric Ly | Lydia McColl Makepeace | Mary Elizabeth McBride* |
| Robert Austin O'Connor | SaeRam Oh | Radha Piyush Patel* |
| Sofia Sabrina Sanchez | Kevin Andrew Sellers* | Matthew Neil Spence |
*2020 - 2021 GHHS Student Chapter Liaisons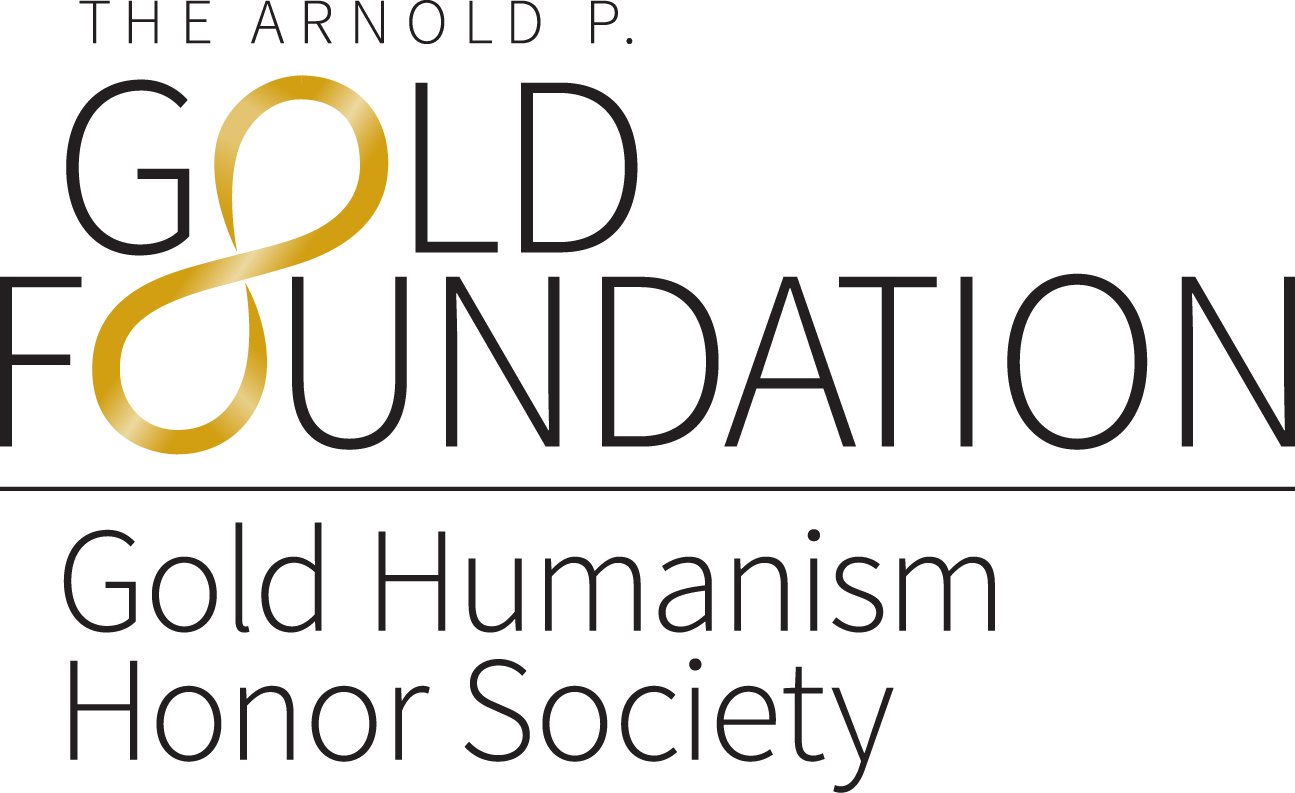 Chapter Advisor and Founder  Mukta Panda, MD, MACP, FRCP-London
Professor, Departments of Medicine and Medical Education, and Assistant Dean for Well-Being and Medical Student Education
UT College of Medicine Chattanooga
Chapter Co-Advisors
Renate Rosenthal, PhD, Professor, Departments of Psychiatry and Medical Education, and Assistant Dean for Behavioral Science Integration (Memphis Campus Co-Advisor)
Knoxville Campus Co-Advisor - To Be Announced
2019-2020 Student Chapter Liaisons
Victoria Godwin, Jami  Reece, and Larissa Wolf (GHHS 2019 inductees and members of the COM Class of 2020) 
GHHS Chapter Administrative Liaisons
Pamela D. Scott, C-TAGME, Director,  Graduate and Medical Student Education (Chattanooga Campus)
Courtney Orloski, Medical Student Services Specialist (Chattanooga Campus)
The 2020 Induction Ceremony and Luncheon was held on Saturday, February 22, 2020, at Pier 2 at Ross' Landing adjacent to the Southern Belle Riverboat dock in Downtown Chattanooga. As part of the celebration, residents and faculty who were selected as outstanding teachers by medical students rotating in Chattanooga during calendar 2019. Our guest speaker was Austin Dalgo, MD, Assistant Professor, Department of Pediatrics [Palliative Care], UTHSC College of Medicine Memphis.
Honor Society Pledge
As a member of the Gold Humanism Honor Society, I pledge by all that I hold dear as a Physician:
I will Care for my patients with Compassion, Respect, Empathy, Integrity and Clinical Excellence;
I will Listen to my patients with my whole being;
I will Advocate for each patient as a unique individual;
I will Serve as a role model and mentor to promote humanism in health care;
I will Remember always the healing power of acts of caring;
I will Dedicate myself to joining with others to make health care optimal for all.
Who are GHHS members?
Medical students, residents, medical school faculty members, and national figures who are role models in their contributions to compassionate service in medicine.
Recipients of the Arnold P. Gold Foundation's Leonard Tow Humanism in Medicine Award.
Recipients of the Accreditation's Council for Graduate Medical Education's Parker J. Palmer Courage to Teach Award.
Recipients of the Arnold P. Gold Foundation's Humanism and Excellence in Teaching Award.
Resident and Faculty Recognized as Outstanding Teachers
Selected by medical students rotating in Chattanooga during 2019
Residents
Emergency Medicine:  Christopher Etchells, MD
Family Medicine:  William Shelton, MD
Internal Medicine:  Chuang-Xing Ho, MD
OB/GYN: Natalie Vukmer, DO, MS
Orthopaedic Surgery:  Connor Read, MD
Pediatrics:  Michael Facciolo, MD
Surgery:  Victoria Miles, MD
Urology:  Amanda Threlkeld, MD, and Michael Tonzi, MD 
Faculty
Emergency:  Benjamin Smith, MD, and Jessica Whittle, MD
Family Medicine:  Steven Fox, MD
Internal Medicine:  Michael Davis, MD
Neurology:  Abdelazim Sirelkhatim, MD
OB/GYN:  Frederick Bossert, MD
Orthopaedic Surgery:  Jeremy Bruce, MD
Pediatrics:  Jeffrey Bennett, MD
Psychiatry:  Audrey Hime, MD
Surgery:  W. Heath Giles, MD
Urology:  Daniel Herz, MD, and Amar Singh, MD
Special Thanks
Special thanks to the following administrative staff for the Chattanooga Campus who made this event possible at the event and behind the scenes.
Donations for our GHHS Chapter
We appreciate your support of the GHHS Chapter and its activities.  You can make your tax deductible donations for GHHS payable to The UT College of Medicine Chattanooga and denote the purpose is for the UT GHHS Chapter:
UT College of Medicine Chattanooga
ATT:  Jane Clay, Director of Finance and Administration
960 East Third St, Suite 100
Chattanooga, TN  37403
Phone:  423.778.7840
Email:  Jane.Clay@erlanger.org