News: Dr. Margaret Armour-Jones Receives the Inaugural Social Justice Award Presented to a UTHSC Resident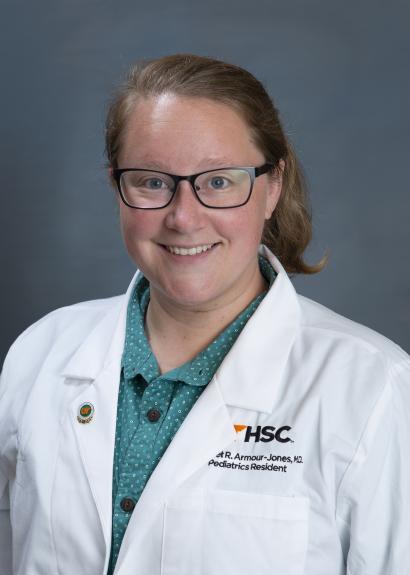 This news release is adapted from an article written by Jackie Denton, UTHSC Memphis, and posted on the main UTHSC website.
Media Release
UT College of Medicine Chattanooga
January 14, 2021
We are pleased congratulate and share that on Wednesday, January 13, 2021, via a UTHSC Zoom ceremony, our own Margaret Armour-Jones, MD (pictured to the left), 3rd Year Resident in the Pediatrics Residency at the UT College of Medicine Chattanooga Campus and based at Children's Hospital at Erlanger, received the first ever UTHSC Social Justice Award presented to a Resident for her advocacy and leadership in addressing and supporting LGBTQ+ issues.  Dr. Armour-Jones is part of a project that teaches healthcare providers and staff how to use features in the EMR system to document gender and preferred names.  She was the only Resident selected to receive the inaugural award for the entire UTHSC GME System.
Dr. Armour-Jones stated, "I am so honored and humbled to have been recognized with this award. I have received such overwhelming support from faculty and co-residents throughout the program.  I feel extremely lucky to be a part of such a supportive and inclusive program.   Justly advocating for social change, inclusion, and equality is often a task that seems infinitely difficult and unattainable.  But I hope to remind everyone that it can also be as simple as reminding a patient that they belong.  Every small step is a vital part of the large step we are taking into a better future.  We may not each be able to bring justice for everyone, but each of us with our individual passions - be it LGBTQ+ visibility, access and inclusion for the disabled, racial justice, or many others - can collectively bring immense change!  Thank you so much to everyone who has supported and guided me these past several years. I will be forever grateful for the opportunities I have been granted."
The Social Justice in Healthcare Leadership Award is a collaboration between the Office of Equity and Diversity and the respective Graduate Medical Education Programs in Knoxville, Chattanooga, and Memphis at targeting Medical Residents and Fellows who have advocated for social justice and equity and diversity while positively impacting the University and the community; specifically, residents/fellows currently registered as a trainee.
The Office of Equity and Diversity (OED) at the University of Tennessee Health Science Center today recognized honorees of its inaugural Social Justice Awards.
Tiffinie Snowden, UTHSC OED Inclusion Strategist, hosted the virtual ceremony which recognized UTHSC students, residents, and fellows whose actions demonstrate the importance of social justice activism and equity and diversity, while positively impacting UTHSC and the community.
During the ceremony, OED presented a slideshow of images from June when hundreds of health care professionals, staff, and students participated in the "White Coats for Black Lives," protest on campus, which displayed solidarity against racism.
"Because social justice extends beyond race, we created the social justice awards," Michael Alston, EdD, CCDP/AP, assistant vice chancellor for the Office of Equity and Diversity, chief diversity officer, and Title IX coordinator for UTHSC said. "It was something the Office of Equity and Diversity wanted to do in this space that will be sustainable, and not just focused on why we were there in protest on June 5. Under the word social justice, I want you to think about human rights, access, participation, and equity because this is what you see in the body of work that these individuals have put forth."
The Student Social Justice and Diversity Healthcare Leadership Awards were also presented to three students.
Elizabeth Clayton, M2, College of Medicine
Clayton helped to organize the "White Coats for Black Lives" demonstration. She also participated in creating the "Uncomfortable Conversations" series which addressed racism and inequities in the health care system.
Shiyar Kapan, P3, College of Pharmacy
Kapan helped to develop a series of listening sessions through the Office of Student Affairs and hosted a session on "Systemic Racism," recruiting facilitators and planning discussion groups during the sessions, thus creating a safe space for fellow students.
Chidi Zacheaus, Pharmaceutical Sciences PhD student, College of Graduate Health Sciences
Zacheaus initiated a community service outreach committee for the Graduate Student Executive Council and has led a discussion group within the college on topics such as social justice and diversity.
The Social Justice in Healthcare Leadership Award was presented to one resident.
Honorees were selected from nominations submitted by several colleges and the Office of Graduate Medical Education, and were reviewed and ranked by separate committees for each award.
Each winner will receive a one-time $500 stipend for professional development and a commemorative plaque. The Student Social Justice and Diversity Healthcare Leadership Awards are jointly funded by the colleges and the Social Justice in Healthcare Leadership Award are jointly funded in collaboration with each Office of Graduate Medical Education.
Terri Freeman, president of the National Civil Rights Museum, closed the ceremony by recognizing the winners and said, "In your work, you carry on the legacy of Dr. King. He said the arc of the moral universe is long, but it bends toward justice. We need your hard work and effort to ensure that every human being has a right to good health care that is life saving and life preserving."
Click here to review the original news story on the UTHSC website.