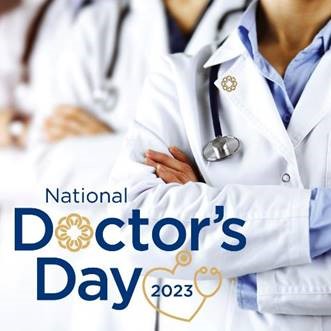 Happy National Doctors Day!
We want to honor all our physicians, including our Residents and Fellows, on the 2023 National Doctors Day (March 30, 2023).  Join the University of Tennessee College of Medicine - Chattanooga and Erlanger Health System in honoring our exceptional physicians for the essential care they provide every day.   We are proud to recognize our doctors and understand how much time and energy is spend mastering their field of expertise.  They give us all reasons to be grateful. 
National Doctors' Day provides a time for people to show appreciation to the doctors who care for them or their loved ones.  The first Doctors' Day observance was March 30, 1933, in Winder, Ga., on the anniversary of the first use of general anesthetic in surgery.  The U.S. House of Representatives adopted a resolution commemorating Doctors' Day on March 30, 1958. In 1990, Congress established May 30 each year as the National Doctors Day.
You can view video posted by our major affiliated partner, Erlanger Health System, of some of our outstanding doctors reading thank you notes from patients.