Community Development Board
The first meeting of the ASP Community Development Board was held on Wednesday, November 9, 2011, in the Silverstein-Luper Hearing and Speech Center Building, Knoxville, TN.
Original members were selected due to their unfaltering support and interest in the welfare of the Department of ASP, and because they represented various constituents within the community (e.g., parent of former student, health care attorney, alumni), providing them with unique and important perspectives on our ASP programs.
The original purposes of the Board were to:
establish and promote goals which strengthen the communication and ties between the Department, the community, and the University,
support the Department in maintaining and enhancing a reputation for excellence in service delivery, professional preparation, and research,
present an opportunity for social purposes to those persons who are interested in the distinguished record and future progress of the Department, and
assist the department chair and development office in identifying potential donors and cultivating relationships for purposes of fundraising.
The ASP Community Development Board purposefully was organized in such a way that it is encompasses primarily members who are not employees of the department/university, and are free to express their unbiased opinions as they move towards its goals for supporting the department.
Since November 9, 2011, the ASP CDB has met almost monthly.  Over the years, some members' terms have ended and new members have joined the Board.  Each member has contributed a wealth of knowledge, experience, and support to our Department.
With ideas and assistance from the Board, the Department has hosted the 40th anniversary of the pediatric language clinic, the 60th anniversary of the Department, its first annual Parent Weekend for ASP graduate students and their families, and several fundraisers including the recent Dinner with Tamika Catchings.
The Board also created the ASP CDB Enrichment Fund to meet immediate strategic needs in the Department.  Examples of these initiatives include funding for a Cerumen Management Training for AuD students and faculty, seed money for PhD students to collect data for their research projects, and the purchase of state of the art equipment for the clinics and classrooms.
Current Board Members:
Dale Amburn, Esq.
Sally Baerman, AuD, CCC-A
Robert Beam
Julie Beeler, MA, CCC-A/SLP (ASP staff representative)
John Berry, MA
Lynda Cobb, MPA
Tommy Cook
Mark Gaylord, MD
Karen Gilbertson, MA, CCC-SLP
Ashley Harkrider, PhD (ASP faculty representative)
Erin Kinney (ASP Student Representative)
John Little, MD
William Merwin, MD, FACS
Aaron Price
Ryn Rowlett, MA, CCC-SLP
Carol Sheridan, MA, CCC-SLP
Hal Watts, Esq., President
Kelly Yeager, AuD (ASP faculty representative)
Board Member Highlight
Meet Dale Amburn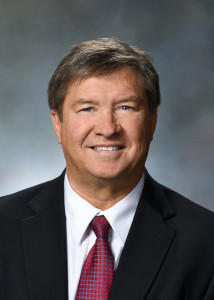 W. Dale Amburn, Esq.
President and CEO, London & Amburn, P.C. in Knoxville
Mr. Amburn is a founding member of the firm of London & Amburn, P.C.  He graduated from the UT (BS in Business Administration) in 1976 and received his law degree from the UT College of Law in 1978.  His daughter, Meredith Amburn Cunningham, is a speech-language pathologist who graduated from the department with a Bachelor's in Audiology and Speech in 2009 and a Master's in Speech Pathology in 2011.
"To me, the University of Tennessee Audiology and Speech Pathology Program is one of our 'hidden gems.' It makes such a difference in our community through needed services to people of all ages, and by providing world-class training and education to students in this field. Graduates of the program not only serve in this community, but across the country and internationally as well. I am honored to serve on the Community Development Board as it supports the mission of the Program in making a difference in the lives of so many."