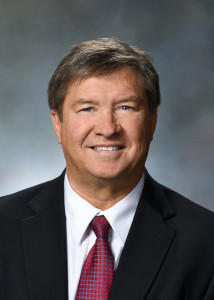 President and CEO, London & Amburn, P.C. in Knoxville
Mr. Amburn is a founding member of the firm of London & Amburn, P.C.  He graduated from UT Knoxville (BS in Business Administration) in 1976 and received his law degree from the UT College of Law in 1978.  His daughter, Meredith Amburn Cunningham, is a speech-language pathologist who graduated from the department with a Bachelor's in Audiology and Speech in 2009 and a Master's in Speech Pathology in 2011.
"To me, the University of Tennessee Audiology and Speech Pathology Program is one of our 'hidden gems.' It makes such a difference in our community through needed services to people of all ages, and by providing world-class training and education to students in this field. Graduates of the program not only serve in this community, but across the country and internationally as well. I am honored to serve on the Community Development Board as it supports the mission of the Program in making a difference in the lives of so many."