The Advanced Specialty Education Program in Endodontics at the University of Tennessee Health Science Center provides instruction in advanced techniques to post-graduate students who wish to be eligible for state licensure with a limited license in endodontics. Students in the program, located in the downtown medical center in Memphis in the Winfield C. Dunn College of Dentistry, provide patient care to a diverse population from both internal and external referring providers with an emphasis for preparing post-graduate students for clinical practice.
Communication in coordinating interdisciplinary treatment planning, management of the medically complex patient, interpreting objective data and special testing and reporting findings to the referring office are all hallmarks of contemporary endodontic practice that the program aims to simulate. In-depth instruction is provided in a state-of-the art clinic following an intensive eight-week preclinical course in non-surgical endodontics, retreatment, instrument retrieval, perforation repair and adjunct procedures that encompass endodontic practice. Surgical endodontics is performed as a PGY2 as cases are available.
To complete the Certificate Program, residents must demonstrate proficiency in the examination, diagnosis and treatment of pathologies of the dental pulp and the related periodontal tissues. The program complies with standards established by the American Dental Association's Commission on Dental Accreditation (CODA) and qualifies residents for examination by the American Board of Endodontics. Continuous full-time attendance is a requisite for the 24 month course of instruction.
The Certificate Program concludes (a minimum of) two years from date of entry which is generally the Monday prior to July 4.  
Mission
The Advanced Post Graduate Endodontic Program seeks to further the educational, research, clinical, and community service missions of the UTHSC and the College of Dentistry by providing an environment wherein:
Endodontic residents are educated to provide high quality oral health care based on sound scientific principles
Patients receive competent, limited endodontic care as part of a comprehensive treatment plan
Faculty, residents, and program staff members value patients, respect diversity, and share responsibility while working together toward academic, professional, and personal growth
Scholarly activity and research provide a foundation for evidence-based learning and enhanced health care
The program attracts and retains a superior and diverse faculty, residents and staff who are motivate to excellence
The community benefits from Program services and commitment to quality health care
Technology & Clinic
Each post-graduate student is provided a dedicated operatory equipped with an ASI cart with integrated electric motors, ultrasonics, irrigation systems, Stropkos, curing lights, System B, Obtura gun and workstations running TDO electronic office software. Kodak 6100 sensors are provided for intraoral radiography at every workstation. A Kodak 9000 CBCT is available and dedicated to the Department of Endodontics. JedMed surgical stools provide ergonomic support while visualization is performed through a Zeiss Pico dental operating microscope with Varioskop lens (PGY1) or a ProErgo (PGY2). Documentation and intraoral photography and videography is 1080P from all microscopes to a MediCAP USB system connected directly the post-graduate student conference room projection system. A dedicated intraoral digital SLR is available for shared use.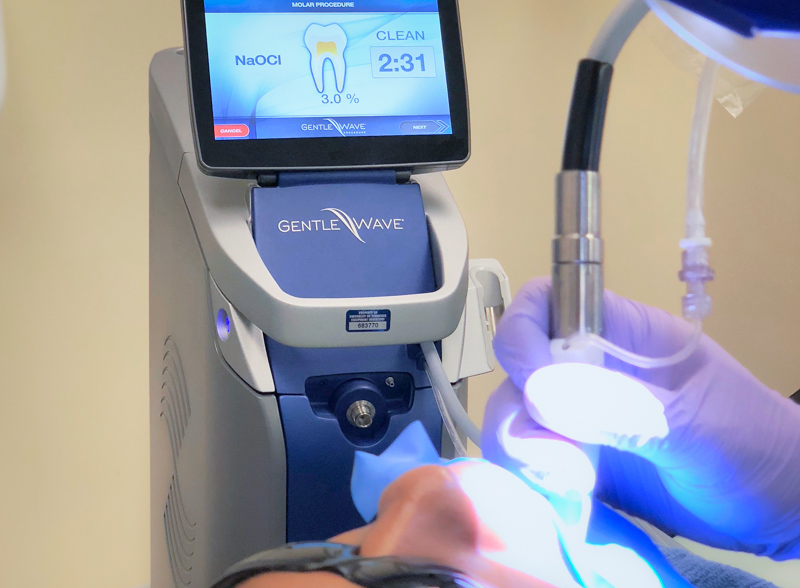 UTHSC is committed to the most contemporary root canal treatment techniques. Postgraduate students will have the opportunity to treat patients using the GentleWave ystem developed by Sonendo to deliver multiple wavelengths of sound energy along with continuous irrigation. This system enables shear forces to cleave biofilm from canals walls and ensure secondary anatomy is addressed.
Contemporaneous data collection of all subjective and objective findings occurs within the electronic health record system (TDO). Emphasis on excellence in digital radiography, interpretation of CBCT, intra-oral photography and microscope documentation enables record-keeping suitable for presentation and for case portfolios as required by the American Board of Endodontics. Proper utilization of the TDO workflow system and storage of digital data is paramount to the success of the post-graduate student whilst enrolled in the program.
Patient Clinic Coordinators are provided to ensure treatment times are maximized for clinical experience. Typical 24 month clinic requirements (approx. 200 non-surgical cases) are exceeded upon graduation.