Marshall B. Elam, MD, PhD, FAHA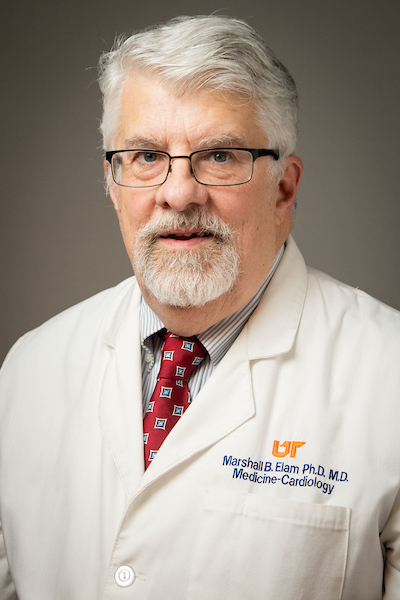 Professor and Chief
Departments of Pharmacology and Medicine (Cardiovascular Diseases)
Staff Cardiologist and Director
Lipid Metabolism Clinics Memphis VAMC
Room 215N Translational Research Building
Email: melam@uthsc.edu
Phone: 901.448.6011
Fax: 901.448.7206
Education
BS (Biology) Lambuth College, Jackson, TN (1972)
PhD (Pharmacology) University of Tennessee Health Sciences Center, Memphis, TN (1976)
MD University of Tennessee Health Sciences Center (1979)
Fellow-Division of Cardiovascular Disease, Department of Medicine, University of Tennessee (1982-1985)
Board Certification: Internal Medicine (1982), Cardiovascular Disease (1985)
Research Interests
Funded by the American Heart Association and by the VA Merit Review Research Program, my laboratory is engaged in study of the cellular and molecular mechanisms that mediate hyperlipidemia in hyperinsulinemic states including obesity and type II diabetes mellitus. Our central hypothesis is that hyperinsulinemia itself contributes to hyperlipidemia in obesity and type II diabetes by increasing hepatic lipid production. Specifically, insulin increases de novo fatty acid synthesis (lipogenesis) and promotes incorporation of fatty acid into triglyceride by transcriptional upregulation of key enzymes involved in both processes. These include fatty acid synthase (FAS), acetyl-CoA-carboxylase (ACC-1), long-chain fatty acyl elongase, and glycerol phosphate acyltransferase (GPAT). Increased hepatic triglyceride synthesis results in enhanced secretion of triglyceride rich lipoproteins (i.e. Very-Low-Density-Lipoprotein, VLDL) by the liver. As clearance mechanisms become saturated, partially metabolized remnant particles accumulate in the plasma. These particles are highly atherogenic and contribute to the high risk of atherosclerotic vascular disease observed in obesity and type II diabetes. The prevalence of both diabetes and obesity is rapidly increasing in the U.S. population. Understanding the mechanisms underlying hyperlipidemia in diabetes and obesity is of critical importance to the development of effective treatment strategies.
We are currently examining the mechanisms underlying enhanced lipid and lipoprotein production by the liver in hyperinsulinemia. Our studies are conducted using both animal models (Zucker fatty rat and JCR:LA/cp corpulent rat) and in vitro models (primary rat hepatocyte cultures). We have demonstrated that increased VLDL secretion in animal models of hyperinsulinemia occurs as a result of increased de-novo lipogenesis, and that increased lipogenesis is, in turn, the result of upregulation of lipogenic enzymes including FAS, ACC-1 and the transcriptional regulator SREBP-1c. The effect of insulin to increase hepatic expression of FAS and ACC-1 is mediated via transcriptional upregulation of SREBP-1c. Conversely, glucagon (via cAMP) reduces FAS and ACC-1 expression by reducing transcription of SREBP-1c. Currently, our work is focused on the mechanisms through which insulin stimulates (and cAMP inhibits) transcription of this pivotal factor. We have cloned the promoter region for rat SREBP-1c and have demonstrated that this promoter responds to insulin (positive) and to both cAMP and polyunsaturated fatty acids (PUFA) (negative) in transient transfections of primary rat hepatocyte cultures. We have localized the primary insulin-responsive region of the SREBP-1c promoter to the proximal 412 bp. This region of the SREBP-1c promoter contains binding sites for the transcription factors LXRa, Sp1, NF-Y, and for SREBP-1c itself. We have found that over-expression of LXRa, Sp1, and SREBP-1c mimics the effect of insulin on the SREBP-1c promoter and that conversely, disabling the binding sites for each of these factors reduces the ability of the promoter to respond to insulin. We have proposed the hypothesis that the insulin response element (IRE) of the SREBP-1c consists of the LXRa, Sp1, and SREBP-1c binding sites and that these factors act in a cooperative manner to mediate the effect of insulin to stimulate SREBP-1c transcription. Conversely, cAMP prevents activation of LXRa , Sp1 and SREBP-1c by insulin.
Clinical Research
I participate in the design and execution of multicenter clinical trials related to my basic and clinical research interests in cardiovascular disease and lipid metabolism. These studies, which are funded by the National Institutes of Health, VA Cooperative Studies Program, and Pharmaceutical Industry, determine the impact of modification of multiple cardiovascular risk factors including lipids, blood pressure, and blood glucose on cardiovascular outcomes in patients with hyperlipidemia, coronary heart disease, peripheral arterial disease and diabetes.
I have played key roles in the design and conduct of many national studies including the VA-HDL Intervention Trial (VA-HIT) and Atherosclerotic Disease Multiple Intervention Trial (ADMIT). I am currently the UT/VA clinical site Principal Investigator for four major national studies, Aggressive Control of Cardiovascular Risk in Diabetes (ACCORD, NHLBI/VA), Azithromycin Cardiovascular Event Trial (ACES, NHLBI), Treating to New Targets (TNT, private industry sponsored) and Aggressive Lipid Lowering In preventing New Cardiovascular Events (ALLIANCE, private industry sponsored).
Laboratory Roster
Publications