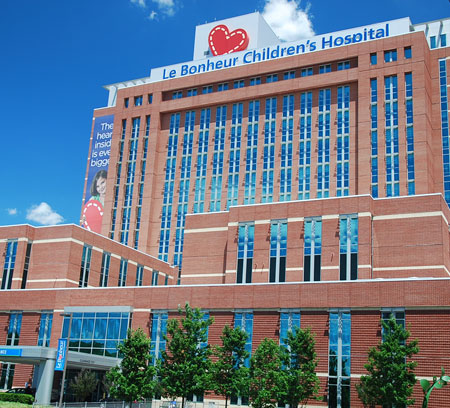 Le Bonheur Children's Hospital
848 Adams Ave
Memphis, TN 38103
901.287.5437

Established in 1952, Le Bonheur Children's Hospital is an integral part of the Methodist Le Bonheur Healthcare system and a teaching affiliate for the University of Tennessee Health Science Center. A new $340-million hospital building was built in December 2010 to accommodate the over 100,000 patients seen each year.
Named one of the nation's "Best Children's Hospitals" by U.S. News & World Report for eight consecutive years, Le Bonheur is the only Level 1 pediatric trauma center in the Mid-South. Its neonatal intensive care unit (NICU) provides the highest level of care for the region's critically ill newborns. Le Bonheur has received many accolades of excellence over the years including: Top Children's Hospital in 2017 by the Leapfrog group for its safe patient care, Magnet status - one of only 7 percent of hospitals in the U.S. to have earned this honor for quality nursing care by the American Nurses Credentialing Center (ANCC), and a three-star rating (the highest) by The Society of Thoracic Surgeons for its Heart Institute.
Le Bonheur has 45 pediatricmedical/surgical subspecialties and the hospital inclues a 20 bed PICU, 10 bed CVICU, and a 21 bed Intermediate Care Unit.
The Heart Institute at Le Bonheur Children's Hospital uses the combined expertise of an advanced pediatric cardiac team to provide specialized care for children with congenital heart disease. The Heart Institute includes evaluation and treatment of all forms of congenital and acquired heart disease, hypertension, cardiac rhythm disorders and other related pediatric cardiology diagnoses. Our fellows are exposed to the full spectrum of pediatric congenital heart disease, including more than 400 perioperative patients per year.
When children come to Le Bonheur Children's Hospital, they are in the hands of a team of experts in pediatric heart care. A specialized group of pediatric cardiologists, pediatric cardiothoracic surgeons, cardiac intensivists, pediatric intensivists and anesthesiologists make up the Heart Institute. In addition to the physician staff, advanced practice nurses, perfusionists, cardiac nurses, respiratory therapists, cath lab techs, echocardiographers and eletrocardiogram techs support the care of patients and are each specially trained in pediatric care. Through weekly conferences, children with complicated heart conditions are discussed and a course of treatment is planned.