Internal Medicine Chattanooga
Program Director's Welcome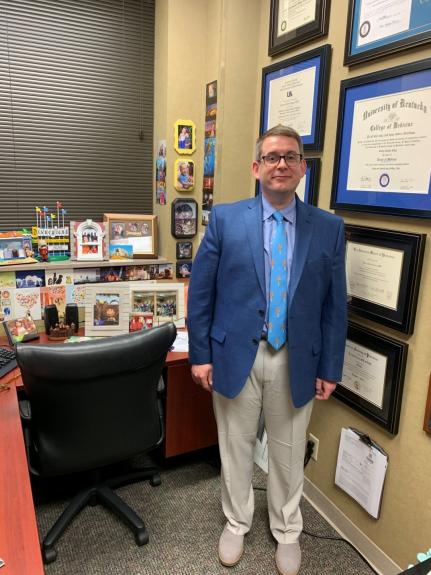 The Department of Internal Medicine at the University of Tennessee Health Science Center College of Medicine Chattanooga is the place where you can learn the art and craft of medicine from people who want to see you succeed and become the next generation of pace setting physicians practicing internal medicine.
Our goal is to prepare our residents for success in whatever field of internal medicine they would like to pursue. We have continually adapted and evolved our educational program to meet the needs of the learners we have on campus. Our faculty is passionate about teaching and care deeply about you as a physician that will serve many patients and the community you practice within.
Please look at our website as it is an excellent introduction to our training program. One of the greatest strengths of our program is the camaraderie of our residents. You will get to know the people you work and train with in ways that will form lifelong partnerships and friendships. 
If you are interested in internal medicine training please give us a look. We would love to see you on the interview trail. If you have any additional questions or would like additional information please feel free to contact our office or me. Good luck with interviews and please consider seeing us in Chattanooga! 
Curtis Cary, MD, FAAP, FACP, MRCP-London
Program Director, Internal Medicine Residency Program
Affiliated Associate Professor of Internal Medicine and Pediatrics
University of Tennessee College of Medicine Chattanooga
Internal Medicine Residency Program Highlights
30 resident positions (10/year).
Protected ambulatory time using the 4 + 1 block scheduling model!
First-time ABIM pass rate of 100% for the Class of 2019.
Successful matches in Cardiology, Endocrinology, Gastroenterology, Infectious Disease, Renal, and Pulmonary/Critical Care!
Dynamic curriculum that includes experiences in global health, research, night medicine, and more!
Didactic time that includes case-based presentations and core lecture series with a rotating two-year curriculum.
Wellness focus and curriculum that benefits all residents! 
Resident participation in national, regional, and local meetings.
Affiliation with the region's only teaching center and Level 1 Trauma Center providing safety net services for patients in multiple states!
Educational Benefits
Conference series that changes and evolves to meet the needs of each resident!
Cardiologist driven EKG instruction and review series.
MKSAP 18 for all new residents!
Individualized educational programs with both inpatient and outpatient focus!
Conferences with an emphasis on evidence-based medicine (journal club, etc.), research, the business of medicine, and quality initiatives!
Proxy access to the Erlanger/UT Memphis Medical Libraries.
Special Benefits
Meal and CME stipends!
Vacation and leave time.
Reimbursement for travel to regional and national conferences if presenting!
Hospital cafeteria and food services that feature Chick-fil-a, Starbucks, Subway, Chicken Salad Chick, and more!
Moonlighting for approved PGY2 and PGY3 residents.
Tennessee has no earned income tax (i.e. no state income tax)
Conference
Internal Medicine Residency Core Lecture Series
Occurs Monday - Friday from 12:00-1:30 pm
This series covers a broad array of both general medicine and sub-specialty topics organized into a rolling curriculum.
Internal Medicine Grand Rounds
Select Thursdays mornings from 8:00 to 9:00 am as scheduled by the chair's office.   
Faculty and Resident Development Series
Monthly with all core faculty and residents scheduled to attend. 
Research Core Curriculum
Offered on a bi-annual basis as part of the Faculty and Resident Development Series. 
Institutional Core Curriculum (called "Healthcare Principles in Practice or HPP")
Monthly with all residents required to attend.
The Baroness
The Baroness website is designed to provide a central resource for resdient study material and board review. Here you have access to video conference lectures, podcast series of internal medicine board topic reviews, as well as pages dedicated to landmark trials and important review articles categorizes by subspecialty.