News - New Orthopaedic Surgery Oncologist, Dr. Ryan Voskuil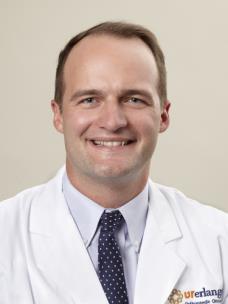 Media Release
UT College of Medicine Chattanooga
Chattanooga, TN
September 11, 2020
We are pleased to welcome back Ryan Voskuil, MD, to our Orthopaedic Surgery faculty and to the Erlanger Orthopaedic Institute team.   
Dr. Voskuil is a graduate of the Orthopaedic Surgery Residency Program of the University of Tennessee College of Medicine Chattanooga and our primary clinical training site and major affiliated teaching hospital, Erlanger Health System.  Dr. Voskuil has returned to our Department and Erlanger as the region's only adult and pediatric fellowship-trained orthopaedic oncologist. In his new role, Dr. Voskuil will create the region's first dedicated sarcoma team and bring orthopaedic oncology principles to the management of metastatic bone disease and benign conditions of the musculoskeletal system. 
 
"Dr. Voskuil's skills and expertise in orthopaedic oncology will be a great asset to the Erlanger Orthopaedic Institute and the region we serve," said Dr. Mark G. Freeman, Erlanger Orthopaedic Institute medical director. "Patients of all ages with bone or soft tissue tumors, whether benign, primary malignancies or metastatic cancer, will no longer have to travel out of town for the best surgical care. This has never before been available to our region and will decrease, or maybe even eliminate, travel for the treatment of pediatric and adult tumor patients."
 
Dr. Voskuil attended the Medical University of South Carolina in Charleston before completing his orthopaedic surgical residency in Chattanooga, where he developed skills in fracture care, joint replacement, arthroscopy and care for many other common orthopaedic problems. 
 
Following residency with our institutions, Dr. Voskuil spent an additional year of focused sub-specialty fellowship training in both adult and pediatric orthopaedic oncology and complex limb salvage and reconstruction. He completed this training at Ohio State University at one of the largest cancer hospitals in the country, The James Cancer Hospital and Solove Research Institute, and the largest free-standing children's hospital, Nationwide Children's Hospital. While there, he provided care for adult and pediatric bone and soft-tissue sarcomas, metastatic bone disease, benign tumors and complex joint revision and reconstruction. 
 
"The Erlanger Orthopaedic Institute is the region's most comprehensive musculoskeletal provider," officials said. "With more than 30 surgeons, non-operative physicians and advanced practice providers, Erlanger covers all orthopaedic sub-specialties with fellowship-trained, board-certified doctors."
Our UT College of Medicine Chattanooga welcomes Dr. Voskuil to our Department of Orthopaedic Faculty to further enhance the education of our Orthopaedic Surgery Residents.
(Adapted from a September 10, 2020  article posted to the online news publication www.chattanoogan.com)