Chattanooga Champions of Healthcare Physician/Academic Award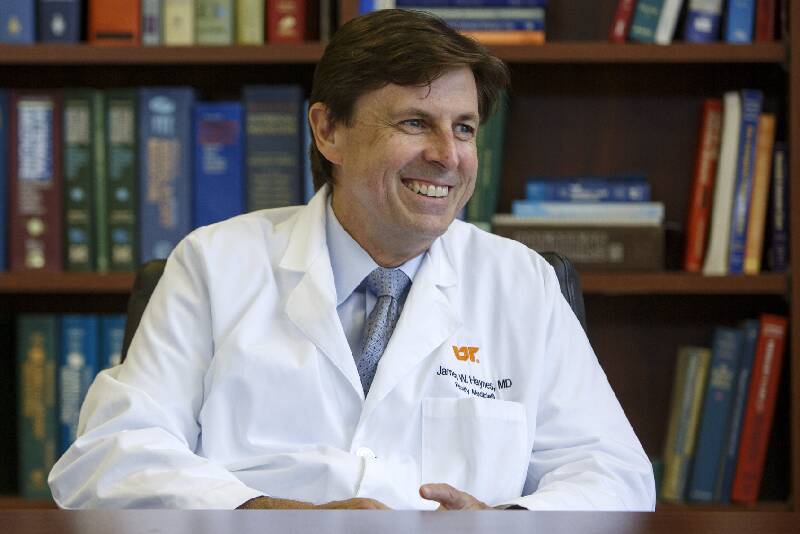 Chattanooga Times FreePress Staff Photo by:  C.B. Schmelter
Media Release
UT College of Medicine
Chattanooga, TN
September 1, 2020
On August 31, 2020, the awardees of the 2020 Chattanooga Champions of Healthcare Awards were announced.  Our own Chair of the Department of Family Medicine, James W. Haynes, MD, received the Champions of Healthcare Award for Physicians/Academics.  We are beyond proud of his accomplishments and contributions to our medical education endeavors!
In an article written by Mark Kennedy and published in the Chattanooga Times FreePress Edge section on August 31, 2020, the following was reported:
"Integrity. Diligence. Compassion. Translated to human actions, these three words can mean: Do the right thing, work hard and love others.
Dr. James Haynes says these three traits are the guardrails for a successful career in medicine — and in life.
The Chair of the Department of Family Medicine at the University of Tennessee College of Medicine Chattanooga, Dr. Haynes' title is a mouthful, but his mission is simple: to help train medical students and residents while attempting to model the best practices of a working physician.
"I have found Dr. Haynes to be exceptional to work with," says Richard Gervasi, senior administrator of primary care at Erlanger Health System. "He sets the tone with his physicians and staff to take their goals seriously. "
A retired Air Force doctor and educator, Dr. Haynes was named Family Physician of the Year by the Uniformed Services Academy of Family physicians in 2003. In the Air Force, he served around the world, including in Iraq and briefly in Afghanistan, before retiring and moving to Chattanooga in 2011 to work in the UT College of Medicine. When long-time department of family medicine leader Dr. J. Mack Worthington retired as department chair in 2019, Haynes was picked as his successor.
Dr. Haynes splits his time about evenly between education administration and seeing patients at his office on East Third Street near Erlanger hospital. He still delivers babies, among other duties, and believes that being in family medicine means using your heart and mind in concert.
"How we treat women and children really defines a society," he says. "That's what family medicine is about."
Lately, he has been at the tip of the spear in the local push to meet the challenge of COVID-19. As president of the Chattanooga Hamilton County Medical Society, Dr. Haynes has helped drive talks among physicians, mental health workers, clergy and attorneys about how Chattanooga hospitals and physicians can design a coordinated response to the pandemic.
"(The pandemic) has highlighted some of the health inequities in our society," he says. " It's our job to work to fix those as much as we can to give equal access to care for folks."
 About Dr. James Haynes:
Role:  Chair of the Department of Family Medicine at the University of Tennessee College of Medicine Chattanooga
Career snapshot:  Dr. Haynes spent 24 years in the United States Air Force as a doctor and health care administrator, including his tour of duty in Iraq when he was part of a surgical evacuation team that treated gravely injured servicemen and servicewomen.
Secret to your success:  "If you want to be a good family doctor, you have to improvise, adapt and overcome."
Did you know? His wife, Barbara, was briefly his night manager at a Chick-fil-A restaurant in high school. They have four grown children.
The son of an Army medic, Dr. Haynes grew up at Fort Bragg in Fayetteville, North Carolina, where he graduated from high school. 
Dr. Haynes attended North Carolina State University where he was commander of his R.O.T.C. unit, and later attended a military medical school on the campus of the Bethesda Naval Hospital near Washington, D.C.  He completed his residency at Eglin Air Force Base in Florida, where he would return to lead the residency program late in his Air Force career."
Link to the Chattanooga Times FreePress Article by Mark Kennedy