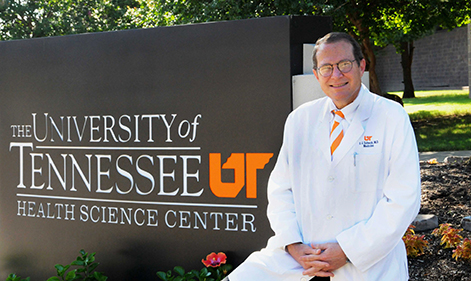 UTHSC Chancellor Steve J. Schwab, MD, serves as the chief executive officer of the statewide University of Tennessee Health Science Center. The Health Science Center, headquartered in Memphis, includes all six of UT's doctoral-degree-granting health science colleges -- Medicine, Dentistry, Pharmacy, Nursing, Graduate Health Sciences, and Health Professions. UTHSC spans the state with four major, regional clinical health science locations in Memphis, Knoxville, Chattanooga, and Nashville. The Health Science Center, together with its clinical practice plans, employ more than 4,000 people statewide, and its faculty members comprise one of the largest practice groups in the region. UTHSC is also the largest educator of health care professionals in the state, including the state's largest residency and fellowship advanced training programs.
Dr. Schwab is a graduate of the University of Missouri School of Medicine and completed his internship/residency in internal medicine at the University of Kansas Hospitals and Clinics, followed by a fellowship in nephrology with Washington University at the Barnes Hospital. He spent 18 years on the faculty at Duke University, where he rose to become a professor and vice chair of the Department of Medicine. In 2003, he was named Regents Professor and chair of the Department of Medicine at the Medical College of Georgia, later being named chief clinical officer. He became executive dean for the University of Tennessee Health Science Center's College of Medicine in 2006. He was appointed interim chancellor of UTHSC in 2009, and was named chancellor in 2010.
Dr. Schwab served on the American Board of Internal Medicine and the Subspecialty Board of Nephrology, as well as on the editorial boards of many other top-tier medical journals. His expertise has also been tapped as editor-in-chief of nephrology for "Up to Date In Medicine." Dr. Schwab has also been voted one of America's Best Doctors and named among America's Top Doctors for most of his practice career.
Throughout his career, Dr. Schwab has published more than 150 peer reviewed journal publications and five books that focus on kidney disease and dialytic therapy. An invited lecturer for more than 75 international and national conferences, he has directed multiple national multicenter clinical trials and was continuously funded by the National Institutes of Health as a principal investigator for his investigative career. Currently, Chancellor Schwab serves on the boards of the Saint Thomas Health System in Nashville, and UT Medical Center in Knoxville, as well as on the Board of Governors of the Oak Ridge National Laboratory.