Parking Services
Any motor vehicle parked on University property, other than in paid meter spaces must display a valid University of Tennessee parking permit. The type of permit indicates the areas where the vehicle may be parked. Use of a motor vehicle on University of Tennessee property is a privilege, not a right, and is made available only under the policies established in the University Rules and Parking Regulations currently in effect.
Parking Announcements and Improvements 
Parking Services announces two initiatives to improve and enhance campus parking. Additional changes will be coming in the near future, and we will keep you informed as project scheduling is defined. 
Beginning Monday, March 5th, Parking Lot A (between the Hyman and Johnson Buildings) will be CLOSED for construction. Please contact Daniel Koppen for assistance at dkoppen@uthsc.edu if you require guest parking prior to any meetings or special events.
2019 Announcement
Campus Police and Parking Services will be activating two multi space parking meters. The devices will serve as the pay station for "V" Lot, and Street Spaces on the west side of the Student Alumni Center. Customers will pay for parking at the meter and place the receipt on their dash. 
The project is expected to be completed by the end of May. 
A new parking rate structure will go into effect at Madison Plaza on June 1, 2019. Following is the current and new rate structure.
Current Rates
0-30 minutes: $1.50
30 minutes to 1 hour: $2.00
1-2 hours: $2.50
2-3 hours: $3.00
3-6 hours: $3.25
6-12 hours: $3.75
12-24 hours: $5.00
New Rates
0-1 hour: $2.00
1-3 hours: $3.00
3-12 hours: $4.00
12-24 hours: $5.00
Below is a picture of the new multi-space meters.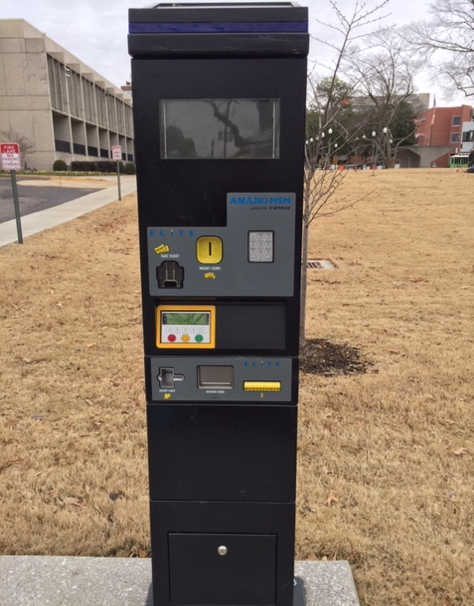 2017 Improvements
2017 Improvements
Lot A will be closed and unavailable for use after December 9, 2016 for at least two (2) years depending on construction.  Please contact Tanara Teal-Tate for assistance at ttealtat@uthsc.edu if you require guest parking prior to any meetings or special events.
In order to improve the quality of University of Tennessee Health Science Center campus parking facilities, Parking Services is renovating parking Lot J by July. View the Parking Map. A more detailed explanation of each lot can be found below.