During an emergency situation, every second counts and communication is critical.
 UTHSC Campus Police has taken steps to ensure that you receive emergency notifications in as many ways as possible.
How We Notify
Mobile devices (voice, text, Rave Guardian app)
Voice calls to Campus desk phones and mobile phones
Social Media
TV and Hypersign digital displays across campus
Download the App
Download the Rave Guardian mobile device app. You must use your UTHSC email address when signing up.
Update Your Information

Update mobile number in IRIS (faculty, staff, retiree)
or Banner (student, postdoc, fellow, resident)

Up to two additional mobile phone numbers and two additional email addresses (including that of family and others) can be added by logging on to UTHSC Alert.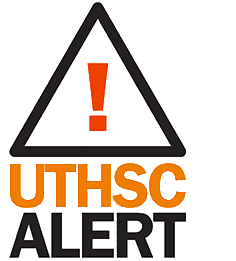 For more information about emergency planning at the UTHSC, visit the Emergency Response Plan page.
If you need help logging in to the UTHSC Alert system or managing your account, please refer to the Frequently Asked Questions or contact the Service Desk at servicedesk@uthsc.edu or 901.448.2222.
UTHSC News Release: New Personal Safety Features Coming to Campus