Frequently Asked Questions
Answers
General Information
What is UTHSC Alert?
UTHSC Alert is a method of notifying the campus community in a timely manner about serious emergencies, ongoing situations, or disruptions to normal operations on campus. All students, faculty, and staff are registered to receive alerts via their UTHSC e-mail and mobile number (if listed in Banner or IRIS). They also can add other mobile numbers, such as those of family members, spouses, partners, etc., and personal email addresses to the system.
How do I sign up for UTHSC Alert Text Messages?
All active UTHSC students and employees are automatically registered to receive UTHSC Alert messages via their UTHSC e-mail and the mobile number listed for them in Banner or IRIS. However, they also can add other mobile numbers, such as those of family members, spouses, partners, etc., and personal email addresses to UTHSC Alert by logging in with their NetID and password and following the instructions.
Is there a cost?
No. The only charges you might incur are the normal fees charged by your wireless provider for receiving text messages.
Is UTHSC Alert just for mobile phones?
The UTHSC Alert service sends messages to any mobile device that can receive text messages, such as mobile phones, smartphones, text pagers, and tablets. UTHSC Alert messages are automatically sent to faculty, staff, and student e-mail accounts regardless of whether they are subscribed to receive text messages. Additionally, UT Alerts also will be delivered to the following communication channels (with additional ones to follow in the near future):
When will I get a UTHSC Alert message?
A UTHSC Alert message will be sent when there is a situation on campus that can impact safety and disrupt regular campus operations.
Examples:
An armed person has been reported on campus and is still at large.
Severe weather, such as a tornado warning, or the university closing due to severe winter weather.
Will I get advertising messages from UTHSC Alert?
No. UTHSC Alert will not be used to deliver any kind of advertising content, and mobile numbers will never be given to any third party.
Can parents and other non-UTHSC members directly subscribe to UTHSC Alert?
No. As of April 12, 2016, non-UTHSC members will be unable to sign up to UTHSC Alert. The service is designed to notify only members of our campus community and requires a NetID and password for registration/entry. However, some alternatives do exist:
I signed up a while ago for UTHSC Alert. Do I have to sign up again?
Yes, if you manually added any information into UTHSC Alert prior to April 12, 2016, you will need to re-add that information.  Just log in using your NetID and password and re-add your phone numbers and email. Remember you don't have to add your UTHSC email address (it is already there), and you should add your mobile phone number to Banner (students) or IRIS (employees) so that it is correct not only in Rave but other systems that may use your contact information.
Updating Your Account and Unsubscribing
How do I change my mobile device number or update my contact information?
It is always best to update your contact information via Banner, for students, and IRIS, for employees. This will update this information across all the various campus applications and databases that pull this information from Banner and IRIS, thus avoiding the need for multiple updates or the presence of incorrect data in some systems.
For information that was input directly into Rave by the individual (ie, personal email addresses, parent's phone number, etc.), users should log in to UTHSC Alert using their NetID and password and update their accounts.
Why does my UTHSC email address appear as "@tennessee.edu" in UTHSC Alert?
Many UTHSC students attend multiple UT schools during their education. Using NetID@tennessee.edu as the email address guarantees that email is delivered to you regardless of which campus you attend, thereby avoiding confusion when a student moves from one UT school to another. As a UTHSC member, your NetID@tennessee.edu address resolves to your NetID@uthsc.edu address.
How do I stop receiving UTHSC Alert messages?
You can opt out of receiving UTHSC Alert text messages at any time by texting STOP to 226787 or 67283 or 78015 or 81437. Once you send the STOP message, you will receive a text message to confirm your removal. You can also opt out by deleting the number from the mobile phone section of the My Account tab. NOTE: Opting out will not remove you from the e-mail delivery of UTHSC Alert, which is mandatory for all faculty, students, and staff.
More About Communication During Emergencies
How long does it take to receive a UTHSC Alert message?
The UTHSC Alert text messaging service can distribute text messages to its more than 7,600 subscribers in less than five minutes. However, wireless providers may not be able to deliver messages to individual devices at the same pace.
What do I do when I receive an UTHSC Alert?
Use the brief information in the message to make immediate decisions about your safety. Then seek additional information and direction by checking the UTHSC Alert e-mail, which may have more information. You should also monitor your e-mail for additional messages from the university. You can also follow the university on Twitter and check for status updates on uthsc.edu and through local media reports.
How do I know when an emergency is over?
The university will use several communication methods to let people know that the immediate threat has passed or that campus operations have returned to normal.
Who sends the notifications? What's displayed in the sender line?
UTHSC Alert text messages will always come from 226787, 67283, 78015, or 81437 and reference UTHSC Alert. For e-mail messages, the subject line will say UTHSC Alert and the sender will be uthsc@getrave.com.
Not Receiving Messages?
What do I do if my wireless provider blocks UTHSC Alert messages?
This most commonly occurs when a wireless provider incorrectly treats a UTHSC Alert message as a premium message. There are provider account settings that can be adjusted to correct this problem. Contact your provider and let them know you are unable to receive the university's emergency text alert messages and that you have confirmed that you are signed up correctly.
What do I do if my UTHSC Alert messages go to my junk mail?
Make sure your account recognizes UTHSC Alerts as legitimate e-mail. If an alert goes to your junk e-mail, right click on junk in the menu and then select not junk. Make sure the box is clicked that says Always trust e-mail from uthsc@getrave.com and click OK.
Computer Desktop Notifications
What is computer desktop notification via Alertus?
A recent upgrade to the UTHSC Alert system allows us to send emergency notification messages to the desktop of computers on the UTHSC network through the Alertus client software. All Windows computers on Active Directory (ie, they require you to log in with your NetID and password) should already have the Alertus software installed. (Mass deployment to Macs is forthcoming.)
The Windows icon appears in the lower right hand corner of the screen:

The Mac icon appears in the upper righthand corner:

How does Alertus work?
The Alertus software enables the display of UTHSC Alert messages on all computers registered through Active Directory.
The alert can be eliminated by clicking the "Acknowledge" button on the bottom of the screen. It will also go away automatically after 10 minutes. The display will not appear on computers that are turned off or in sleep mode.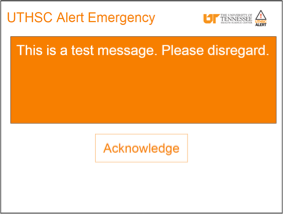 How do I get Alertus desktop notification software if it is not installed on my machine?
If you don't see the Alertus icon on your computer, manually download the software:
If the installtion doesn't work, please contact the UTHSC ITS Help Desk at (901) 448-2222 or (800) 413-7830.
Rave Guardian Safety App
What is Rave Guardian?
Rave Guardian is a mobile app for Android and iOS devices that helps enhance personal safety and improve two-way communication with the UTHSC Campus Police Department. It allows users to create a virtual safety network of friends and family to utilize a safety timer so that community members can look out for one another. Additionally, it enables users to share location information and anonymous tips with Campus Police. Via the app, users also can dial Campus Police and 911. (NOTE: Users should contact Campus Police instead of 911 whenever they are on campus for a quicker response.) Users are encouraged to add information about special needs and medical conditions that would be helpful to responders in a serious emergency.
How do I get Guardian?
All active UTHSC students and employees can go to their Android or iOS device's app store to download Rave Guardian or click on the appropriate icon to download Guardian from the Alert home page.
How do I use Guardian?
Once you have downloaded Guardian, you will be prompted to enter your information to create a profile. You must use your UTHSC e-mail address to enable the custom interactive features. You then can take advantage of its features.
Enter information about any medical conditions or physical limitations that would be helpful to UTHSC Campus Police in the event you are involved in a serious emergency on campus.
Explore the Guardian, safety timer, emergency call, and UTHSC Campus Police tip features. Allow the app to use location information to enhance the emergency call features. Create a network of "guardians"—close friends or nearby family—with whom you can communicate rapidly and proactively in the event of an emergency.
Set a safety timer to create a connection when traveling between destinations or to unfamiliar settings and select one person from your guardian network to be notified if you do not check in within a set amount of time.
I am a UTHSC member who is located in Knoxville. Will Guardian connect me to UTK's police department?
No. Starting April 12, 2016, anyone who signs up on Guardian with a UTHSC email address will be registered with UTHSC's Guardian instance, which connects to UTHSC Campus Police. There is no way to allow UTHSC users at a different location to connect to another police department. However, those users can still take advantage of the app's safety timer feature and set up a network of guardians.
But what if my police button in the Guardian app says "Call UTK Police"?
This means that you signed up for the Guardian app with your UTHSC email address when the uthsc.edu domain was still tied to UT-Knoxville's Guardian instance. Now that uthsc.edu accounts are tied to UTHSC's instance of Rave Guardian, that button (and any other Guardian functions) will no longer connect you to UTK Police. To update the button to say "Call UTHSC Campus Police", sign out of Rave Guardian and then sign back in.
I no longer want a Guardian account. How do I remove my account from the system?
1. Log in with your Guardian account information (i.e., your UTHSC email address and the password you created when you signed up for Guardian)
2. Go to Account Settings and select "REMOVE ACCOUNT". Provide your password and then select "UNSUBSCRIBE".