Trauma/Surgical Critical Care
The Elvis Presley Trauma Center in the Regional Medical Center is 
home to the only Level I Trauma Center within 150 miles. It is one

 of the busiest trauma centers in the country, with a high volume of both penetrating and blunt trauma. 

We oversee a 22-bed dedicated trauma intensive care unit, an 18-bed general intensive care unit and a 28-bed trauma step-down unit. In 2021, there were approximately 2,255 shock trauma activations with 3,800 trauma admissions including 900 admissions to an intensive care unit. In addition, we offer three fellowship positions in Surgical Critical Care.  Our fellowship program has produced several national leaders in the field of trauma and surgical critical care.
Message from the Division Chief
---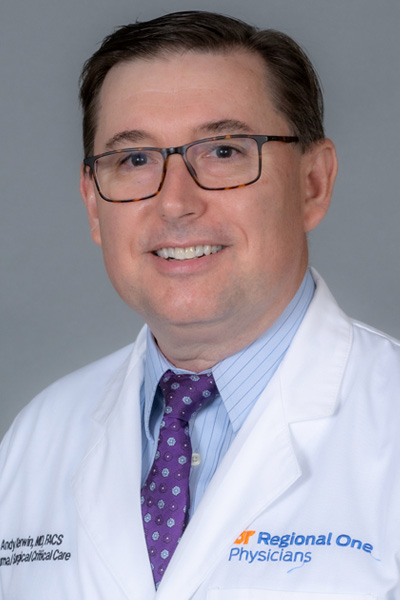 Dr. Andrew Kerwin is the new chief of the Division of Trauma/ Surgical Critical Care in the Department of Surgery at UTHSC. He is also the Surgical Quality Officer at Regional One Health and the chief of Trauma at the Elvis Presley Trauma Center there.
Dr. Kerwin says his time as a fellow at UTHSC influenced his decision to return. He believes he was fortunate to learn from the "pioneers" of the UTHSC Trauma/Surgical Critical Care program.
Specifically, he points to Timothy C. Fabian, MD, former professor and chair of the UTHSC Department of Surgery, who started the trauma program in the early '80s and organized and developed The Elvis Presley Memorial Trauma Center at Regional One Health, now one of the highest-volume trauma centers in the United States. Dr. Kerwin also mentions Martin Croce, MD, the senior vice president and chief medical officer at Regional One Health, as well as a professor of surgery and the former chief of the Division Trauma/Surgical Critical Care at UTHSC. Dr. Kerwin is proud to follow in the footsteps of these physicians he considers role models.
Faculty