Pediatric Surgical Critical Care Fellowship
The goal of the Pediatric Surgical Critical Care fellowship program is to prepare the fellow to function as a qualified practitioner at the advanced level of performance expected of an ABS-certified subspecialist in Surgical Critical Care. The fellowship provides education leading to advanced proficiency in the care and management of critically ill pediatric surgical patients.
The education encompasses didactic instruction in the basic and clinical sciences of pediatric surgical diseases and conditions, as well as education in procedural skills and techniques used in the intensive care settings. After completion, the fellow should demonstrate a thorough understanding of the pathophysiology of critically ill or injured premature infants, neonates, toddlers, school-aged children, and adolescents with emphasis on the unique features of each age group.
Message from the Program Director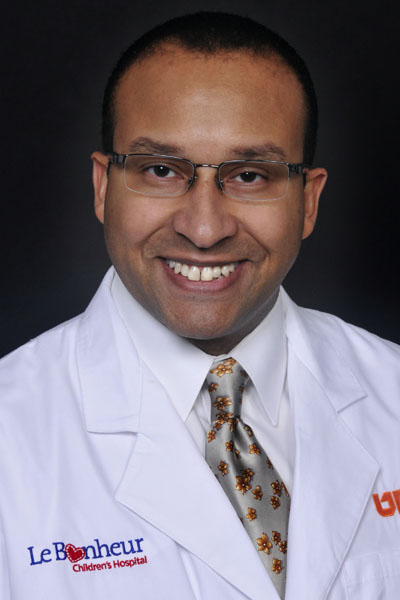 It is with great pleasure that we can offer a newly ACGME approved fellowship in Pediatric Surgical Critical Care. We offer one position per year. The fellow has the opportunity to learn surgical critical care in multiple specialized critical care areas within the hospital. The fellow has an opportunity to care for children from a historic and diverse city, Memphis, and the Mid-South region.
Our education is centered in Le Bonheur Children's Hospital, a freestanding children's hospital taking care of children in this region since 1952. Le Bonheur is a ACS level I pediatric trauma center, which cares for the highest level of injured children in the region. The hospital also has a very busy burn service. The PICU cares for approximately 1,700 admissions annually. This occurs under services of the pediatric intensivists, pediatric surgery, trauma, neurosurgery, otolaryngology, orthopedics, and transplantation. Fellows will have exposure to advanced respiratory care and cardiovascular monitoring techniques, as well as extracorporeal membrane oxygenation.  Additionally, the NICU at Le Bonheur is a level IV, which offers the highest level of care for neonates.  During this time the PSCC fellow will participate in prenatal consultations.  The CVICU service is a referral center for neonates, children, and adults with congenital heart disease. There is a growing practice in the care of pediatric cardiomyopathy which will add exposure to the use of ventricular assist devices and cardiac transplantation.
The program offers ample optional clinical research opportunities in Pediatric Surgery and Critical Care. A master of science in epidemiology is also offered by the Department of Preventative Medicine at UTHSC as an additional educational opportunity.
I look forward to helping educate individuals to care for the most critically ill children and to add to the great legacy of surgical education at UTHSC and Le Bonheur.