Thank you for your interest in our Family Medicine Residency Program. We are an unopposed program sponsored by the University of Tennessee-Memphis and based at Jackson-Madison County General Hospital.
The University of Tennessee Family Practice in Jackson (UTFP-Jackson) is an evidence-based teaching program that has a balanced curriculum including medicine, pediatrics, obstetrics and gynecology, geriatrics, and emergency medicine. Our program's 5-year average score for the ABFM Board Exam is in the top 1% nationally. 
UTFP-Jackson operates in a 30,000 square foot outpatient clinic located on the Jackson-Madison County General Hospital campus. The clinic includes multiple office spaces for residents, staff, and faculty. The clinic facilities include 27 examination rooms, several of which are specialized areas for osteopathic manipulative therapy, dermatological procedures, gynecological procedures (Colposcopy, LEEP, IUD, Nexplanon), no-scalpel vasectomy, and other routine outpatient procedures. It also provides a full-service in-house laboratory and ultrasonography. Our clinic sees approximately 150 patients per day with both scheduled and walk-in patients. 
UTFP-Jackson is truly unopposed at the hospital. As the only residency program at Jackson-Madison County General Hospital, we maintain our own inpatient medicine, pediatrics, and OB services. Our census is steady, and the in-house team maintains a patient load sufficient to meet or exceed RRC guidelines. Our OB service delivers approximately 600 babies per year with residents closely managing labor, delivery, postpartum, and newborn care. We have an open ICU with 75 ICU beds. Residents are well trained in critical care and bedside procedures (central lines, arterial lines, intubations, paracentesis, thoracentesis, and point of care ultrasound) by both faculty and ICU intensivists. As residents progress through their training, they are given progressive autonomy while caring for more complex patients.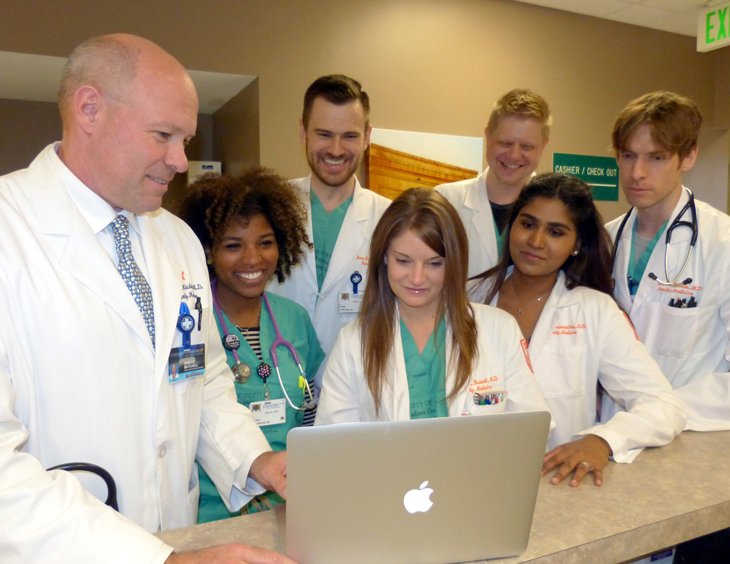 In the outpatient setting, clinic responsibilities increase each year. Per week, first-year residents spend one to two half days in clinic, while second-year residents see patients two to three half days, and third-year residents are in clinic two to four half days. Patient encounters are precepted by faculty, who encourage residents to develop their diagnostic and management skills. We benefit from on staff pharmacists at the clinic as well. Our staff is well-trained and are eager to facilitate learning. Formal didactic lectures are given every Wednesday afternoon, in addition to lunch time presentations, and hospital grand rounds. 
When residents are not assigned to in-house rotations, they rotate in several specialties in either the local Jackson area or "offsite." Flexible schedules in second and third year promote achieving residents' personal goals while meeting the required core competencies. During the second year of residency, all residents are required to participate in a research project that is presented at the hospital's grand rounds. Research is encouraged throughout the three-year period as many faculty members are actively involved in ongoing research projects.
By the end of their training at UTFP-Jackson, residents are well-rounded and well-trained family medicine physicians.