The University of Tennessee Family Medicine Program is located in the 30,000 square foot Family Practice Center, about 100 feet from Jackson Madison County General Hospital. The Center includes a model office with 27 complete examination rooms, 2 special procedure rooms for on-site procedures such as LEEP conization, colposcopy, no-scalpel vasectomy, and dermatological procedures. We also have a full service in-house laboratory and x-ray department with sonography. Our clinic see approximately 130 patients per day.
The Family Medicine Residency Program is truly unopposed at the hospital. We cover all UTFP patient admissions for medicine and pediatrics. We accept transfers from outlying hospitals on Tuesdays, Thursdays and Saturdays. We also admit 4 "unassigned" patients from the emergency room per day. Our census is steady and in-house interns maintain a patient load sufficient to meet or exceed RRC guidelines. Family Medicine residents admit and manage UT Family Medicine and unassigned patients on our pediatric floor. Labor and Delivery and postpartum patients are also followed by the Family Medicine residents. After hours, our on-call team will admit all patients and manage all services. Faculty is always available for consultation.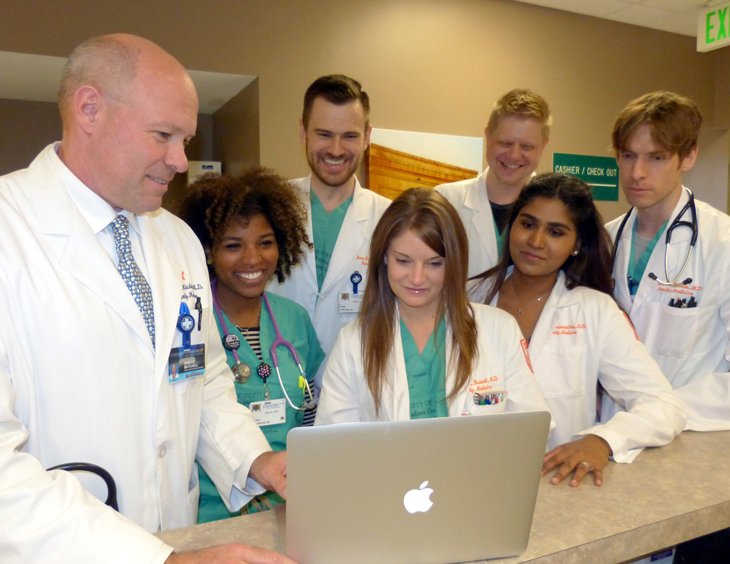 Clinic responsibilities increase progressively each year. First year residents spend one to two half days in clinic, the second year residents see patients two to three half days, and the third year residents are in clinic two-four half days a week. Patient encounters are completed, then cases are precepted and seen with faculty. This encourages appropriate diagnostic and management skills. We do have a team approach to patient care in which we assign patients to a resident or faculty member. In cases where the patient is unable to see their physician for any reason, attempts are made to have a "team" member see the patient to ensure continuity of care. Our staff is well-trained and they are eager to facilitate learning.
When you are not assigned to in-house rotations, you have rotations in a number of areas that are done either in the local Jackson area or "offsite." Flexibility is increased with each year so that each resident can be adequately trained in required competencies but their schedule also allows them to meet personal goals. Research is encouraged during the three year period as many faculty members are involved in active research projects. All residents are required to participate in academic or research activities. This can include a research project or a presentation at our hospital's grand rounds. By the end of your training at UT-Jackson, you will be a well rounded, well-trained physician.