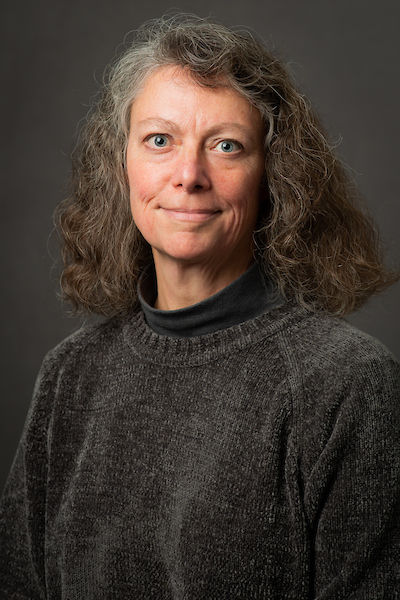 Sheila Criswell
Assistant Professor
Tell us about yourself and what piqued your interest in your chosen field of research? 
I began participating as an adjunct faculty member at UTHSC in 2010 to teach the didactic histotechnology portion of the Masters of Cytopathology Practice (MCP) program. Prior to that time, I had worked in clinical practice as a cytotechnologist and histotechnologist. I received my master's degree in Clinical Laboratory Science later that year. In 2016, I became a full-time faculty member and have additionally taken on teaching 95% of the histotechnology curriculum as well as the hematology courses in the Medical Laboratory Science (MLS) program. I received my PhD in molecular/cellular biology in 2020 from the University of Memphis. Although my distribution of effort is weighted toward teaching, I enjoy working on research projects, primarily with students but also with fellow faculty members. 
My research principally involves using various human, plant, and animal tissues to answer questions involving protein expression, tissue components, and improvement of technical aspects of laboratory work. I have always been inordinately fond of microscopy, so my research typically involves some aspect thereof. 


What recent research project have you been working on that you'd like to share with us? 
We have had 2 publications in the last month. The first was with MCP graduate student, JoAnna Rudasill, where we evaluated various histochemical staining protocols for pathogenic fungi in humans.
A Comparison of Histological Staining Methods for Pathogenic Fungi in Humans
A second project with MCP graduate student, Levi Haven, evaluated the contents of canned cat food through histological methods.
Histologic Examination of Canned Cat Food
A longer-term project involving fellow Department of Diagnostic and Health Sciences faculty member Chelsea Peeler, MCP graduate student JoAnna Rudasill, former MLS and MCP student Amanda Bodkin, and former MLS student Danielle Grant, examines 200 gastric resection specimens to evaluate the prevalence of Helicobacter pylori infection, chronic inflammation, and mucosal thickness in the morbidly obese population in Memphis. 
Projects begun this year include evaluation of the changes in cell subpopulations within the pancreatic Islets of Langerhan in normal and diseased pancreata, a project with MCP graduate student Anne Mones. In a separate but related project with MCP graduate student Lindsey Wynn, we are examining the mast cell population in normal and diseased pancreata. In a third project with MCP graduate student Angelin Shanmugam, we are comparing the expression levels of epithelial proteins between squamous cell carcinoma of the oropharynx and squamous cell carcinoma of the lung. 


Tell us about your role in this study/project?  
In most projects, I serve as mentor and co-investigator. Although some students join investigations already in progress, most students choose an area of interest and I assist in developing the project. 


What do you want the public to know about your research? Why is your topic important?
The majority of our research focuses on improving laboratory technical processes or elucidating disease mechanisms in the desire to minimize disease progression or to provide potential targets for cancer therapy. 


What are the most interesting or surprising findings from your work so far? 
We work on a variety of topics and disease processes. I have to admit that there has not been an investigation thus far which has not produced some interesting or unexpected findings. Each project has afforded an enriching learing experience for me (and hopefully for the students which whom I work). 


What is your favorite part of your job? 
There are a great number of things I enjoy about my job. It is very satisfying when I am able to convey a difficult concept to students and realize that I have made it understood. It is hugely gratifying when I challenge my students and they meet my challenge and surpass my expectations. This past December evidenced a record-high average histotechnology registry exam score in our program, over 150 points above the national average for accredited programs. Student success is my success. 


What is the most challenging part of your job?
Probably the most difficult part of my job is keeping my office and laboratory space organized and tidy. Because of the numerous projects underway – either in experimental stages or in manuscript writing and submission stages, there are constantly stacks of materials around. However, twice per year, at the end of each semester, laboratory and office contents are brought back under control. 


What do you like to do outside of the lab? Do you have any personal hobbies or interests?
I enjoy reading and doing clinical work in a local hospital.