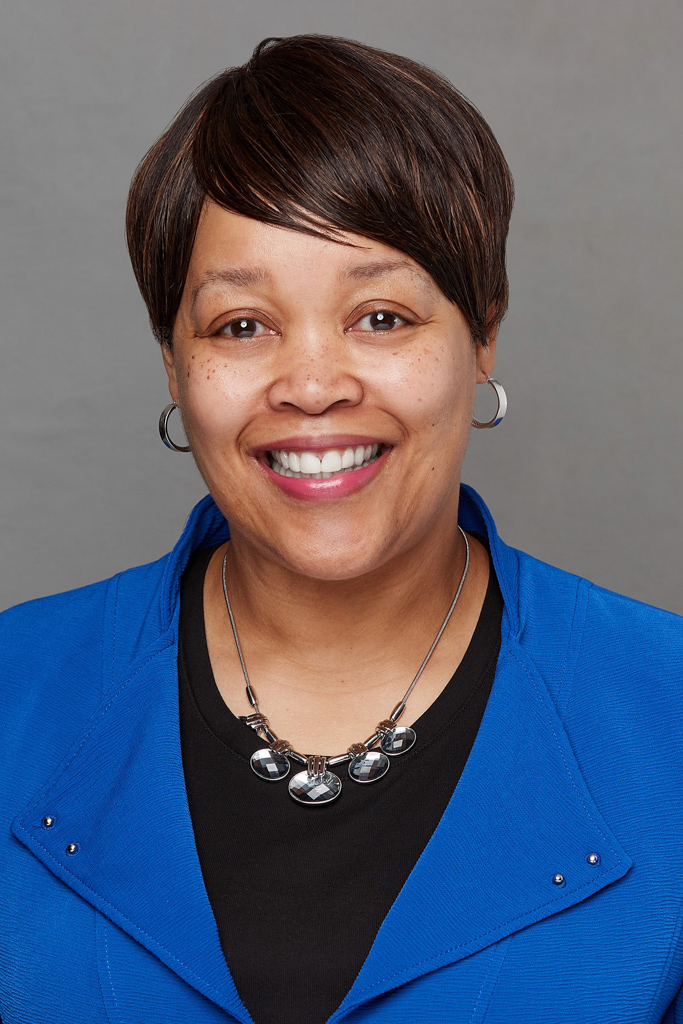 Chermale Casem, MBA, PHR,CDE
Executive Assistant Dean
Finance,Operations, and Strategic Initiatives
College of Health Professions
ccasem@uthsc.edu
Introduction:

Chermale K. Casem, MBA, PHR, CDE®, is a distinguished professional with over two decades of senior financial and administrative leadership experience. She currently holds the position of Executive Assistant Dean for Finance, Operations, and Strategic Initiatives in the College of Health Professions. Throughout her career, Chermale has demonstrated exceptional expertise in overseeing multi-million-dollar initiatives aimed at supporting vulnerable, low-income, and minority adult and child populations. Her record of accomplishments includes successfully leading state and federal workforce, economic development, and asset-building programs, with funding from prestigious agencies such as the TN Department of Human Services, US Department of Agriculture, US Department of Labor, and Health and Human Services. 

Chermale's credentials also include being a certified Professional in Human Resources (PHR) and a Certified Diversity Executive (CDE®). In these roles, she has designed workforce curriculum, delivered soft skills training, and managed professional development services across various sectors, including the public sector, private industry, government, and higher education. She earned her bachelor's degree in finance from the University of Tennessee-Knoxville and a master's in business administration from the University of Memphis. Chermale is a proud graduate of Leadership Memphis' 2014 Executive Class, further highlighting her commitment to leadership and excellence.

Tell us about yourself and what attracted you to pursue a career in higher education?
  
I pursued a career in higher education for several reasons, all of which deeply resonate with my passion and strong belief in the power of education to transform individual lives and society. One key motivator was my own transformative educational experience as a student. During my undergraduate and graduate studies, I had the privilege of being taught and mentored by some incredible educators who not only imparted knowledge but also inspired critical thinking and personal growth. I wanted to pay that forward and be a part of the positive impact that higher education can have on students.

Additionally, I am drawn to the idea of fostering a culture of inclusivity and diversity within academia. I believe that higher education should be a place where people from all backgrounds have equal opportunities to learn, grow, and contribute. In my current position, I can actively promote this vision and work towards a more inclusive and equitable educational environment for students, staff, and faculty.

Tell us about your recent HRSA award and what do you want others to know about this project and why it excites you?
 
I am delighted to share information about the recent Health Resources & Services Administration (HRSA) award of $3.249 million that has been granted to support our new Health Careers Opportunity Program (HCOP) in The College of Health Professions. This 5-year grant, named "Reimagining Education for Advance Careers in Healthcare" (REACH), holds great significance for us as it aligns perfectly with our mission and excites me for several reasons.

The primary goal of the REACH project is to fortify healthcare education while addressing the pressing need for a skilled and diverse healthcare workforce in West Tennessee. This initiative is composed of three distinct programs, each catering to different stages of a student's academic journey. The HCOP Saturday Academy targets juniors and seniors in high school from underserved communities, providing them with valuable exposure to various health professions. The HCOP Pre-Matriculation Academy focuses on undergraduate students in their junior and senior years who aspire to enter a healthcare profession. Lastly, the HCOP National Ambassadors Program is designed for graduate students already enrolled in UTHSC's College of Health Professions, with a special emphasis on professional development, social determinants of health, and social/emotional support services.

What genuinely excites me about this project is the transformative impact it will have on our community. This HRSA award will enable us to establish crucial community-based partnerships, creating an educational pipeline for aspiring health professionals. It will also facilitate significant improvements in healthcare access and equity within the urban and rural communities we serve. As someone who has successfully secured HRSA awards in the past, I am confident that this funding will play a pivotal role in advancing our mission and making a real difference in the lives of individuals pursuing careers in healthcare. The possibilities for positive change are truly boundless, and I am thrilled to be a part of this endeavor.

In your professional career, what do you consider to be your greatest achievement or most rewarding? 
 
Steven Covey's words, "Trust is the glue of life," resonate deeply with me. Throughout my professional career, I consider my ability to foster an environment of trust and collaboration as one of my most rewarding achievements. In our increasingly complex world, no one can lead, adapt, or innovate in isolation. My commitment to building relationships through integrity-based communication has been instrumental in my ability to successfully lead and adapt in various professional roles. This has not only brought personal satisfaction but has also contributed significantly to the generation of innovative solutions and achievements from the teams and organizations I have been a part of. Trust, as the foundational glue of effective communication and relationships, remains at the core of my professional philosophy. 
 
What is the most important thing you have learned about having a successful career, and what is the best advice you can give to someone just starting their career?
 
Throughout my career, I have adhered to the philosophy of poet Ralph Waldo Emerson -"Do not follow where the path may lead; go instead where there is no path and leave a trail."  The best advice that I can share with someone just starting their career is to find a career path that aligns with your passions and values, never stop learning, be open to change and innovation, and seek out mentors who can provide guidance and advice based on their experiences. And most importantly, remember to take care of your physical and mental health. A healthy body and mind are essential for a successful career.

Tell us something about yourself (a fun fact or hobby).
 
Traveling is my absolute favorite hobby, and it is something that has enriched my life in numerous ways. The world is an incredibly diverse and beautiful place and exploring it has been a source of constant inspiration and personal growth for me.  

Travel also offers a unique opportunity for personal reflection and self-discovery. It is during these journeys that I often find moments of clarity, self-awareness, and personal growth. Whether I am taking a hot air balloon ride across the mountains, lounging on a beach, or wandering through a museum in a bustling city, the beauty of nature and the world's rich tapestry never fail to amaze me. I look forward to every opportunity to explore new destinations, make lasting memories with family, and continue my journey of discovery around the world. My personal goal is to visit every state and continent, and I am more than 70% there.