Center for Muscle, Metabolism and Neuropathology
The mission of the CM2N is to improve human health, independence, and quality of life across the age spectrum through interdisciplinary research.
The CM2N is designed to bring faculty together with complementary expertise to generate research projects and grant applications for extramural funding across the broad spectrum of research in aging, cancer and neuromuscular dysfunction.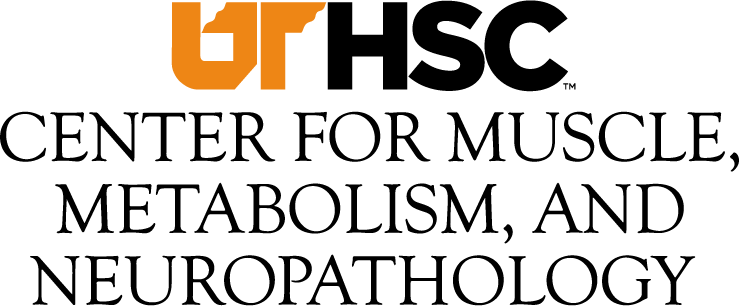 The Center for Muscle, Metabolism and Neuropathology (CM2N), within the Division of Rehabilitation Sciences, has a vision that focuses on research to enhance human muscle function and movement , which will enhance independence across the age spectrum. The center's academic goals are to identify novel strategies to better understand the cellular, molecular and physiological mechanisms by which neuromuscular disease, wasting diseases, metabolic disease, injury, and disability impact muscle function, metabolism and movement. Current programs being developed in the center include: Sarcopenia and Aging, Cancer Therapeutics and Survivorship, Stroke and Mobility and Movement Science.
Center Activities
---
Center Research Seminar Series.  Developed to bring local and national leaders from research areas covering questions in: Basic Science, Clinical Science, Translational Research related to research areas of interest in the Center. 
Work-in Progress Meetings. Monthly work-in-progress meetings are designed to provide improved feedback for grant development and progress towards obtaining preliminary data for proposals
Member Support through the CM2N Center provides:  
administrative centralized pre-award for developing extramural grant submissions
administrative post-award support
infrastructure support for interlaboratory research including equipment
graduate student management assistance for faculty
competitive opportunities for travel funding for graduate students of CM2N faculty
funding to offset publication and page charges of peer reviewed publications
research mentoring.
Affiliated Faculty
---
College of Health Professions Faculty Affiliates
Stephen Alway, PhD – Dean, College of Health Professions (sarcopenia, mitochondria, muscle wasting)
James Carson, PhD – Senior Associate Dean for Research and Graduate Studies (cancer cachexia, muscle wasting, sex hormone regulation of muscle)
Junaith Mohamed, PhD – Assistant Professor Department of Diagnostic and Health Sciences (Sarcopenia, stroke, muscle atrophy, muscle regeneration)
Joint Faculty Affiliates
Mohammad Moshahid Khan, PhD (stroke, Parkinsons' Disease, neural control of movement)
Core Values
---
We are committed to the highest level of excellence and integrity.
We promote collaboration and teamwork.
We are focused on and committed to understanding diseases and conditions that reduce muscle and neural structure and function and identify strategies to improve the  neuromuscular function.
We show pride, enthusiasm and dedication in research.
We are committed to student mentorship in research to provide  the next generation of scientists.
Laboratories of Affiliated Faculty
Our current faculty research strengths are in cancer cachexia, cancer therapeutics, sarcopenia, metabolism, stroke and mobility.
Muscle Biology and Sarcopenia Laboratory
The Muscle Biology and Sarcopenia Laboratory is Directed by Dr. Stephen Alway. This lab provides opportunities for basic science researchers to assess muscle function on preclinical models or muscle biopsies. Part of the lab is devoted to cell culture and microscopy facilities to image myoblasts and differentiated myotubes. In vivo muscle function (strength and fatigue) can be assessed in anesthetized mice. The same instruments can be used to exercise mice. Models for muscle disuse include denervation, hindlimb suspension and casting. Mitochondria function analyses can be performed on whole muscle segments or single fibers or isolated mitochondria. Typical molecular biology approaches include RT-PCR, qPCR, western blot and immunocytochemical preparation and analysis.
Muscle and Neural Laboratory
TheMuscle and Neural Laboratory is directed by Dr. Junaith Mohamed. The lab is equipped to conduct acute middle cerebral artery occlusion for acute stroke injury. Downstream analyses for markers of muscle atrophy and disfunction include molecular biology approaches using transgenic mice generated in this laboratory.
Integrative Muscle Biology Laboratory
The Integrative Muscle Biology Laboratory is directed by Dr. James A. Carson and is located on the 3rd floor of the Cancer Research Building on the University of Tennessee Health Science Center (UTHSC) campus. Dr. Carson moved to the UTHSC in August of 2018 from the University of South Carolina and is rapidly setting up his laboratory. Dr. Carson has been provided 900 sq. ft of modern state of the art laboratory space in the new Cancer Research Building on the UTHSC campus. Dr. Carson was provided a start-up package for the purchase of all equipment needed for skeletal muscle analysis. He is funded with a R01 and a R21. His Integrative Biology Lab contains all of the equipment necessary for analysis of gene expression and cellular signaling by ELISA, Real-time PCR, and western blot analysis. The laboratory has been fully equipped with state-of-the-art equipment for cell/molecular, immunological, and biochemical analysis. There is a 150 sq. ft. auxiliary cell culture laboratory for in vitro analysis of muscle responses to anabolic and catabolic stimuli. Equipment for the staining procedures and digital quantification of muscle section is available. Additionally, the laboratory is located on a floor with other UTHSC cancer researchers and contains a common cold room and autoclave room. Dr. Carson's lab is also equipped for in situ and ex vivo muscle function.