Quality Improvement and Patient Safety
Quality Improvement and Patient Safety (QIPS) initiatives are important components of Medical Student and Graduate Medical Education at our institutions, The University of Tennessee College of Medicine Chattanooga and Erlanger Health System. As of July 1, 2020, Residents and Fellows who graduate from our GME Programs must have been significantly involved in at least one QIPS project in order to meet our campus' institutional GME requirements.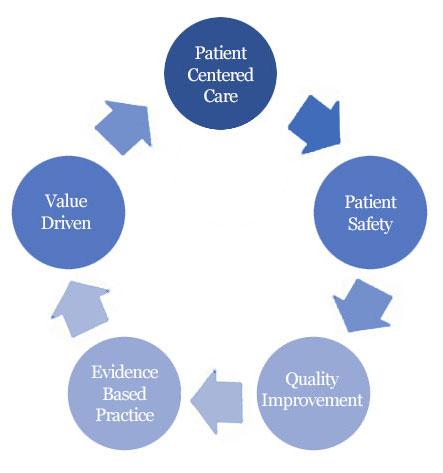 The University of Tennessee Graduate Medical Education (GME) Program is committed to the education and development of exemplary physicians who practice patient-centered health care, foster innovation in patient safety, and create strong inter-professional teams to promote quality, safety, and value in healthcare across the continuum.
In the Institute of Medicine publication "Crossing the Quality Chasm" six specific aims were identified in order for the health care system to deliver quality care.health care system to deliver quality care -- the "STEEEP" principles:   
S - Safe Care: The patient's safety comes first.
T - Timely Care: Patient care will be delivered in the most timely manner possible.
E - Effective Care: Patient care will be based on the best science available.
E - Efficient Care: Patient care will avoid waste of time, money, and resources
E - Equitable Care: Access to care will be provided to all in an equitable manner.
P - Patient-Centered Care: Patients will participate fully in care decisions.
Quality Improvement and Patient Safety
All physicians share responsibility for enhancing quality patient care and promoting patient safety. Graduate Medical Education must prepare Residents* to provide the highest level of clinical care with a continuous focus on the safety, individual needs, and humanity of their patients. It is the right of each patient to be cared for by Residents who are appropriately supervised; possess the requisite knowledge, skills, and abilities; understand the limits of their knowledge and experience, and seek assistance as required to provide optimal patient care. Residents must demonstrate the ability to analyze the care they provide, understand their roles within health care teams, and play an active role in system improvement processes. Graduating Residents will apply these skills to critique their future unsupervised practice and affect quality improvement measures. It is necessary for Residents and Faculty members to consistently work in a well-coordinated manner with other healthcare professionals to achieve organizational patient safety goals. 
A Culture of Safety and Education
A culture of safety requires continuous identification of vulnerabilities and a willingness to transparently deal with them. An effective organization has formal mechanisms to assess the knowledge, skills, and attitudes of its personnel toward safety in order to identify areas for improvement. The program, its Faculty, Residents, and fellows must actively participate in patient safety systems and contribute to a culture of safety. The program must have a structure that promotes safe, interprofessional, team-based care. Programs must provide formal educational activities that promote patient safety-related goals, tools, and techniques. 
Patient Safety Events
Reporting, investigation, and follow-up of adverse events, near misses, and unsafe conditions are pivotal mechanisms for improving patient safety and are essential to the success of any patient safety program. Feedback and experiential learning are essential to developing true competence in the ability to identify causes and institute sustainable systems-based changes to ameliorate patient safety vulnerabilities.
Residents, Faculty members, and other clinical staff members must:
know their responsibilities in reporting patient safety events at the clinical site
know how to report patient safety events, including near misses, at the clinical site
be provided with summary information of their institution's patient safety reports. 
Residents must participate as team members in real and/or simulated interprofessional clinical patient safety activities, such as root cause analyses or other activities that include analysis, as well as formulation and implementation of actions. 
Patient-centered care requires patients, and when appropriate families, to be apprised of clinical situations that affect them, including adverse events. This is an important skill for Faculty physicians to model, and for Residents to develop and apply.
All Residents must receive training in how to disclose adverse events to patients and families.   
Quality Improvement - Education, Quality Metrics, and Engagement in QI Activities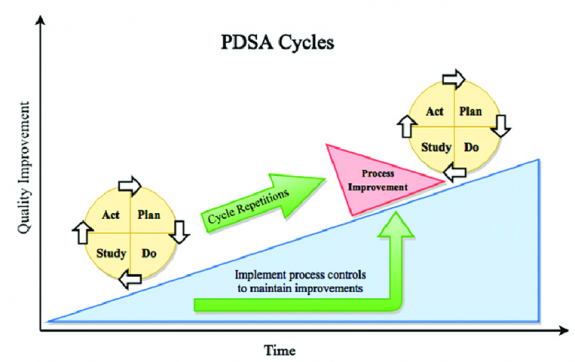 PLAN: Plan a change or test of how something works
DO: Carry out the plan.
STUDY: Look at the results. What did you find out?
ACT: Decide what actions should be taken to improve
Repeat as needed until the desired goal is achieved.
A cohesive model of health care includes quality-related goals, tools, and techniques that are necessary in order for healthcare professionals to achieve quality improvement goals. Residents must receive training and experience in quality improvement processes, including an understanding of health care disparities. Access to data is essential to prioritizing activities for care improvement and evaluating the success of improvement efforts. Residents and Faculty members must receive data on quality metrics and benchmarks related to their patient populations. Experiential learning is essential to developing the ability to identify and institute sustainable systems-based changes to improve patient care. Residents must have the opportunity to participate in interprofessional quality improvement activities.   
Effective in the 2020-2021 Academic Year (for those graduating as of June 30, 2021) the UT College of Medicine Chattanooga has determined that every graduating Resident and Fellow must have been significantly involved in a Quality Improvement/Patient Safety (QIPS) project as a requirement for graduation.  The only exception would be a Fellow who had already completed a QIPS project in his or her core residency program.  That decision would rest with the Fellowship Program Director.  The Department Chair, in consultation with the Program Director, Quality Champion, Program Research Director, and other faculty as appropriate, and with consideration of the resident's/fellow's overall scholarly activities, will have the final decision as to whether or not the resident has met the QIPS requirement.
For more information about the Erlanger and UT College of Medicine Chattanooga Quality Improvement and Patient Safety programs, please contact: