Officers/Faculty
Co-Presidents
Elizabeth Karolczuk, M4 President
Emily Noggle, M3 Co-president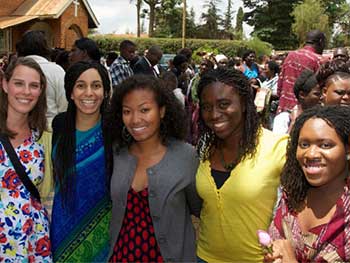 Secretary
Community Outreach
Audrey Sharp
Nicolette Glidden
International Trip Planning
Fundraising
Treasurer
IT Liaison
Faculty
Catherine Womack, MD
Phone: (901) 448-5684
Email: cwomack@uthsc.edu
Students
2021
Chloe Hundman 
Chloe was born and raised in Bloomington, IL and graduated Rhodes College in Memphis with a degree in Neuroscience.  While in college, she volunteered at St. Jude Children's Research Hospital, interacting with patients and families from all over the world.  Though this experience and a post-graduate trip abroad to build houses in Guatemala, she was made aware of her passion to work with people from different racial, cultural, religious, and geographic backgrounds.  She hopes to one day work with Doctors Without Borders or local non-profits to bring healthcare to those in underserved areas. Chloe is very excited to work alongside her fellow CIAO members to address health inequality issues and serve the Memphis community.
Emily Noggle
Emily grew up in Knoxville, TN, and attended Sewanee: The University of the South, where she double-majored in International Studies and German. She studied abroad in Germany on two separate occasions, and through these opportunities and subsequent travel, she became interested in incorporating global outreach and experiences into her life and career. Following her undergraduate education, she worked for an international business for several years, completing budgeting and investment tasks. During this time, she volunteered with several organizations, including Remote Area Medical, Big Brothers Big Sisters, and the Diabetes Education Center of an area hospital. After realizing her passion for science and health, Emily decided to return to school to pursue a career in medicine. She additionally obtained a graduate certificate in public health from the University of Florida and completed a post-baccalaureate pre-medical program at Agnes Scott College. Emily is very interested in inequality within healthcare, both on a local and international level, and she hopes to serve the Memphis and greater global community through her membership with CIAO and as a future physician.
Eugene Rho
Although Eugene studied microbiology at the University of Tennessee at Knoxville, his favorite class was Social Inequalities where he cultivated his interest for improving the health of the most vulnerable populations. He is blessed to be a part of CIAO to further explore said passion and to help empower other like-minded individuals reach their dreams. Working at Church Health for a year was a humbling experience and the perfect stepping stone before bringing his talents to CIAO. He is certain that being surrounded by positive, innovative people, it will broaden his perspectives and help him reach his goal of doing what he can to address healthcare disparities. 
Audrey Sharp
I am born and raised in Memphis. Throughout college, I worked in a pediatric clinic with a large population of Spanish speaking patients. This inspired me to take some time off school and learn Spanish. I wanted to work to eliminate all barriers in connecting with my future patients, including language. With the help of CIAO, I was able to spend this past summer in Ecuador in a medical Spanish program. While I love traveling and international medicine, I hope to work as a physician in the Memphis area and to do whatever I can to make Memphis a place where everyone has access to healthcare. 
2022
Lauren Brewer
Lauren is from just outside of Nashville, TN, where she stayed for college at Lipscomb University. During college she served at a clinic for the uninsured and marginalized populations of Nashville. Between college and medical school, she worked at a church south of Nashville serving in student ministry and local missions. In the summer of 2019, she was able to travel to Athens, Greece to work in a clinic for women and children refugees. During and after medical school, Lauren wants to combine her compassion for underserved people and passion for medicine to help bridge the often drastic gaps in access to quality care both locally and abroad.
Elizabeth Crowder
Elizabeth grew up in Jackson, TN and attended the University of Tennessee- Knoxville where she majored in Anthropology and Spanish Language. Her concentration in anthropology focused on disasters, displacement, and human rights. These classes encouraged her interest in learning about new cultures and inspired her to pursue a career working with marginalized populations. Her passions include traveling to new places and spending time in the outdoors, especially whitewater kayaking. Paddling new rivers has allowed Elizabeth to form a close connection to rural Appalachia and exposed her to the health disparities faced by many who live there. After graduating from UTK, these combined experiences helped her decide to return to school and begin the process of applying to medical school. She hopes to be involved in community outreach both in Memphis and abroad through working with CIAO. Every member of this organization inspires her with their passion and commitment to improve health outcomes for patients in these communities.
Nicolette Glidden
Nicolette grew up in Redding, CT and graduated from Rhodes College in Memphis, TN with a degree in Neuroscience. She conducted cognitive psychology research during her undergraduate career on speech production and emotional language usage in addition to serving as captain of the Rhodes women's soccer team. During a gap year before medical school, Nicolette worked in administration at Methodist University Hospital where she learned about the healthcare disparities affecting the Memphis community. Nicolette is excited to work with the members of CIAO to spread awareness about these healthcare disparities and to serve the people of Memphis.
Renn Lovett
Hey, my name is Renn. I'm in the COM Class of 2022. I'm from Memphis, TN, attended Germantown High School, and then received my Bachelors in Science in Nursing from Murray State University. I worked as a trauma RN at Regional One in Memphis briefly before starting medical school. I love adventure and outdoor recreation, sports (all of them), and meaningful conversations over a nice cup of Joe. I'm currently undecided as to what I want to go in to; it changes every week. Hope I get the pleasure to meet you one day!
Christina Patel
Christina was born and raised in the small town of Carthage, TN, and attended Berea College in Kentucky where she earned her Bachelor of Arts degree in biology and chemistry. After college, she moved to Washington, D.C. to serve with an AmeriCorps program called City Year in which she served 50hrs/week as a peer mentor for children in disadvantaged neighborhoods. The experience was eye-opening and further motivated her to address the socioeconomic and health disparities present across America. Also, while in college, she studied abroad in Japan where she resided with a host family. Christina describes the experience as everyday being an adventure. Every day, she learned something new about the world. Every day, she lived. She hopes to instill that love for learning and acceptance through her involvement in CIAO.
Jay Patel
Hi everyone! My name is Jay Patel. I'm from Crossville, TN, and I did my undergrad at UTK. While at UTK, I worked a lot with the Center for Leadership & Service and at Fort Sanders Regional Medical Center to serve my community and learn how to make a positive impact. Since being in Memphis, I read to little kids weekly at a local elementary school, volunteer at the CIAO clinic, and am actively involved in Memphis Street Health. In my free time, I'm a huge fan of exploring new outdoor things and watching movies. I love Chipotle and conversation, and I'm looking forward to meeting you!
Zach Rubnitz
Zach grew up in Memphis, Tennessee. He went to White Station High School and then received a degree in biology from Northwestern University. At Northwestern Zach spent much of his time working as an athletic training aide for the varsity sports teams and researching the processes of cell division. Zach has gone on service trips to Ecuador, Jamaica, and Nicaragua and enjoys backpacking in rural areas. He is glad to be back in Memphis for medical school and help work with the city to increase the quality of healthcare for its residents. He wants to address the lack of resources and funding for underserved populations in his neighborhood as well as countries across the globe. Zach is excited to be a new member of CIAO and help with projects both locally and globally.
2023
Alexander Bowers
I'm Alex, and I grew up in Medina, TN. I attended undergrad at The University of Memphis Lambuth Campus. Before attending college, I was a flight medic for the U.S. Air Force and had the opportunity to work overseas in the medical field on a couple different occasions. Furthermore, I grew up with my parents being foster parents to many other children, which is what initially sparked my interest in serving others. CIAO is something I wanted to be a part of before even starting medical school because I am very passionate about community and global outreach. I hope that as being a member of CIAO I can help further the outreach initiative of The University of Tennessee and improve the local community health equity.
Michael Chen
Michael grew up in Johnson City, Tennessee, and then attended Winthrop University in Rock Hill, South Carolina where he majored in biology and was a member of the tennis team. Growing up, a major influence on his perspective on social and global inequalities came from his father, who is a professor who taught international relations and political science, and from his tennis background, where his personal coach, from Venezuela, was the head coach for the East Tennessee State University tennis team and where he was able to be mentored by various players from the team that were primarily from South America. Additionally, he lived in both China and Singapore where he further developed an interest in global and international relations. 
In college, with tennis being a primarily international sport, he developed close friendships with his teammates from every continent around the world and was able to learn more about various cultures. During that time, he also developed an interest in serving the underserved through volunteering at various organizations such as the local YMCA, Boys and Girls Club, and local churches. After graduating, he took two gap years and decided to help as a volunteer assistant coach for the East Tennessee State University men's and women's tennis team and work in the hospital as a certified nursing assistant at Johnson City Medical Center. To further explore his global interests during that time, he went back to China and spent time as a teaching assistant at North China Institute of Technology and interned and volunteered at a urology clinic. He hopes to learn a lot and help out however he can as part of CIAO in order to continue educating and serving underserved communities around Memphis and around the world.
Tracy Cherian
Tracy grew up in Nashville, TN and graduated from Washington University in St. Louis with a bachelor's degree in Neuroscience. During her undergraduate career she participated in Alzheimer's research, served on the executive board of a South Asian cultural group, and was a choreographer of Garba, a folk dance of northern India. Before beginning medical school, Tracy worked as a medical scribe at St. Thomas Hospital in Nashville where she learned more about health disparities and mental illness in the urban community. Tracy hopes to serve the UTHSC, local, and global community through her participation in CIAO.
Jen Crook
Jen grew up in Franklin, TN, and attended the University of Pittsburgh where she got her BA in Spanish and her BS in Neuroscience. She also completed a certificate in global studies with a focus in global health. While in college she studied abroad in Cuba and volunteered in a free clinic as a translator, where she developed her passion for working with the underserved and peoples from around the world. During her gap year before medical school Jen worked in pediatric infectious disease at Vanderbilt and volunteered at a free clinic in Nashville, where she had the opportunity to serve the community she grew up in. Jen is now involved with the Global Surgery Institute and CIAO, and hopes to expand UTHSC's local and international outreach, as well as its students' ability to working with the underserved. She is so excited to be a part of the CIAO family!
Ruth Dunn
After growing up in Brentwood, Tennessee, I spent four years in Baton Rouge earning a degree in Biology from LSU. During my time there, I interned with the LA State Health Department and the Centers for Disease Control in Nairobi, Kenya. I conducted clinical research in pediatric viral illness and basic science research in adipocyte biology. Perhaps most influentially, I was selected as a Louisiana Service and Leadership (LASAL) Scholar, which included coursework on poverty and coastal land loss in Louisiana. These experiences solidified my passion for addressing issues of inequity in our world, which I hope to do through a career in medicine and public health. Most recently, I spent the last year in Thomassique, Haiti, as a Global Health Fellow, running community-based health programs and acting as an intermediary between the funding organization and the local staff. Now in Memphis, I am excited to be a part of this organization committed to reaching communities locally and abroad.
Mason Forchetti
Mason grew up in Fayetteville, TN, and graduated from Lipscomb University with degrees in biology and applied biochemistry. While at Lipscomb, he discovered a passion for service while volunteering as a driver for the American Cancer Society's Road to Recovery Program. His position as research chair of Lipscomb's Diverse Student Coalition allowed him to get involved with the Nashville community, which is where he developed his desire to serve the underserved. He has been on two medical mission trips to Guatemala, and he has led one medical mission trip to Honduras. In his free time, Mason likes to read Stephen King books and watch sports. He is looking forward to being a part of CIAO and getting involved in the Memphis community.
Paul Percelay
Hi, my name is Paul Percelay. I grew up in Clarksville, TN where I attended Clarksville High School. I attended the University of Denver for undergrad where I received my B.S. in Biology. While in college, I joined a student run non-profit organization called GlobeMed. It was this club that got me excited about Global Health. I was fortunate enough to take a 6-week trip with some other GlobeMed members to Cambodia to work hand in hand with a grassroots organization there. Together, we have helped over 200 families affected by HIV/AIDS build sustainable sources of income. In between college and medical school, I took a year off to work and enjoy the wonderful state of Colorado. During this time, I worked as a medical scribe in some of the Emergency Departments across the city of Denver. I also worked as a barista as a local coffee shop. I love spending time outdoors doing all sort of activities including hiking, camping, and playing sports. I hope to contribute to CIAO's mission of supporting the local Memphis community and raising awareness of global health needs. I would love to meet with anyone who is interested in CIAO's mission. Please feel free to reach out!
Alexus Rias
I was born in Grenada, MS and lived out most of my childhood between Memphis, TN, Southaven and Coila, MS. I graduated from Rhodes College in 2017 with a B.S in Biology/Anthropology and Sociology. This was a major which I wrote and created myself to combine the knowledge that the sciences provide about the human body with the insight that anthropology/sociology provide into the human race and the societal structure in which it exists. 
I did this with the aim of developing a holistic and intersectional frame of thought that would help me to address the health disparities that exist within our communities. I started this work with a research project at Rhodes in which I investigated medicals students' perception of bias within the doctor-patient encounter, as well as their self-assessed ability to address these issues equipped only with their medical training. My study revealed that medical students are aware of bias within the provider-patient relationship, but that this awareness is due to personal experience with bias or exposure to its effects on marginalized populations as opposed to medical education itself. This finding is one of the many reasons I am so excited to be a member of CIAO. It is an organization which provides medical students with the resources to exert autonomy over their own education by giving them the opportunity to personally experience and be exposed to the reality of this world and the ways in which we may change it for the better through medical practice. I am so excited to work with the members of CIAO to help enrich the education of ourselves and colleagues in order that we may effectively address the issue of health disparities in Memphis and abroad.
Vidushi Sinha
Vidushi was born in India and raised primarily in Memphis, TN, after moving to the US at a young age with her parents and older brother. She attended the University of Alabama at Birmingham, where she majored in Psychology, minored in Chemistry, and enjoyed taking interdisciplinary courses in public health, sociology, poetry, philosophy, extraterrestrial life, and more. Through her study abroad experiences in Spain and England, she was able to hear stories from those around the world and better understand the interconnectedness of society. Vidushi is dedicated to honoring the needs of the human condition that bring us together while celebrating the differences.