The mission of UTHSC Women in Medicine and Science (WIMS) is to ensure the full and successful participation of women in all roles within academic medicine and science through Education, Advocacy, Mentoring, and Networking.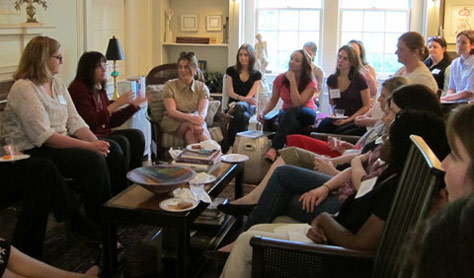 Education
WIMS is dedicated to helping its members succeed in all of their career endeavors. We host Lunch & Learn events with prominent female physicians across Tennessee with a wide range of topics that have include combating physician burnout, giving back to the community and practicing self-care. We also host Professional Development seminars to help students further their professional goals. If you have ideas for future lecture topics, please send us an email!
Advocacy
WIMS is involved in many local outreach programs, including ongoing involvement in Sister Supply, a collection drive for pads and tampons for underserved women in the community as well as A Step Ahead, a Foundation providing young women with workshops promoting self-confidence, goal-development and providing access to long-acting contraception options. We also participate in local events as a group such as the Dress for Success clothing drive and the Walk a Mile in Her Shoes domestic violence awareness walk.
Mentoring
WIMS is proud to host many mentorship opportunities for members. We have opportunities before medical school even begins through our Women's Weekend. This two-day event, held in the spring, is open to all female applicants with an acceptance to UTHSC College of Medicine to start the following fall. Over the course of the weekend, participants have the opportunity to learn more about unique opportunities offered to the medical students of UTHSC, meet current students and future professors, and explore the city of Memphis. Once in school our annual Mentorship Symposium each spring allows students to learn about the importance of mentorship and get to know other students, faculty and physicians.
Networking
Through Careers Over Coffee, WIMS members have the opportunity to meet specialists in their desired professions through informal gatherings over lunch or coffee. Connections with graduated WIMS members, current members as well as our wonderful faculty advisors provides members great opportunities to build their professional network.