Flow Cytometry and Cell Sorting (FCCS)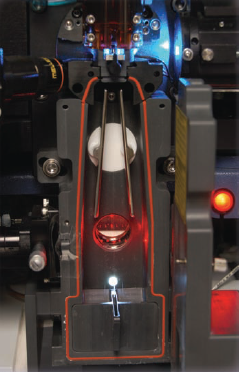 The UTHSC Flow Cytometry and Cell Sorting Laboratory provides access to state-of-the-art analytical flow cytometry and cell sorting for UTHSC and Memphis area researchers. The instruments available are a BD Biosciences FACSAria Cell Sorter and a Propel/Bio-rad Yeti/ZE5 Flow Cytometer.
Who
The Administrative/Faculty Director of the Laboratory is Dr. Tony Marion, Department of Molecular Sciences. Dr. Deidre Daria is the Core's Research Specialist. Contact Dr. Marion or Dr. Daria for access and scheduling of services provided by the FCCS Core that are available to researchers at UTHSC as well as the Memphis area research community.
How
Individuals wishing to schedule training, use of either of the flow cytometers, operator-assisted flow cytometry, or cell sorting should do so via their iLab account or contact Dr. Daria, MSB214, (901) 448-4279 or ddaria@uthsc.edu or Dr. Marion, MSB201F, (901) 448-6527 or tmarion@uthsc.edu. Researchers may choose to collect flow cytometry data themselves on the Yeti/ZE5. Only operator-assisted flow cytometry and cell sorting is accessible with the FACSAria. Users of the Yeti/ZE5 must first complete a two-hour training course with FCCS Core staff or provide documented evidence of training and complete familiarity with the relevant instrument's operation. Training, access to the flow cytometers, and scheduling for cell sorting or operator-assisted analysis requires an account number to which all charges may be submitted for payment.
Where
The facilities are located in Rm. 214, Molecular Sciences Building, 858 Madison.
When
Cell sorting and flow cytometry services and facilities are available Mon-Fri 9:00 AM - 5:00 PM and at other times by special request.