Quantitative Real-time PCR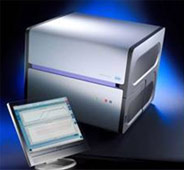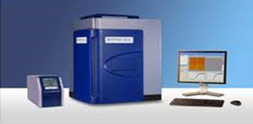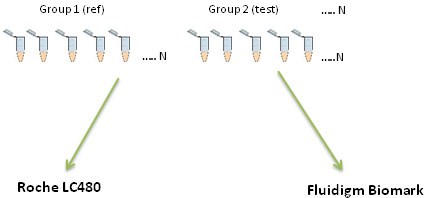 Universal ProbeLibrary assays are compatible with all real-time PCR instruments capable of detecting fluorescein, FITC, FAM, and/or SYBR Green I, and follow standard cycling protocols for hydrolysis probe assays.
For Roche LC480, contact Bill Taylor.
For Fluidigm Biomark, contact Bill Taylor.
The LightCycler® 480 Instrument is a rapid, thermal block cycler with integrated real-time, online detection capabilities.
The BioMark™ System produces high quality data from RNA, miRNA, and DNA. Will perform real-time PCR analysis on up to 96 unique samples and 96 genes.
|   | Roche LC480 | Fluidigm Biomark |
| --- | --- | --- |
| Format | 96 or 384 well plates | 12 samples x12 genes; 48 samples x 48 genes (Real-Time or SNP genotyping); 96 samples x 96 genes |
| Applications | Taqman, Sybr Green, HRM, Genotyping | Taqman, Sybr Green, Genotyping, Digital PCR |
| Advantages | Flexible format | High throughput; uses very low quantities |
| Disadvantages | Expensive for high throughput experiments | Fixed formats; samples must be pre-amplified. |
| Sample Preparation Suggestions | Eppendorf epMotion robot available for 384 well plates; samples should be in triplicate. Pre-qualified assays recommended, reference gene should be determined empirically | More than 1 technical replicate for each sample recommended. |