UTHSC LEADS Seminar Series
The UTHSC LEADS (Launching Entrepreneurial Activities and Discovery in Science) seminar series brings successful and engaging entrepreneurial scientists, involved in biotech, life sciences, pharma and device sectors to UTHSC to relay their entrepreneurial stories.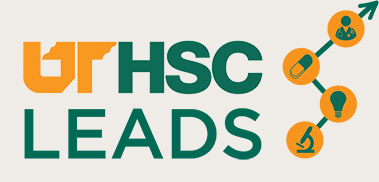 Upcoming Dates
There are no dates to display. Upcoming speakers will be announced soon. 
Recorded Presentations
Below is a listing of past UTHSC LEADS presentations and links to view them. When prompted, please login with your UT NetID and password to view the recording.
Mark Suto, PhD
Vice President, Drug Discovery Division, Southern Research
"A Roadmap for Drug Discovery in Academia/Healthcare Industry"
October 1, 2019
Watch Now
Tim Brahm
Founder, BioD, LLC; Chief Executive Officer, Ontologix
"An Entrepreneur's Journey in Developing and Commercializing Novel Biologic Products: The BioD Story"
February 19, 2019
Watch Now
Todd D. Giorgio, PhD, PE
Professor, Biomedical Engineering, Cancer Biology, and Chemical and Biomolecular Engineering, Vanderbilt University
"Academic Research and New Company Formation: Inspirations and Obstacles"
May 3, 2018
Amy L. Hester, PhD, RN, BC
Director, Nursing Research and Innovation, Director, Diagnostic Center, the University of Arkansas for Medical Sciences Medical Center, Chief Scientific Officer, HD Nursing, LLC
"A Roadmap for Entrepreneurs in Healthcare"
January 26, 2018
Watch Now
Samuel E. Lynch, DMD, DMSc
Chairman and CEO, Lynch Biologics, LLC
"Benchtop to Bedside, the Real Life Stories of a Successful Medical Scientist and Entrepreneur"
Oct. 31, 2017
Watch Now