News and Events
Graduating Class of 2015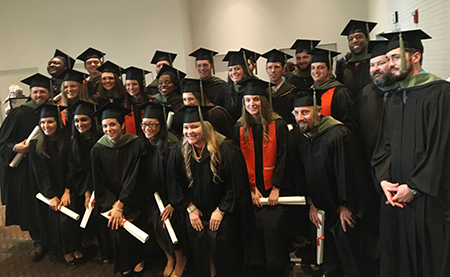 In a winter commencement ceremony held on December 11 2015, the Physician Assistant program graduated all 25 members of it's inaugural class that began in January 2014. The ceremony took place at the Cook Convention Center in Memphis, TN. There are a total of six PA programs in the state, with the majority located in eastern Tennessee. At the time of graduation, there were approximately 34 physician assistants practicing in Shelby county. 
The graduates included 13 males and 12 females, and the inaugural class was considerably above national averages with regards to ethnicity/race:
Caucasian Males 11
Caucasian Females 9
African Americans 3
Asians 2
White Coat Ceremony
Friday, November 14, 2014 at 4:00pm
Student Alumni Center Dining Hall
Memphis, TN

Professional Attire
With a grant from the Arnold P. Gold Foundation, the University of Tennessee Physician Assistant program will host its inaugural White Coat Ceremony. The White Coat Ceremony is a "rite of passage" for health science center students that encourages a psychological contract in which they accept the obligations inherited in the practice of medicine towards professionalism and empathy.  This event emphasizes the importance of the foundation and the mission of the institution: education, research, patient care and service.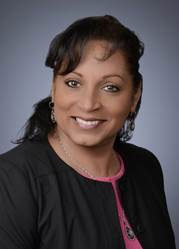 2014 Keynote Speaker - Dr. Dawn M. Morton-Rias, PA-C
President and CEO for the National Commission on Certification of Physician Assistants (NCCPA)
For information about the Arnold P. Gold Foundation, visit their website.
PA Faculty Member Amy Allen Receives Grant
In February 2014, Professor Amy Allen received a grant from the Physician Assistant Education Association to collaborate with Dr. Cassandra Holder Ballard, Chair of the Department of Dental Hygiene. This grant will support the provision of oral health education to the PA students.
 The grant supports an initiative to educate PA students about oral health using the online Smiles for Life Curriculum as well as bringing in Dental Hygiene and Dental School faculty to lecture on oral health topics. A community service project is included as a provision of the grant that will allow PA students to collaborate with DH students and gain hands on experience applying fluoride varnish to the teeth of underserved children in the Memphis area.
The grant was provided by PAEA whose mission is to ensure quality PA education through the development and distribution of educational services and products specifically geared toward meeting the emerging needs of PA programs, the PA profession, and the health care industry.   For information about PAEA visit the PAEA website.
Mr. Allman Goes to Washington (January 17, 2014)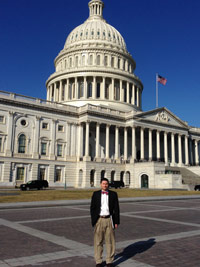 On January 16, 2014, Professor Matthew Allman, a member of the national Physician Assistant Education Association Government Relations Committee, visited with members of the US House and Senate to discuss current issues in health care as they relate to the education of Physician Assistants. The Government Relations Committee (GRC) is charged with ensuring that the Association's advocacy efforts effectively address PA education issues on the national level. The committee's major functions are to: contribute to and monitor the Association's legislative agenda and advocacy strategy, promote greater interaction by faculty and students with federal policymakers, advocate for greater inclusion of PAs in federal programs, advocate for increased amounts of public funding for PA education programs, and build new strategic partnerships with other associations, non-profit organizations, and government agencies related to PAEA's advocacy agenda. Professor Allman shared this photo in Washington DC as he raced back and forth between the House and Senate buildings. He is hopeful that PA Program Title XII funding will be positively effected by the committees efforts today.
PA Program Welcomes Inaugural Class! (January 6, 2014)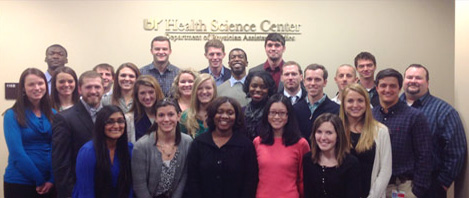 A journey of a thousand miles begins with a single step. This simple phrase was uttered over 2600 years ago by Lao-Tzu a Chinese philosopher. This week a new journey was initiated as 26 students began their studies as the inaugural class of the University of Tennessee Health Science Center's Physician Assistant Studies program.
As the only Physician Assistant program in the state that is associated with a public university the mission of the program at UTHSC is to prepare a diverse group of highly skilled Physician Assistant practitioners who are dedicated to improving access and providing high quality care. With that eye to diversity this inaugural class has set the bar high. The class is evenly balanced with 13 males and 13 females which surpasses the national average of 75% percent female students. The class is also considerably above national averages with regards to ethnicity/race.
With a diverse and experienced faculty, the UTHSC PA program is poised to answer the challenging health care needs that the region is facing. By providing these students with a state of the art learning environment and unique clinical opportunities coupled with a tuition that is significantly lower than any other program in the state, UTHSC's physician assistant students will be more than ready to provide outstanding care to Tennessee's residents.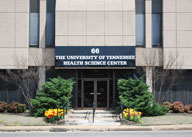 Contact Us
Master of Medical Science Physician Assistant Program

66 North Pauline, Ste. 116
Memphis TN 38163
Email: paprograminfo@uthsc.edu
Phone: 901-448-8000