Department of Physician Assistant (PA) Program
The core of our PA Program's mission is aligned with that of the University of Tennessee, the University of Tennessee Health Science Center, and the College of Health Professions: Achieving and maintaining human health.
The ARC-PA has granted Accreditation-Provisional status to the University of Tennessee Health Science Center Physician Assistant Program .
Accreditation-Provisional is an accreditation status. The status indicates that the plans and resource allocation for the proposed program appear to demonstrate the program's ability to meet the ARC-PA Standards , if fully implemented as planned. Accreditation-Provisional does not ensure any subsequent accreditation status. It is limited to no more than five years from matriculation of the first class.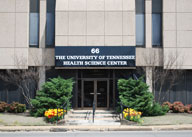 Quick Links
Contact Us
Master of Medical Science Physician Assistant Program
66 North Pauline, Ste. 116
Memphis TN 38163
Phone: 901-448-8000
Program Director
Matthew Allman, MPAS, PA-C