Student Research Assistantship Program
The Department of Family Medicine offers medical students an exciting summer opportunity - the Family Medicine Student Research Assistantship Program (SRP), an annual 8-week program starting in the last week on May, and ending a week before the end of July. SRP students are placed in Memphis and Jackson, TN.  SRP may be for you, if you enjoy working in a clinical setting while learning about clinically relevant research.
SRP is designed to:
Improve your ability to read and evaluate the medical literature from an Evidence-Based medical perspective.
Increase your ability to think critically based on medical observations experienced in every day practice.
Provide you with an opportunity to present your report at a professional meeting at no expense to you.
Provide you with an opportunity to experience family medicine first-hand by participating in a family medicine residency program and clinic.
Help you meet the requirements of the LSP program.
Students meeting the terms of their written agreement will receive a stipend of $1,280 in Memphis ($1,580 in Jackson) for spending 16 hours per week on research, clinical shadowing, and didactics during the 8-week SRP.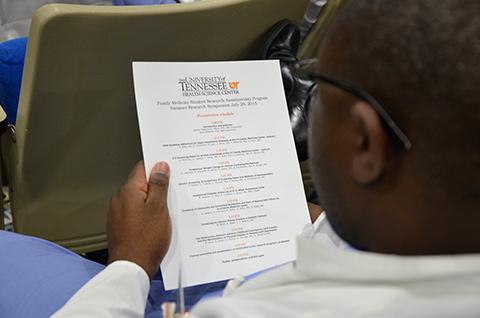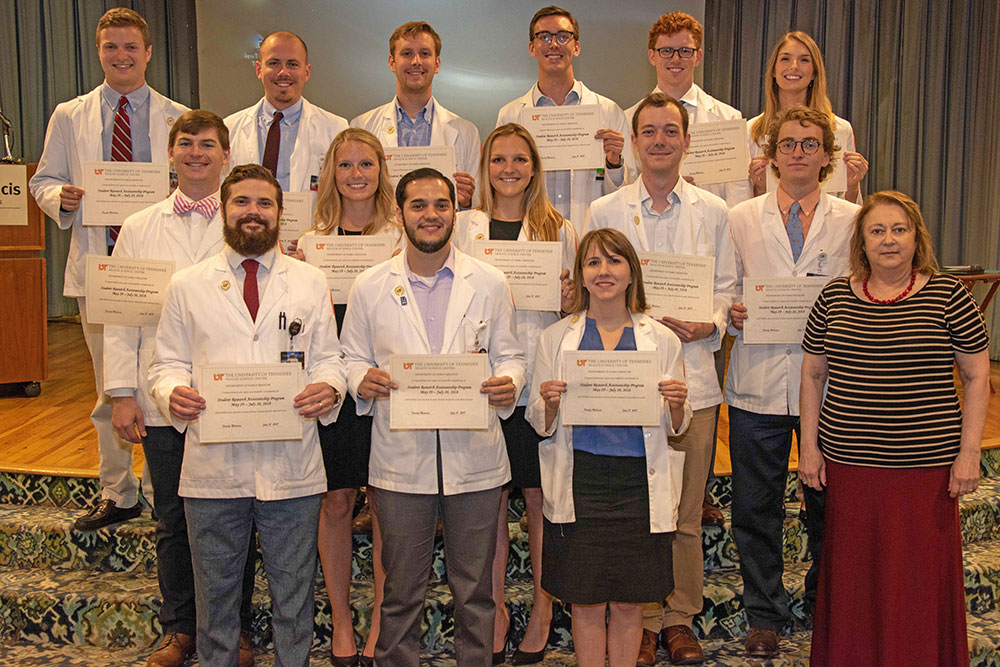 The Process
Complete and return the SRP .pdf application or Word application via e-mail attachment to stabachn@uthsc.edu. Every year a new application will be posted around the end of February/beginning of March, and all rising 2nd year students will be sent an e-mail informing them when the new application has been posted on the SRP web page.
The application deadline is April 2. However, for best consideration, we encourage students to apply as soon as possible after the new application has been posted.
The Family Medicine Research Division will select candidates from the completed applications on a rolling basis until the stated deadline on the applications. Every year, the number of students admitted into the program may differ, depending on departmental budgetary considerations.
Accepted SRP students will be required to sign a written agreement and complete employment/stipend forms by the deadline stated in the acceptance e-mail.
Accepted candidates will be required to attend a special SRP orientation at the beginning of the SRP.
Each student will be supervised throughout the course of the project according to the nature of the project.
Students will complete a poster and PowerPoint presentation of their project and present it to other students, residents, faculty and guests at the end of the program.
Students can expect to spend 4 hours every Wednesday at St. Francis from 8:00 AM to 12:00 Noon where they will receive instruction on different research learning modules and hands-on data entry and statistical analysis. In addition, students will spend another 1.5 days per week in research and clinical activities (either Mon, Tues, Thu, or Fri, depending on their weekly schedule).
Students are expected to build some flexibility in their summer schedules outside of the time frames mentioned above, in order to be able to discuss research issues with their teammates, to use the library, or to meet with a faculty member at times other than those mentioned in the SRP schedule.
For more information, please contact Sharon Tabachnick, PhD (stabachn@uthsc.edu, phone (901) 448-7574).