Officers/Faculty
Co-Presidents
Craig Bullington, M4 President
Elizabeth Karolczuk, M3 Co-president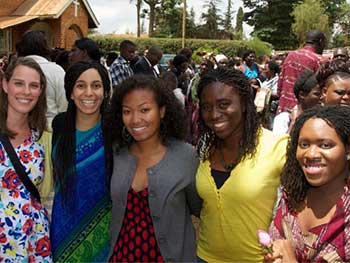 Secretary
Community Outreach
International Trip Planning
Fundraising
Treasurer
Emily Noggle
IT Liaison
Jonathan Rho
Faculty
Susan Brewer 
Phone: (901) 448-5684
Email: sbrewer@uthsc.edu
Students
2019
Tomi Akinduro        
Tomi was born in Northallerton, England and was raised there, in New Jersey, and mainly in Alabama. He was raised by parents with a strong sense of Nigerian culture and pride. He holds that aspect of his heritage near and dear. He has three siblings, an older brother, younger brother, and younger sister. He attended the University of Alabama at Birmingham, where he received a Bachelors of Science degree in Biology and minored in Spanish and Psychology. He speaks and understands a small amount of Spanish and Yoruba (his family's native tribal tongue). He has gained much respect for Hispanic culture over the years after exposure to these communities. He wants to make an impact in the lives of these people and Africans at large on an international level. He hopes to take his practice to Nigeria some day in order to directly improve health care.
Craig Bullington
Craig grew up in Murfreesboro, TN and studied chemical and environmental engineering at Vandy. After graduating, he worked in Tanzania and Florida in water and sanitation engineering for a few years before changing course and deciding to pursue medicine. He likes Indian food and discussions that bring up good questions, and is constantly and hopefully humbly learning what it means to be a good local and global citizen.
Kamry Clark
Kamry spent most of her life in Oak Ridge, TN, before moving nearby to Knoxville to study chemistry at the University of Tennessee. She has always had a love for travelling and a passion for medicine, and was first able to combine these interests during a trip to Ghana to volunteer alongside the staff of an eye clinic in Accra. It was this trip that made her more intimately aware of global health disparities, and it continues to be an inspiration to address these issues both abroad and in her community. She loves calling Memphis home, and is excited about the opportunity to positively impact this community and others through CIAO.
Ian Michalak
Ian is originally from Michigan, but has spent a majority of his life in Memphis. He got his degree in neuroscience from the University of Alabama at Birmingham (UAB), where he spent time working in a Rett Syndrome lab and played on the soccer team. Ian has taken a trip to Beijing, China through the Philip Hayden Foundation, working with orphans who had various physical deformities. He has also been on a medical mission trip to Nicaragua led by a team of Memphis health care professionals through the Change a Life Foundation. Since his participation in the Bridge Builders summer program, aimed at bringing together diverse groups of high school students from around the area, Ian has always felt very invested in the Memphis community. Ian is excited about his involvement in CIAO, and hopes it will help him to find new ways to be involved in the Memphis community.
Reyna Elisa Niner
Although Reyna Elisa earned her bachelor's in biochemistry, she just might have a stronger affection for psychology, microbiology, and (begrudgingly) physics. Her diverse family taught her how to dance, laugh, garden, and cook like a Panamanian. They also made her an intense debater and game player, so beware. She loves new experiences, especially learning about other cultures and listening to people's stories. Aware of how a lack of adequate healthcare, education, food, security, and infrastructure all play a role in locking people into poverty, Reyna is driven to address what issues she can to help her brethren across the globe.
2020
Allan Akin
Allan grew up in McKenzie, Tennessee. He graduated from the University of Tennessee in 2014 with a degree in biochemistry and from UTHSC in 2015 with a master's in pharmacology before pursuing a medical education. While at UT Knoxville, Allan was very involved with Cru, a campus ministry, and through that was very involved in local and national service projects. After finishing his master's, Allan spent a year volunteering with Highpoint Church as the communications coordinator for its college ministry. Much of his desire to improve health care quality and provide health care education is a result of seeing his mother volunteer her time and care to Hondurans and the people of Malta, as well as his own experiences traveling abroad in Italy, Greece, and Turkey. Allan has a heavy interest in diet, nutrition, and obesity in its relation to disease prevention in low income families and hopes to be able to use that in Memphis as well as abroad. 
Kristen Booth
Kristen grew up Murfreesboro, TN, and attended the University of Tennessee, Knoxville where she earned her B.S. in Biochemistry and Cellular and Molecular Biology. Although her time was mostly taken up by metabolic pathways and protein biophysics, she also spent time studying anthropology (and chose it as her minor!). Her anthropology courses took her away from the details of body functioning, and let her study humans through their culture, their history, their disparities, and their communities. In addition to school, Kristen spent a lot of time performing research in a cancer-focused membrane biophysics lab at UTK, as well as volunteering through multiple organizations or on her own. She is ecstatic about joining CIAO, and is looking forward to both helping other students follow their passions and furthering her love of service.
Jeremy Chang
Jeremy is from Collierville, TN. He completed his undergraduate education at the University of Pennsylvania, studying Economics and Biochemistry. It was there he began to develop a desire to make a difference with underserved populations, working in nonprofit clinics in homeless shelters as well as a Mandarin translator for the Philadelphia Chinatown Clinic. Along with hoping to provide aid to these communities, Jeremy is also interested in drawing awareness to their cultures and educating future leaders in the importance of different ideologies. He has helped organize nationwide cultural conferences (Intercollegiate Taiwanese American Students Association Conference (ITASA), Asian Pacific American Heritage Week (APAHW), ECASU) on Penn's campus. Jeremy is very excited at the prospect of being involved in CIAO and and hopes to find new ways to be involved in this Memphis Community.
Kaleb Darrow
Kaleb is from Knoxville, Tennessee. He attended the University of Tennessee, pursuing a degree in Nuclear Engineering. He served as an undergraduate teaching assistant for biology and is an avid Vols fan. Kaleb studied abroad in Prague, Czech Republic and enjoyed experiencing the intricacies of Eastern European culture. However, his time in Knoxville volunteering with Remote Area Medical clinics allowed him to witness the effects of poverty in urban and rural areas of East Tennessee. Kaleb is excited to be a member of CIAO and see its work in the communities of Memphis and abroad.
Kirstie Finch
Kirstie grew up in Lebanon, TN and graduated from the University of Tennessee, Knoxville with a double major in Biochemistry and Cellular and Molecular Biology and Hispanic Studies. During college, she went on a medical mission trip to Costa Rica and Nicaragua and volunteered in an orphanage near Juarez, Mexico. She has also been fortunate to travel to several other Spanish-speaking countries including Spain, Peru, Chile, Argentina, and Uruguay with her best friend, her mom. Speaking Spanish and interacting with people from Hispanic cultures is one of her biggest passions. On these trips, she was made aware of the underserved areas in Latin America and the contrast between health care in the United States in other countries. Kirstie joined CIAO with an excitement to help students fulfill their dreams of volunteering, learning, and doing research abroad as well as find opportunities to serve locally in Memphis.
Aubrey Flowers
Aubrey was born in Jackson, MS and attended Rhodes College where he received a B.A. in Anthropology and Sociology. There, through courses on health disparities, internships at a local organization providing care for the working uninsured, participation in a global health nonprofit, and a medical internship in India and Thailand, he was exposed to immense inequality and emboldened by the ability of physicians to concretely address it. He is excited to continue working with the under-resourced in the Memphis community and abroad through CIAO.
Sarah Harirforoosh
Sarah was born in Iran, but moved to Edmonton, AB, CA at a young age. Right before high school, Sarah and her family then moved to Johnson City, TN. She received a Bachelor of Science in Biology from Emory University, where she conducted research in the Lyle and Taylor Labs at Emory University School of Medicine and was involved with the community service organization of Volunteer Emory. She fluently speaks Farsi and hopes to utilize this when treating patients who may have recently immigrated to the United States. She has volunteered throughout Atlanta, GA and Birmingham, AL where she witnessed a large degree of inequality in healthcare, and these experiences sparked her passion to work as a physician who treats individuals with unequal access to care. After visiting her home country of Iran and becoming aware of healthcare exclusion on an international level, this trip grew her interest to volunteer in similar areas and hopes to work with Doctors Without Borders in the future. As a member of CIAO, Sarah is looking forward to becoming more involved in the Memphis community, pursuing international service opportunities, and volunteering with students to make a positive impact on underserved areas both locally and abroad.
Liz Karolczuk
Liz grew up near Chicago and graduated from Rhodes College in Memphis with a degree in Neuroscience. She was a Bonner Community Service Scholar, and had the chance to serve a number of organizations throughout college. She was actively involved in GlobeMed, a global health organization that led her to AMOS in Nicaragua. Through this partnership, she worked with other students to fund their BioSand water filter projects in rural Nicaragua. Her first significant experience volunteering abroad was in Ghana, where she worked in an orphanage. Inspired to return the following year, she created a fellowship assessing the quality and availability of mental health treatment in Ghana and Nicaragua. While conducing mental health research in Nicaragua, she also participated in a water purification and community health education fellowship with AMOS. After graduation, she coordinated the gynecology and pain management clinics at The Church Health Center for working uninsured Memphians, and spent the next year working in hospital administration at Methodist. She hopes to use her career in medicine to actively serve the underserved and work towards eliminating health disparities here in the US and abroad.  She is interested in international medicine, working with children, and neglected tropical disease. Liz is grateful to be a member of CIAO, and hopes to get other students excited about serving their community.
Jordan Luttrell
Jordan grew up in Western Kentucky in a small, rural community. She attended college at Lipscomb University in Nashville. At Lipscomb, she became highly involved on and off campus. While there, she felt like she gained a passion for people, science, quality education, and community . She has participated in many local volunteer opportunities growing up and during college, as well as spending a semester in Kenya working with abandoned children and in third world healthcare. Jordan plans to pursue a medical career involved in improving health care education both locally and globally. She hopes that CIAO will be a place where she can personally gain understanding of disparities as well as connect other students to service opportunities. 
Jami Reece
Jami grew up in Red Boiling Springs, Tennessee, and graduated with University Honors and a degree in Microbiology from Auburn University in 2016. During her time in Auburn, Jami became interested in tackling issues surrounding global and domestic poverty, especially hunger and food insecurity. Jami enjoys working alongside and sharing with people, and her faith and interests led her to serve in a variety of organizations throughout her undergraduate career, all of which contributed to a consciousness of the needs of her neighbors near and far. As a new member of CIAO, Jami hopes to empower her fellow classmates to establish lifestyles of service and community enrichment, and she is excited to become an active community member of Memphis!
Barbara Smith 
Born and raised in Knoxville, TN, Barbara graduated from the University of Tennessee with a degree in Biosystems Engineering. She worked on several engineering projects in undergrad to promote clean water and sustainability to a local community in Haiti. Working with indigenous populations in Peru as well as local physicians at Church Health Center and Resurrection Health made her passionate about the underserved populations near and far. She enjoys running, exploring new places, and getting to know people from different backgrounds, and is grateful to be a part of CIAO.
John Sun
John is from Germantown, TN and attended Houston Middle and High School. Upon graduation, he attended Vanderbilt University ('15) and received his BA in Neuroscience. He also has an MS in Pharmacology from UTHSC. Before attending medical school, John worked as a medical scribe at St. Francis Hospitals in Bartlett and Memphis and was a volunteer at LeBonheur Children's Hospital. Through these experiences, he developed a deep passion for caring for children, especially the underprivileged. Furthermore, with much of his family still in China, he hopes to be able to bring access to western medicine to the remote parts of China where healthcare is severely lacking. Lastly, John believe that the underprivileged areas around UTHSC and Memphis should be a focus for CIAO. "[..] to find the best in others; to leave the world a bit better; […] to know even one life has breathed easier because you lived. This is to have succeeded." -Emerson
Marie Thompson
Marie was born in Denver, but raised in Memphis and graduated from Notre Dame in 2009. When she was ten, she traveled to China with her father and the International Children's Heart Foundation where her love for travel and international outreach began. In college, she spent a semester in Rome and traveled Europe. After a previous career in sports, she moved to New Zealand for a year, followed by time in Australia. Marie's love for experiencing new cultures inspired her to pursue a career in which she can do so along with the ability to help others less fortunate. Marie and her husband are also very passionate about local outreach, and are involved locally in the Binghampton community where her husband is a peewee football coach. Marie is excited to be a part of CIAO, which encompasses the very foundation for which she decided to pursue a career in medicine.
2021 
Emily Noggle
Emily grew up in Knoxville, TN, and attended Sewanee: The University of the South, where she double-majored in International Studies and German. She studied abroad in Germany on two separate occasions, and through these opportunities and subsequent travel, she became interested in incorporating global outreach and experiences into her life and career. Following her undergraduate education, she worked for an international business for several years, completing budgeting and investment tasks. During this time, she volunteered with several organizations, including Remote Area Medical, Big Brothers Big Sisters, and the Diabetes Education Center of an area hospital. After realizing her passion for science and health, Emily decided to return to school to pursue a career in medicine. She additionally obtained a graduate certificate in public health from the University of Florida and completed a post-baccalaureate pre-medical program at Agnes Scott College. Emily is very interested in inequality within healthcare, both on a local and international level, and she hopes to serve the Memphis and greater global community through her membership with CIAO and as a future physician.
Eugene Rho
Although Eugene studied microbiology at the University of Tennessee at Knoxville, his favorite class was Social Inequalities where he cultivated his interest for improving the health of the most vulnerable populations. He is blessed to be a part of CIAO to further explore said passion and to help empower other like-minded individuals reach their dreams. Working at Church Health for a year was a humbling experience and the perfect stepping stone before bringing his talents to CIAO. He is certain that being surrounded by positive, innovative people, it will broaden his perspectives and help him reach his goal of doing what he can to address healthcare disparities.