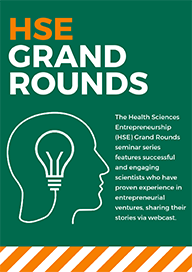 Save the date for our next HSE Grand Rounds presentation:
When: October 12, 2018 from 1:00- 2:00pm 
Where: Institutional Animal Care and Use Committee (IACUC) Training Room (910 Madison Avenue, Ste 650)
More details coming soon! Visit the HSE Grand Rounds webpage for information on this series or to view past presentations. 
"The Psychobiology and Genetics of Human Personality" presented by C. Robert Cloninger, MD, PhD, Wallace Renard Professor of Psychiatry; Professor of Genetics and Psychology; Director, Sansone Family Center for Well-Being; Washington University School of Medicine
When: October 18, 2018 from Noon-1pm
Where: The Freeman Auditorium (930 Madison Avenue, 3rd Floor)
Please check back for information on the upcoming 2018-2019 series.