Health Sciences Entrepreneurship Grand Rounds
The Health Sciences Entrepreneurship (HSE) Grand Rounds seminar series features successful and engaging scientists who have proven experience in entrepreneurial ventures, sharing their stories via webcast.
The seminar series is a collaboration among the University of Alabama at Birmingham, the University of Arkansas for Medical Sciences, the University of Kansas Medical Center, and the University of Utah (all Clinical and Translational Science Awards Program institutions), and University of Tennessee Health Science Center. HSE Grand Rounds presentations are scheduled for the second Friday of each month.
Save the Date: June 14, 2019 at 1PM CST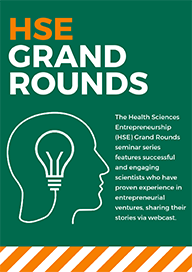 Where: Research Compliance Training Room (910 Madison Avenue, Ste 650)
Light refreshments provided
The speaker and talk title will be released soon.
For more information on the upcoming HSE Grand Rounds series, please see the Upcoming Schedule webpage. To see an archive of past presentations, please see the Recorded Lectures webpage.