UTHSC Black History Month
The purpose of Black History month is to educate both African American and Non-African Americans on African American History while honoring the African Americans who have positively affected our nation. In 1986 Congress passed Public Law 99-244
which designated February 1986 as "National Black (Afro-American) History Month." This law noted that February 1, 1986 would "mark the beginning of the sixtieth annual public and private salute to Black History."
The month of February was chosen because it is the month that the National Association for the Advancement of Colored People (NAACP) was founded in 1909, the birth month of Abraham Lincoln, who signed the Emancipation Proclamation, which ended slavery.
UTHSC Black History Month Events
Documentary: "Slavery by Another Name"
Tuesday, February 5, 2013, 10:00 – 11:00 am
930 Madison Plaza Conference Room C-1.
Slavery by Another Name, narrated by Laurence Fishburne, is a 90-minute documentary that challenges one of Americans' most cherished assumptions: that slavery in this country ended with the Emancipation Proclamation.
The film tells how even as chattel slavery came to an end in the South after the Civil War, new systems of involuntary servitude took its place with shocking force and brutality. This documentary gives voice to the largely forgotten victims and perpetrators of forced labor and features moving interviews with their descendants living today.
"Infant Mortality" presented by Dr. Linda Moses
Wednesday, February 6, 2013, 11:30 a.m. — 1:00 p.m.
Student-Alumni Center (SAC) 305.
Lunch & Learn
Dr. Moses is a native Memphian who graduated from Kingsbury High school. Dr. Moses received her under graduated degree from The University of Tennessee at Martin, Martin, TN. She is board certified in obstetrics and gynecology, and is currently an Assistant Professor in the Department of Obstetrics and Gynecology at The University of Tennessee Health Science Center, Memphis, TN. She has recently been appointed as director of the BLUES Project; and the Centering Pregnancy Program. Dr. Moses has been featured in articles in the Commercial Appeal and in the 2008 20/20 documentary on Baby Land.
Soul Food Tasting and Art Exhibit
Wednesday, February 13, 2013, 11:30 a.m. -1:00 p.m.
Student Alumni Center (SAC,) O.D. Larry Dining Hall
Enjoy samples of traditional African American cuisine and see live demonstrations of hot water cornbread, and fried fish. There will be an art exhibit featuring Mr. Emery Franklin's
new work. Copies of his book "From Sagging to Success"
will also be available for purchase. View The Art Of Emery Franklin!
on YouTube for more information on Emery Franklin.
"Cultural Competence: The Patient in Room 3053" presented by Dwight Fryer
Tuesday, February 19, 2013, 12:00 to 1:00 p.m.
GEB (Room A104).
Light refreshments will be served!
Dwight Fryer is the league director for the Memphis Urban Debate League.
He has over 25 years business experience in accounting, finance, marketing, and technology. His historical novels, The Legend of Quito Road and The Knees of Gullah Island were critically acclaimed. He holds a BBA in Accountancy from The University of Memphis and a MS in technology management from Christian Brothers University.
Fryer survived colorectal cancer in 1998 and an accident caused by a drunk driver in 1992. Dwight shares with audiences how quickly we can become The Patient in Room 3053 and how medical professionals make a difference for each person they encounter every day.
UTHSC: Black History Month presents Dwight Fryer
"Motown Musical Celebration"
Wednesday, February 20, 2013
11:00 a.m.
OD Larry Dinning Hall, Student-Alumni Center (SAC)
Light refreshments will be served!
Enjoy sounds of Motown performed by the Havenview Middle School Jazz Band.
BSA Banquet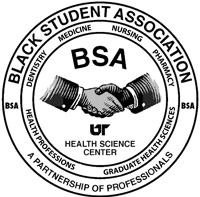 Friday, February 22, 2013 at 6:30 pm
Student-Alumni Center (SAC), OD Larry Dining Hall
Semi-Formal attire is requested.
Tickets
Students: $10
Non-Students: $30
Tables: $300
For more information please call Special Events at 901-448-5618
"The True Beginning of Civil Rights" presented by William Carter
February 26, 2013, 12:00 to 1:00 p.m.
GEB (Room A104)
Light refreshments will be served!