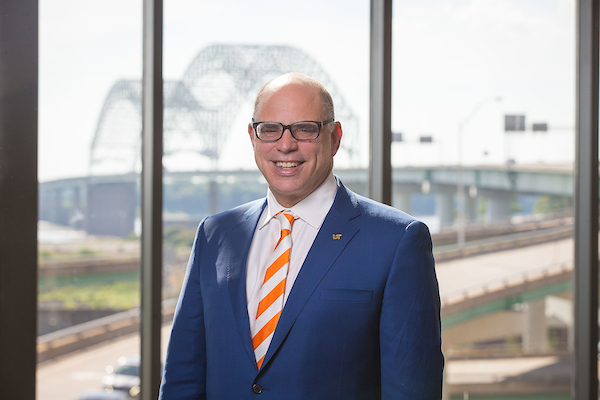 I am very pleased to welcome you to the College of Medicine at the University of Tennessee Health Science Center.
Since I arrived in Memphis in October 2018, I have been constantly amazed by the strength of our college in each of the four facets of our mission – clinical care, education, research, and community outreach. I am committed to seeing the UTHSC College of Medicine continue to advance in each of these areas.
We have accomplished much in a short time. The incoming class of M1s is incredibly diverse, with more than 40% from underrepresented groups. We have recruited top-tier clinical and research faculty, made adjustments in leadership to better serve the college, received accreditation for key programs, secured major funding for research, improved curriculum, and increased attention to the personal and financial well-being of our students.
I am equally committed to making sure our College of Medicine begins to look out instead of in. As the state's public, academic health care institution charged with training the next generation of health care professionals, the college is critical to the health of our city, our state, and beyond. We graduate approximately 170 amazing new doctors each year, roughly 40 percent of whom establish their practices in Tennessee. Additionally, we train approximately 1,300 residents and fellows, roughly 60 percent of whom stay in the state after their training. We must focus on the needs of the communities we are privileged to serve. In so doing, the work that we do now and the physicians that we train for the future will certainly make a difference for all Tennesseans.
I hope that you will browse through our website to learn more about us. Please don't hesitate to contact us if you would like to join our work, and I welcome any questions or input that you might have.
Scott Strome, MD
Robert Kaplan Executive Dean
com@uthsc.edu