Issue 14, May 11, 2021
This communication was generated by UTHSC Information Technology Services to educate and inform our campus community about available technology tools, training opportunities, news and events that will help you and the university achieve excellence in patient care, education, research, and community service.
CAS Login Service to be Upgraded May 14
The Central Authentication Service (CAS) that enables you to use your NetID and password to log in to most major UTHSC applications, including Blackboard, Banner, and others, will be upgraded on Friday, May 14, between 6 - 7 am CT. During this time, you may be unable to log in to associated systems.
 
Please contact the ITS Helpdesk at 901.448.2222 or helpdesk@uthsc.edu if you have questions.
What is this New IT System Stuff All About?
This summer, we are going to introduce a new single point of contact system that is all about you, our customer.
No more techspeak, just real words with real solutions.
It is a gateway to all things tech at UTHSC, including outages, instructions, answers, requests, and a user-friendly service catalog that lists everything we offer you.
All in one place.
Let It Go (Old Computers, That Is)! 
Every 4-6 years (or once your computer can no longer run a supported operating system), you get a new UTHSC-owned computer, printer, or another device. But - cue the groans! - what do you do with the old equipment?
Surplus it!
The Surplus Property unit of Procurement Services collects, repurposes, and disposes of the University's excess surplus property in the most effective and efficient manner in compliance with applicable laws and policies. You don't even have to wipe your hard drive clean. Surplus handles that!
So free up space in your office - and on your department's inventory list - by sending that old stuff packing. Contact your department's business manager or visit the Surplus Equipment webpage for more details.
Normally, if you have a document stored on your computer hard drive and you save it, you lose anything that was in that document before you clicked Save. 
But not if you use OneDrive! 
OneDrive offers version control. How can you see and access different versions? 
Open http://O365.uthsc.edu.

Click the OneDrive icon on the left. 

Find the document in which you want to see previous versions, hover over the name, right click, and choose Version History.  

You will see the version number, date it was modified, who modified it, and the file size.

To restore a previous version, click on the down arrow by the date of the version you want to restore and click Restore.
11 Tips for Building Effective Surveys
If you have ever built a survey and are like us, you realize all the things you should have done AFTER you send the survey.
Don't waste your time and that of your respondents! This Qualtrics article gives you 11 tips for better surveys including ask direct questions and avoid biased questions.
NVivo is a qualitative analysis software package that supports both qualitative and mixed methods research. It lets you collect, organize, and analyze content from interviews, focus groups, discussions, surveys, documents, audio and visual files, images, social media data, web pages, and spreadsheets. It also offers multiple ways to visualize and report data, including graphs, charts, and cluster analysis. Within the program, one can search all or parts of the data, sort data based on variable attributes or classifications, and display a matrix of codes or coding structures. Video and Audio files can be transcribed and analyzed within the program. It also interfaces with EndNote, Mendeley, and Zotero for conducting a paperless literature review.
Visit the UTHSC NVivo website to get more information about NVivo and to review the instructions for downloading it to your computer. 
Inserting a Picture in Microsoft Word
If you have ever had a problem inserting a picture into a Word document, this is the (one minute) video for you!

Email
Reply All...Most of the Time 
 
Sometimes, an email needs to go to many people to collaborate on an idea.  
But have you ever gotten one of these emails and just pressed Reply instead of Reply All? 
Now, you are only replying to the sender and are completely out of the collaboration loop - no one else knows your brilliant idea! 
We suggest you click Reply All...most of the time.   
The reason we say, "most of the time," is there are times when Reply All is not the best option. 
Think before you use Reply All with:
a listserv message with a large audience (such as the faculty, staff, or student listservs)

a message that has 20+ recipients (unless they all need to know what you have to say)

a message to the entire department
For example, a department admin sends out a message letting everyone know it is Dr. Blah Blah's birthday. Reply All? Nope, not unless you want to spam everyone's inbox. Click Reply, clear out the admin's email, enter the birthday person's email, and wish away!

Lean 6 Sigma
Got a problem? This cartoon reminds you to look for the root cause and remove its source.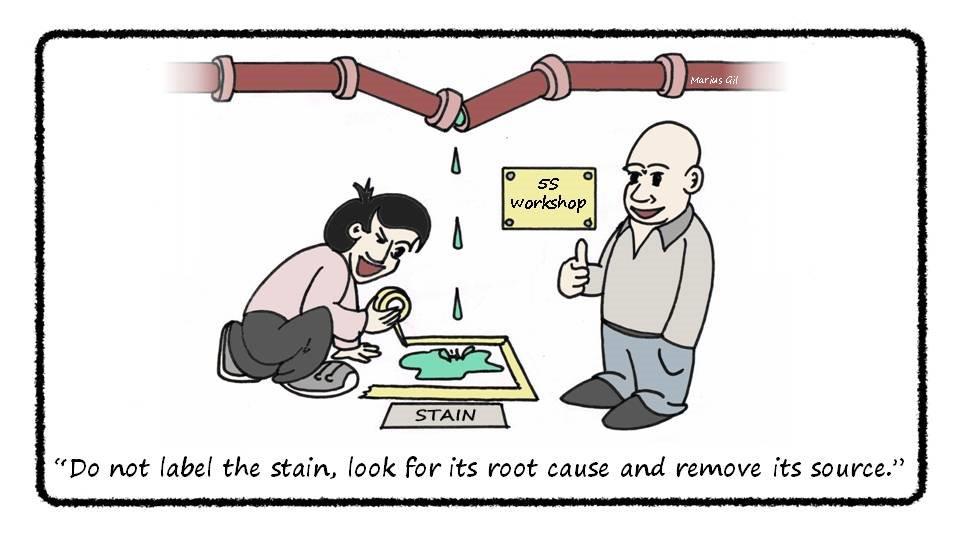 Phishing Scams: How to Recognize the Threat
Phishing email messages, websites, and phone calls are designed to steal information and/or money from a victim. Fraudulent users will impersonate a business to trick you into giving out your personal information.  DO NOT reply to emails, texts, or pop-up messages that ask you for your personal or financial information. Do not click on links within them either, even if the message seems to be from an organization you trust. It isn't. Legitimate businesses do not ask you to send sensitive information through unsecured channels. 
Phishing messages can be extremely hard to stop, but there are signs to alert you to a scam. Here are some things to watch for:
Spelling and bad grammar. Cybercriminals are not known for their grammar and spelling. Professional companies or organizations usually have a staff of copy editors that will not allow a mass email like this to go out to its users. If you notice mistakes in an email, it might be a scam. 
Beware of links in email. If you see a link in a suspicious email message, don't click on it. Rest your mouse (but don't click) on the link to see if the address matches the link that was typed in the message. 
The use of threats. If a message is threatening to block access or close an account if you do not take action, it usually is phishing.
Immediate action required. If an email about your personal information has a sense of urgency to act, beware of the sender. 
Spoofing popular websites or companies. Scam artists use graphics in email that appear to be connected to legitimate websites but actually take you to phony scam sites or legitimate-looking pop-up windows. 
A non-customized message.  If you receive a message to "Dear Customer" instead of your own name, it is probably a mass message relayed to many people.  If it is not specific to you, do not respond.
Follow these steps to protect yourself from phishers.
Pick

up the phone and verify.  Call the organization and ask if they sent the message.
Do your own typing.  Do not click on a link but type the URL yourself to where the sender wants you to go.
Beef up your security. Make sure you have security software with anti-virus, anti-spam, and spyware detection.
Read documents and statements from your companies. Don't throw away those monthly statements or newsletters. 
Spot the scams.  Visit the Federal Trade Commission's (FTC) anti-scam website for a list of current common phishing attacks. 
If you receive a phishing message to your UTHSC email address, report it to abuse@uthsc.edu.  For more information, see the Office of Cybersecurity's phishing webpage or contact them at itsecurity@uthsc.edu.
Valerie Wheeler
In each issue, we feature one of our amazing ITS team members. We learn more about Valerie Wheeler with our Administrative team in this segment.
What is your role and how long have you been in ITS at UTHSC?  I have been with UTHSC in the same department for 12 years this May.  I started out being the Telephone Operator in ITS and presently Sr Accounting Clerk/Supervisor in the Business Office of ITS. 
What is a day in the life of Valerie like? Providing support to customers concerning Accounting/ Billing applications and solving discrepancies.  And also, being a sounding board to anyone in need on/off Campus is rewarding.
What is your favorite thing about working at UTHSC? Being surrounded by so many warm friendly people.  The life-long friendships and mentors I have acquired at UTHSC have been heart-felt. 
What's something most people don't know about you? I collect ALL kinds of egg-shaped items such as music boxes, figurines, paperweights, and jewelry. I also paint and design egg-shaped Styrofoam in my spare time.