Strategic Planning 2023-28
UTHSC is currently shaping our next strategic plan, which will guide our institution from 2023 to 2028. This site is intended to provide some insight to our campus and stakeholders as we go through this process. We also welcome feedback along the way, as we strive to create a thoughtful strategic plan – with updated mission, vision, and values – that will allow our campus to focus efforts and resources in a more strategic and efficient manner.
Current Working Draft
Between Monday, March 6, and Friday, March 31, the Strategic Planning Workgroups want the proposed strategic plan for 2023-28 to be viewed and discussed by as many faculty, staff, and students across our campuses and state as possible!
You are invited to attend the Strategic Planning Town Hall on Friday, March 31, at 12:00 pm, CDT. Please join us in person in the General Education Building, room A102, if you are on the Memphis campus – and enjoy lunch on us before the event at 11:30 am, CDT! The Town Hall will also be live streamed via Zoom.
Please RSVP if you will be joining us in person, so we can account for space and food. Those planning to join via Zoom will need to register for the link.
Attend the Town Hall
Below you can access the current working draft of the strategic plan AND a form to submit your anonymous feedback directly to the operational workgroup.
We would greatly appreciate an invitation to any small or large group meeting on any of our UTHSC campuses that you have scheduled between March 6-31. We will tailor our presentation and discussion to the amount of time that you can give us. Request a presentation with the form below.
Request a Strategic Plan Presentation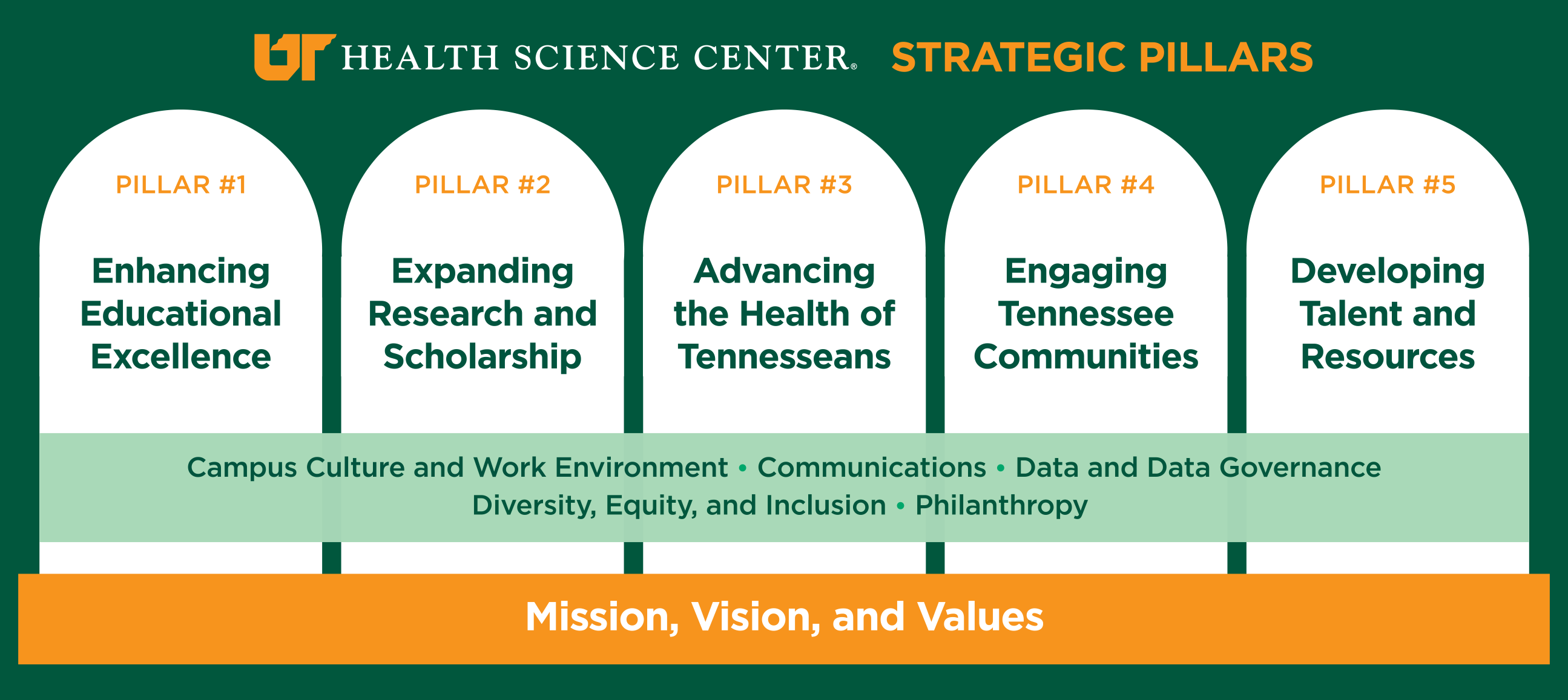 UTHSC Strategic Pillars
The Pillars:
Pillar #1: Enhancing Educational Excellence
Pillar #2: Expanding Research and Scholarship
Pillar #3: Advancing the HEalth of Tennesseans
Pillar #4: Engaging Tennessee Communities
Pillar #5: Developing Talent and Resources
Cross-cutting:
Campus Culture and Work Environment
Communications
Data and Data Governance
Diversity, Equity, and Inclusion
Philanthropy
Foundation for all pillars:
Mission, Vision and Values
Updated Mission, Vision, and Values
The updated Mission, Vision, and Values were approved by the UTHSC Advisory Board during their January 2023 meeting. They will be proposed to the UT Board of Trustees as part of the larger strategic plan for 2023-28 at the June 2023 meeting.
Mission
Transforming lives through collaborative and inclusive education, research/scholarship, clinical care, and public service.
Vision
Healthy Tennesseans. Thriving Communities.
Values
B: Bold and impactful
E: Embrace Diversity
O: Optimistic and visionary
N: Nimble and innovative
E: Excel in all we do
U: United and connected
T: Transparent and trusted
H: Health focused
S: Science driven
C: Caring and professional
Timeline of Phases in the Process
Phase

Dates

Phase 1: Environmental Assessment
January – September 2022
Phase 2: Mission, Vision, Values
July – October 2022
Phase 3: Work Groups – Goals
September – October 2022
Phase 4a: Work Groups – Strategy and Metric Development
October – December 2022
Phase 4b: Systematic Review across Work Group Products
December 2022 – February 2023
Phase 5: Draft Plan and Implementation and Operating Plan
February 2023 – March 2023
Phase 6: Broad Review and Comments
March 2023
Phase 7: Finalize Plan
March – April 2023
Phase 8: Presentation for Approval
Advisory Board  May 2023
Board of Trustees June 2023
Timeline of Meetings in the Process
 

2022

2023

 May

 June

 July

 August

 September

 October

 November

 December

 January

 February
 March
 April
 May
 June
Mission, Vision, Values Work Group
 
 
 
 

X

 
 
 
 
 
 
 
 
 
Work Group Meetings
 
 
 
 
 

X

X

X

 
 
 
 
 
 
Strategic Plan Session with Co-Chairs
 
 
 
 
X
 
 
 
 
 
 
 
 
 
Strategic Plan Town Hall
 
 
 
 
X
 
 
 
 
 
X
 
 
 
Steering Committee Meeting
 
 
 
 
 
 
 
 
 
X
 
 
 
 
Health Science Center Advisory Board
X
 
 
X
 
 
X
 
X
 
 
 

X

 
UT Board of Trustees
 
 
 
 
 
 
 
 
 
 
 
 
 

X
Strategic Planning Workgroups